23-year-old goes wire-to-wire for dominant victory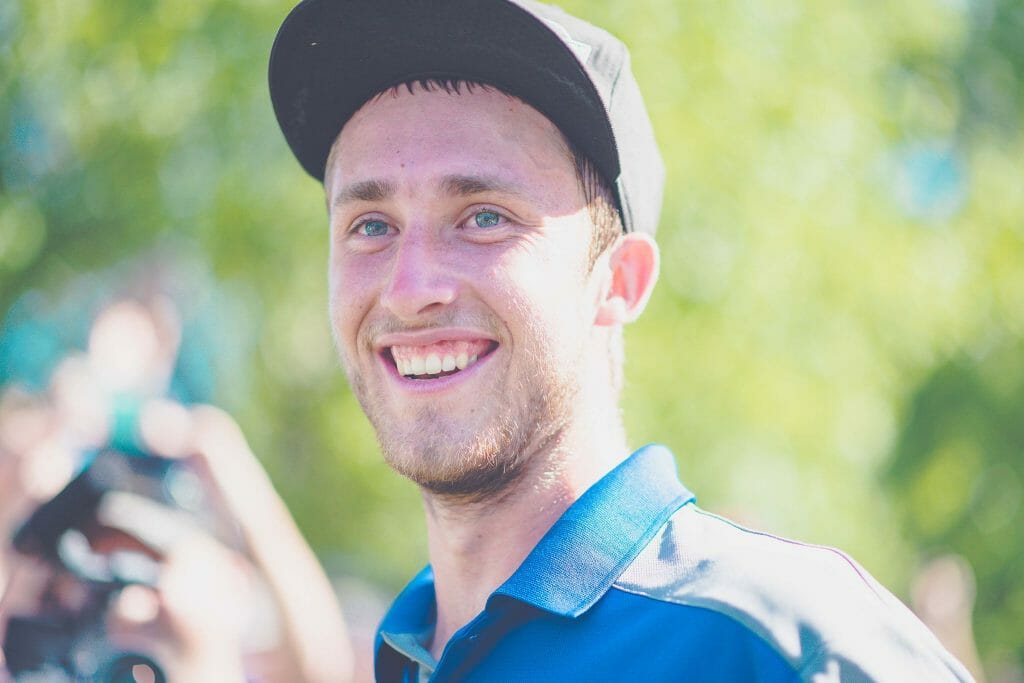 EMPORIA, Kan. — Momentum.
Defined as the force that allows something to continue or to grow stronger as time passes, it's also been the hallmark of Ricky Wysocki's 2016 season, which culminated in his first PDGA World Championship victory Saturday at the Emporia Country Club.
Nursing a five shot lead over Paul McBeth heading into the Final 9, Wysocki continued the steady, safe play that has characterized his week in Kansas before putting on the gas for one last push to take home the win. His 3-under par 28 in the finals – which were effectively decided after three holes – brought him to a 58-under par 282 for the marathon tournament and netted him a hefty $10,000 payday. McBeth's 52-under par 288 left him in second place with $5,000 and marked the first time in five years he hasn't hoisted the championship trophy.
Nikko Locastro posted a 46-under par 294 for the event to take home third place and $3,000, while Cameron Colglazier's 44-under par 296 was good for fourth place and $2,000.
Wysocki, who had played bridesmaid to McBeth at the last two Worlds, led wire-to-wire during the 99-hole tournament.
"It feels amazing, just to be able to reach my goal of becoming world champion," Wysocki said. "I set out to do this when I started my career. The beginning [of] this week, it was just a mental battle with myself…I was so pumped up and amped up about the tournament that I didn't sleep all week. I'm just exhausted mentally, physically, and it's just so nice to be able to finally relax with the result I was hoping for and striving for."
And he was able to kick it into relaxation mode from the start of the finals, as McBeth drove out-of-bounds on the first hole to card a bogey while Wysocki – continuing his theme for the week – played a placement shot off the tee and collected a par.
"I thought I threw a great shot," McBeth said. "I thought I was gonna have a great start because [Wysocki] just laid up for a three, and it just happened to skip out-of-bounds."
After the pair carded pars on Hole 2, the finals moved to Hole 11, a valley shot with OB on the left and overgrown brush on the right. With the pin placed high up a hill and to the right 517 feet away, Wysocki had spent the prior two rounds at the Country Club playing a safe drive up the middle of the fairway. In the finals, though, he chose one last spot to punctuate his dominance this week by forcing a flex shot that rode along the brush before cresting the hill safely for extra distance.
"At that point I had some momentum going and I just kind of wanted to keep it rolling," Wysocki said. "I knew after that hole [McBeth] was running out of holes if [a comeback] was going to happen, which I knew it wasn't gonna. I had total control, but that's what I was going for."
McBeth, perhaps sensing that his chances at his fifth title were evaporating, answered on 11 by launching a massive drive over the trees as he attempted a look at eagle. Though the feat drew audible gasps from the crowd, his shot came down deep in the woods and he had to punch out to save a par. Wysocki easily cleaned up with a birdie, and the rest of the round essentially turned into a victory lap.
McBeth, though, refused to go down without a fight, pushing for extra distance with riskier shots. On Hole 12 the strategy paid off and put him in line for a birdie, but he rushed his putt and missed to the right side of the chains. On 14, he pushed his drive along the adjoining road in an attempt to bite off a huge chunk of the hole's 766 feet, only to end up OB in a neighboring front yard.
McBeth said the aggressive moves to close the event were a sign of his resolve.
"I'm not gonna give up," McBeth said. "There's still another major to fight for. Even though I didn't win, I still have some momentum going into that and carried it over, and [I] just showed myself that I'm not gonna give up."
Wysocki, meanwhile, started to exchange hugs and high fives with friends and fans during the walk to Hole 15 as it was clear that, with only three holes to play and McBeth seven shots behind, he would soon be crowned the new world champion.
After the final putt dropped and the crowd swarmed Wysocki, McBeth praised his opponent and reflected on their diverging play throughout the tournament.
"Rick played great this week," McBeth said. "He didn't really make any mistakes all week, nothing to gain strokes. I don't think there was single part where I gained two strokes on him on one hole. He'd just give up one here or there, and if he did have a bad drive he'd just lay up and take his par, and I can't say that about myself. I had way too many OBs – I'd say it would probably be close to 20 after the week – so that's something I've definitely got to work on. But Rick definitely played well this week and didn't give opportunities to gain ground."
For Wysocki, the week was not only a chance to prove he could win a world title, but to also prove that he could do so in dominant fashion.
"I was playing for the win, and that was exactly how I wanted to win," Wysocki said. "I wanted to take the high percentage way of winning, and that's exactly what I did. I can win with the high percentage, consistent way, and…I've won in high pressure, really close battles. So I think it's a sign of me growing as a player."
Now 23 years old and with his first PDGA World Championship in hand, Wysocki said he was looking forward to what the future would hold.
"I think it's a great building block," he said. "It's really awesome to get that monkey off my back. My career's clearly not over – it's just starting, and now it's really just starting after the world championships, so I'm just really excited to be in the spot I am."