Allen bounces back from Worlds to blow out FPO field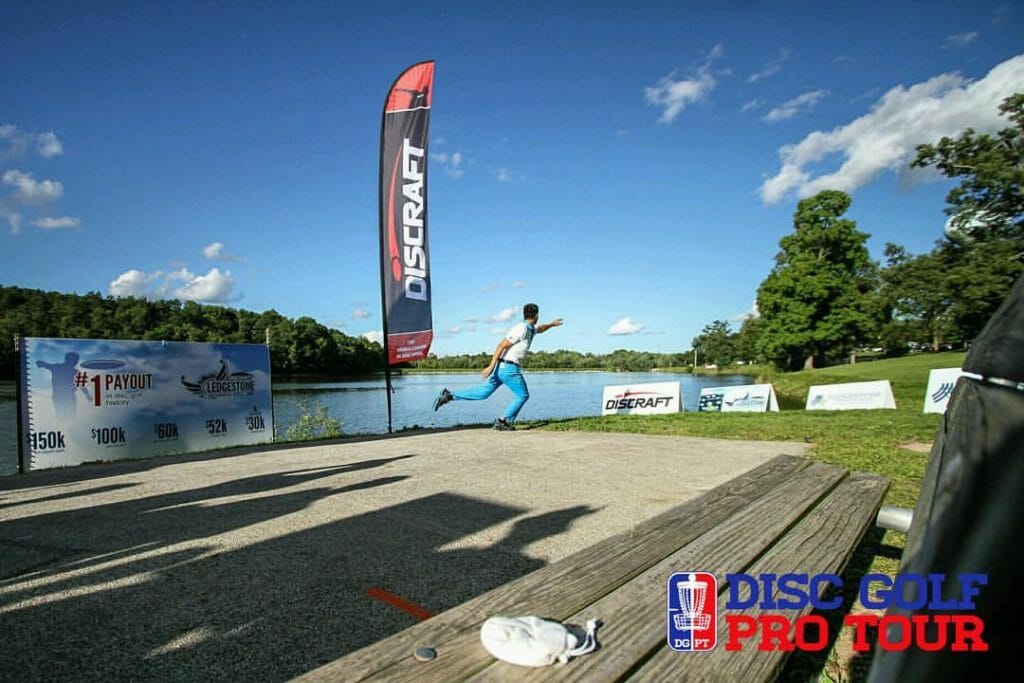 If last week marked the end of an era, Paul McBeth made certain to begin a new one right away.
On a weekend in which wind reigned and large numbers populated scorecards, McBeth started and ended with bogey-free rounds to take a wire-to-wire victory at the Ledgestone Open in Peoria, Illinois. He stamped the win in authoritative fashion with a 14-under par final round Sunday to bring him to a 42-under par 202 for the weekend, while Cale Leiviska's 30-under par 214 was good for second place.
Cam Colglazier followed up his strong Worlds performance with a 29-under par 215 to take third place, and Nate Doss's 26-under par 218 found him in fourth. Disc Golf Pro Tour stalwart Alex Geisinger claimed fifth place by firing off a 25-under par 219.
Where McBeth made his money this weekend – first place garnered him a hefty $7,000 – was by hitting the greens in regulation. He led the field in both green hit metrics tracked by UDisc for the Pro Tour, and it was that ability to get closer to the pin that helped offset 5 out-of-bounds throws on the weekend.
For comparison, Leiviska only went OB twice over the tournament's four rounds, but averaged 8 percent fewer green hits than McBeth.
"It's really just getting it all together," McBeth said. "It's been a slow process, it's been a slow year. I've been talking a lot about being healthy and finally just taking control of everything and learning my discs, and learning my proper form, and getting that all dialed in."
And even if this dominant performance came a few days after the season's marquee event, McBeth said the Ledgestone victory still served to boost his confidence.
"I wish it would have happened last week, but I'm not complaining," McBeth said. "It's exciting for the rest of the year and for the future. It's just dialing down being healthy and getting the skill level back to where it was and then improving on it."
By besting his nearest competitor by a dozen strokes, McBeth displayed the commanding form that underlined his historic 2015 season. And while it would be easy to speculate that he came out playing with something to prove after missing out on his fifth straight world title, McBeth said he was simply sticking to his game.
"There's no chip on my shoulder or anything like that," McBeth said. "Other people seem like they have a chip on their shoulder, fan wise – it seems a like a lot of people and fans took offense to what people were saying to me and toward me [after Worlds], but I didn't personally have a chip on my shoulder. I needed to perform, and I've just been working toward that and it's finally showing again."
Further down the leaderboard, Ricky Wysocki rebounded from a difficult opening two rounds to finish tied for 12th place overall at 19-under par. Despite the rocky outing, he still leads the Disc Golf Pro Tour's points standings, while Leiviska, Doss, Bradley Williams, and Geisinger round out the top five.
Catrina Allen, meanwhile, also bounced back from a late stumble at Worlds to take the Ledgestone Open by a wide margin. Her 13-under par 213 found her taking $2,000 in prize money and an eight shot victory over Paige Pierce, who finished with a 5-under par 221. Sarah Hokom and Valarie Jenkins tied for third place with 4-under par 222s, while Des Reading's 1-under par 225 was good for fifth place.
Hokom now has two third place finishes on the Disc Golf Pro Tour to match two victories, giving her a large cushion in the tour's points standings race heading into next month's Green Mountain Championship in Sumgglers' Notch, Vermont.