Allen rides renewed mental game to women's title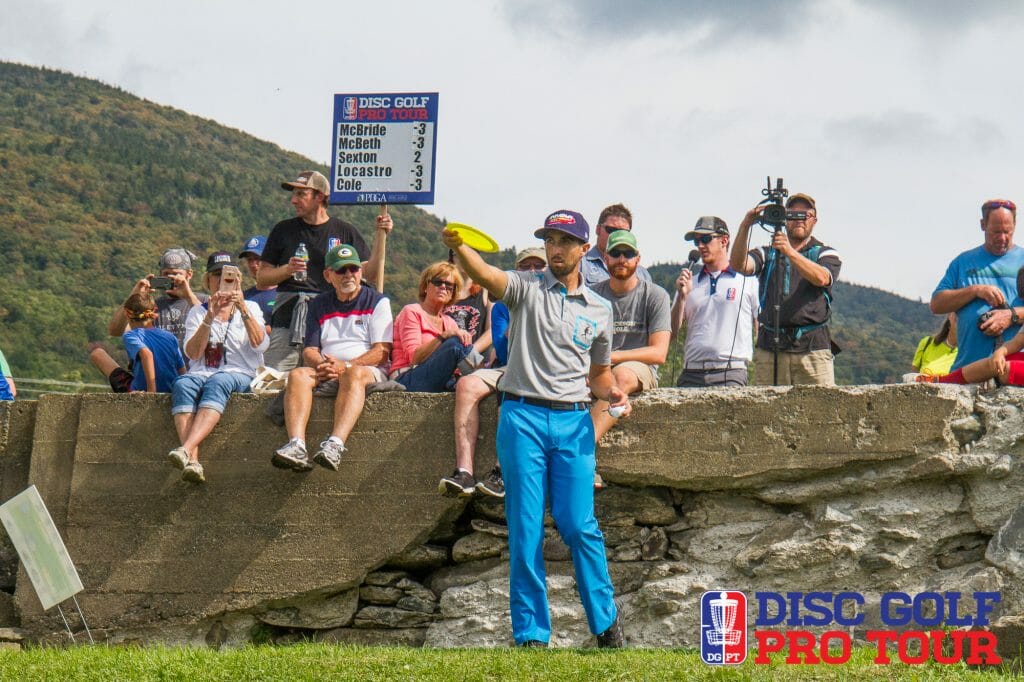 Paul McBeth had a roller coaster of a week.
After initially announcing he would not play the finale of the Disc Golf Pro Tour while he protested PDGA events, he then softened his stance, showed up, and – in true McBeth fashion – dominated.
Riding precise tee shots and a suddenly reignited putter, McBeth fired off a course record-tying 14-under par 49 at Fox Run Meadows yesterday to win the inaugural Disc Golf Pro Tour Championship and take home a $10,000 purse. Nikko Locastro's 11-under par 52 was good for second place, while James Cole (-7), Nate Sexton (-4) and Peter McBride (E) rounded out the championship card, bringing home $2,000 each in the process.
Catrina Allen took home the women's title and its $2,000 purse after a 5-under par 58 performance. Paige Pierce and Sarah Hokom tied for second with 1-under par 62s, while Valarie Jenkins' 5-over par 68 was good for fourth place.
For McBeth, the showing was the culmination of a few days that seemed uncertain on the surface but that he approached with his normal composure.
"It was definitely a crazy week altogether, but I was gonna be prepared to play," McBeth said. "I was gonna be prepared to play, but I wasn't gonna be upset if I ended up caddying or something like that. I was gonna be ready no matter what."
While it was business as usual in his preparation, real life provided another distraction.
McBeth found out earlier in the week that his cousin was severely injured in a freak accident after he fell out of a moving truck. He was in intensive care for four days, McBeth said, and suffered a fractured skull. He is now recovering, but his speech and memory have been compromised.
"It's been difficult being on the East Coast and finding out, and where I was on the East Coast not being able to do anything or communicate real easily," McBeth said.
McBeth found out before the tournament that his family had set up a GoFundMe account to help offset his cousin's medical bills, and he pledged to donate anything he won during the weekend to the cause. It added extra motivation to his quest for $10,000, and his cousin and other family members had a watch party at the hospital to see him collect the victory.
"They were all hanging out and they got to watch and he saw the interview afterwards," McBeth said. "He was like, 'Man, this is so awesome, I love you,' and all that stuff, so it was really cool."
While McBeth put on a show for his family and fans yesterday, his week started out a little more slowly, as he came in fourth place during the Green Mountain Championship. The finish earned him the fifth seed in the DGPT Championship, which gave him an automatic berth into the tournament's Sunday morning semifinals, where he bested Dana Vicich by three strokes with a 9-under par 54 to win his card and move to the finals.
And that's when he turned in another vintage performance.
After missing a birdie putt on hole 1 of the final round, McBeth birdied six of the next seven holes to take a two shot lead over the rest of the card. By hole 10, he had whittled the field down to a two horse race, with Locastro the only one to keep pace as Cole, McBride, and Sexton all tossed multiple shots out-of-bounds through the course's midsection. McBeth led by three, but his best was yet to come.
McBeth took the lone par on hole 11, then he and Locastro lobbed birdies back and forth for the next four holes. After hitting a tree about 40 feet from the pin on hole 15, it looked like McBeth may have given Locastro an opportunity to take a shot back and force the issue with three holes to play. But McBeth canned an impressive 40-footer – one of five outside-the-circle putts he converted during the round – to take the wind out of Locastro's sails.
McBeth closed out the tournament with three more birdies to take home the distinction of being the first champion of the Disc Golf Pro Tour, and he cited those big putts as the determining factor in his improved scores over multiple rounds at Fox Run.
"The first round and the second round – the semis and the finals – were kind of identical with my tee shots but I made the putts when I needed to in the finals, which I didn't make those in the semifinals," McBeth said. "I clutched up in the finals and got my putt together and sunk a few from outside the circle."
With its clean slate, win-or-go-home format in each round, McBeth praised the Championship for bringing some surprises to the weekend.
"You always had a chance, you know, until the final hole if you kept it close," McBeth said. "I thought it was really exciting for the players and the fans watching. You could see the upsets, you know Nate [Sexton] and I being the only seeded people to make it, a five and an eight seed, and the rest were play-ins."
One of those play-ins was McBride, a 20-year-old from San Luis Obispo, California. Coming from the 31st seed in the DGPT points standings, he tossed a 5-under par 58 in Saturday's quarterfinals to sneak into the semis. By Sunday, he was a surprise no longer, as his scorching 13-under par 50 led the semifinals and he hung with McBeth and the rest of the card for the first third of the final round.
After playing six rounds over the course of four days – three rounds at the GMC, then all three rounds of the DGPT Championship – McBride admitted that fatigue played a factor in his final round performance.
"It was very tiring and the body and mind weren't stoked to keep playing, but I was kind of grinding it out," McBride said. "The nicest thing after that is the flat payout after the top four. It was kind of less stressful in that sense."
McBride's hot round in the semifinals was notable not only for the fact that it nearly set a course record, but also because Drew Gibson – who had deliberately missed a putt in the quarterfinals to avoid playing against McBeth – was on the card.
"I just kind of laughed at it, but it kind of made beating him even more satisfying," McBride said. "I definitely just tried to stay in my own world during the round and not worry about how anyone else was playing."
Allen echoed a similar refrain, as she said she has worked hard since losing at Worlds to reshape the mental focus she relied upon so heavily earlier this season. She said a trip home to see some friends coach high school volleyball – and how their team played with a large lead – was instrumental in getting her back on the right track.
"I watched how different they played as soon as something bad happened," Allen said. "The other team got a couple points, and you could see them playing to not lose instead of pressing and playing to win. It reminded me of some things I've been taught and some things I've heard, and it reminded me to get back."
Allen's revitalized mentality was on display on holes 11 and 13, when she said some negative thoughts began to creep in her head around the putting green. She committed to the shots, hit both of the putts, and after the last one celebrated with an authoritative fist pump.
"I was like, 'OK, I need to put this under the basket or commit,' and I was like, 'I'm gonna commit,'" Allen said. "In both of those situations I got myself away from thinking about the score, thinking about the results and just committing to my stroke. I fist pumped not because it went in, I think I fist pumped more because it's really a mental process."
Among other surprise performances in the finale, DGPT points winner Ricky Wysocki did not make it out of the semifinals after shooting a 6-under par 57 to come in last place on his card.
With the Disc Golf Pro Tour now complete, most of the pro women head east to the United States Women's Disc Golf Championship this weekend in Sabattus, Maine, while men eye the United States Disc Golf Championship the first week of October.