Northern California native makes "business decision" to avoid McBeth in the semifinals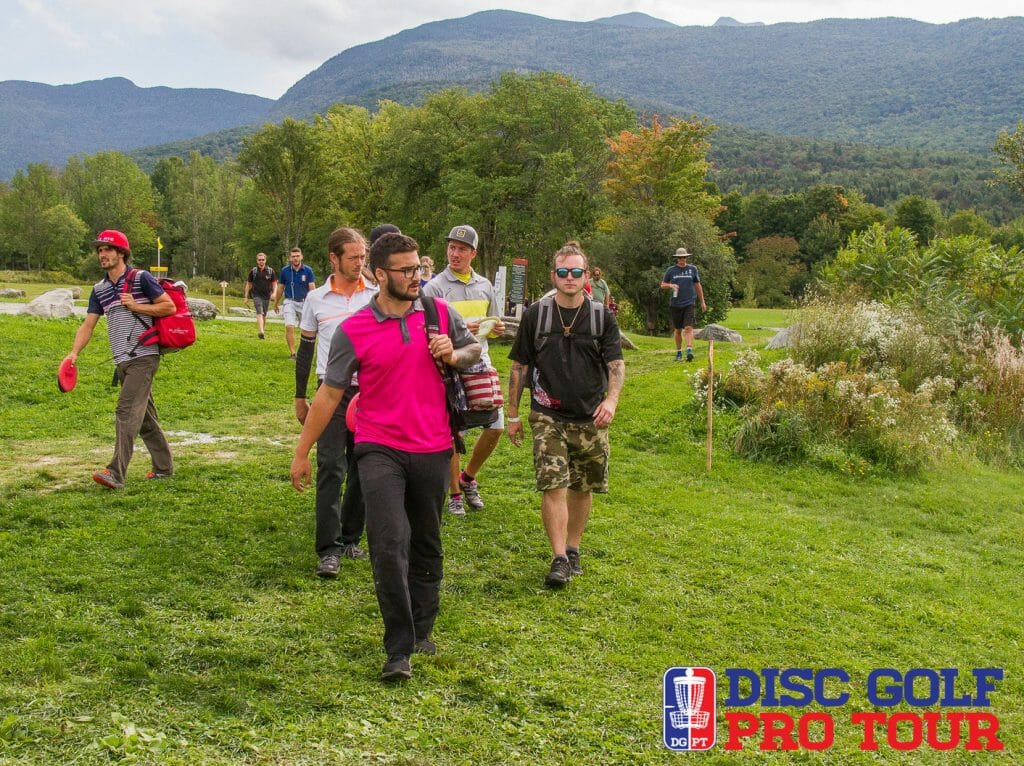 Drew Gibson came out of the gates with a hot start during yesterday's Disc Golf Pro Tour Championship quarterfinals, carding seven consecutive birdies to jump to an early lead and virtually secure his spot in today's semifinals.
How he finished, though, captured more attention.
Gibson's 7-under par 56 at Fox Run Meadows was good enough to put him in second place for the round and into the semis, but it could have been better. After being in position for a relatively simple birdie look on hole 18 that would have put him at 9-under for the round and into first place, Gibson crushed his approach shot out-of-bounds, then added a stroke to his score by intentionally missing a tap-in putt to card a double bogey 6. The swing resulted in Cam Todd taking the lead out for the quarterfinals and, more importantly, changed Gibson's seeding for the next round.
If Gibson would have finished in first place in the quarterfinals, he would have faced Paul McBeth in the semifinals, where only the winner of each card – plus one wildcard – moves on to the finals. Instead, Gibson now takes on Nate Doss, James Conrad, and Peter McBride.
After the round, Gibson owned the move, unapologetically calling it a "business decision" made in order to put himself in the best position to move on to the finals and collect the DGPT Championship's substantial bounty.
"Paul McBeth and $10,000 don't go in the same sentence," Gibson said. "I'm not digging at Doss or Conrad or Peter when I say this. I don't think they're lesser. I'm not gonna put $10,000 in Paul's hand and say, 'Keep it from me.' I'm not gonna do it."
Gibson said he started checking the round's live scores around hole 12 and also laid up on hole 17 as he contemplated his strategy. He equated the move to situations in other major sports that have seen teams under-perform in order to improve their draft positions and highlighted the impact a $10,000 purse would make on his season.
"It would be my whole year, basically," Gibson said. "If I won this it would be [the same as] my winning the whole year, like 17 tournaments. I would double my year."
Gibson pointed out that he did not break any rules, just that he "didn't finish the hole until I felt like I needed to." He also noted that finding a loophole in the DGPT Championship format did not guarantee success, just a more competitive position.
"I don't need to play Paul the second round of this thing," Gibson said. "I'm not out there to play the best round and get my ass whipped by Paul, potentially. "I'm out there to play the best round I can and shoot the best I can."
Reaction to the tactic was mixed. Gibson said Todd was angry about the situation and that Disc Golf Pro Tour Director Steve Dodge called it unsportsmanlike. Others – including Ricky Wysocki, who currently holds the top seed in the DGPT Championship – had no problems with a little gamesmanship.
"I don't think there's anything wrong with it," Wysocki said. "He wanted a matchup, and the way the rules are he played within the rules. In the grand scheme of things you really just have to play your game, and he was just trying to get a better matchup and I don't think there's anything wrong that."
McBeth appeared to have a little fun with the day's proceedings, taking to Twitter on Saturday night to rib Gibson, who responded in kind.
Gibson reiterated that the play was all about giving himself a better opportunity to escape the semifinals unscathed and was not meant as a slight to any other player.
"I think Cam Todd can beat Paul, too," Gibson said. "I would have done it no matter who it was [behind me]. If it was my best friend I would have done it. I didn't hurt anyone, I didn't kick anyone's dog, I didn't do anything against the rules. It wasn't a me-versus-Cam Todd thing. It was a me versus my best chance thing."
Gibson's gambit was not the only drama on the day. Dana Vicich emerged from the 40th seed to make the semis after tossing a 4-under par 59, just ahead of Dustin Keegan, who carded a 3-under par 60. In FPO it was Zoe Andyke who came up just one stroke short behind Sarah Hokom and Valarie Jenkins, who both managed 4-over par 67s to secure berths in the finals.
Keegan was still on the course with a chance to move to the next round, while Vicich sat in the clubhouse and watched the final few holes unfold, uncertain of his fate. Going into the par 4 hole 18, Keegan needed just a par to tie and likely advance via tiebreaker, if not a birdie to move on outright.
Keegan's tee shot found the center of the fairway, but his forehand approach seemed to head directly right out of his hand, fading toward the out-of-bounds right of the basket. Sitting three, he was forced to run the long putt from outside 10 meters, but came up just short off the cage on his par attempt, ending his chances.
Vicich said he enjoyed the dramatic format, even if it did make for some added stress in the process.
"A lot of mixed feelings floating around, you know, because I've got a lot of friends out there playing that I was cheering for," Vicich said. "And at the same time watching, I want to make it to the next round. I didn't have any malicious thoughts toward anyone, I wanted to see my friends shoot well. It kind of hurt to see Dustin finish like that – I'm not sure he knew what the scores were – but I'm excited to move on."
Another surprise move came from Jordan Castro, who shot a 6-under par 57 from the 28th seed to see another day of play. While it makes for a nice Cinderella story, Castro is now faced with the unwieldy task of battling on a card with Wysocki, Nate Sexton, and Nikko Locastro.
"It's going to be a tough task to do, but I'm up for the challenge," Castro said. "I'll have to stick to the game plan, make putts, hit lines, and know when to attack and when to play smart."
While Vicich and Castro took advantage of the clean slate heading into the quarterfinals, other tour stalwarts faltered.
Gregg Barsby – a player many assumed would have a good chance at moving on to the semifinals – did not finish the round. After taking a triple-bogey 6 on hole 5, his tee shot on hole 6 went out-of-bounds, and he quickly walked to the drop zone and threw a left-handed shot to the green before putting out with the same disc and exiting the course. No reason was given for his withdrawal, but in 2015 he suffered a right elbow injury that shortened his season.
After his fourth place finish at the Green Mountain Championship, Jeremy Koling failed to crack the semis, finishing two strokes behind Vicich. Like Koling, A.J. Risley couldn't maintain the moment that saw him finish 14th – and one stroke out of a tie for 9th – in the GMC, finishing four strokes behind Vicich at the end of the quarterfinals. Other notable names who packed their bags after Saturday were Will Schusterick, Devan Owens, Philo Brathwaite, and Eagle McMahon.
Semifinal action kicks off today at 8:00 a.m. local time, with the finals taking place at 1:00 p.m. Live streaming will be available on the Disc Golf Pro Tour's YouTube page, while scoring updates can be accessed through UDisc.