It's Prodigy vs. Discraft. Which disc stayed in your bag all season?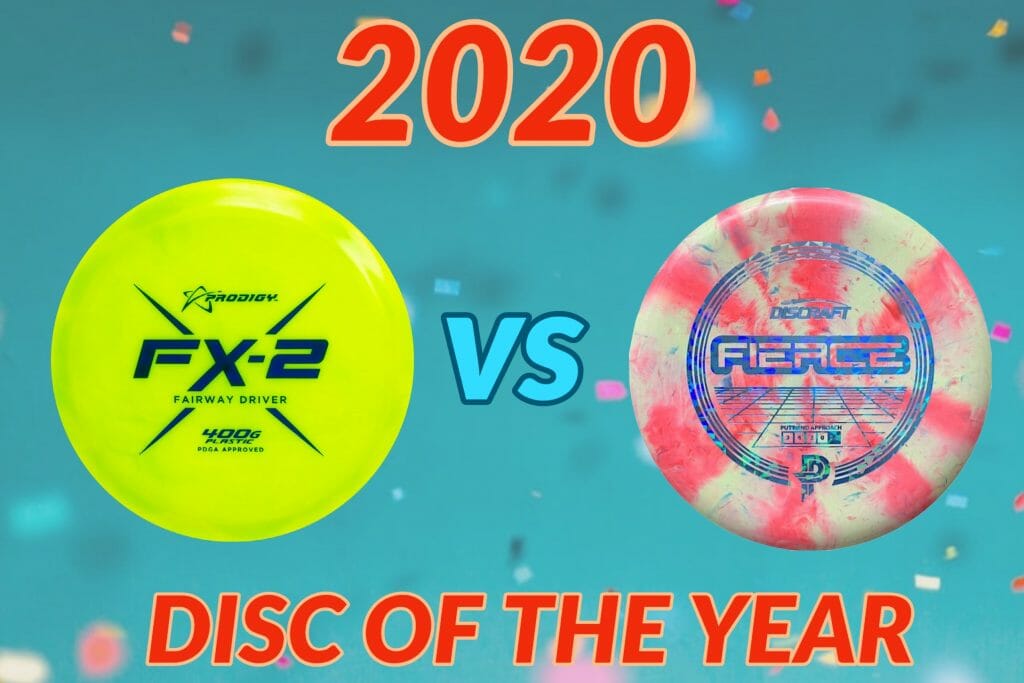 We've given you an entire season+ to make a decision, so which will it be?
After about 20 months or so tracking sales, flight charts, reviews, top pro recommendations, throwing, and voting, we have been able to effectively narrow down the discs released in 2020 to two finalists: the Prodigy FX-2 and Discraft Fierce. It's the second year in a row these two companies are vying for the top release.
Prodigy's FX-2 led the voting with 31.8% of the vote, and the Paige Pierce signature Fierce was close behind at 29.1%.
Fierce – Discraft
From Discraft: The first disc in the Paige Pierce line, the Fierce putter! The Fierce is a straight flying understable putter that was designed along with Paige Pierce to create a small diameter putter with a good hand feel for players of all sizes. The Fierce putter demonstrates straight flights with effortless glide and excels at understable turnover approaches.
From The Pro: "The Fierce is my pick for disc of the year for many reasons. I think it was a huge statement in the growth and support of women's disc golf. Discraft allowed me the privilege of designing a completely new mold. Naturally I  chose to make a putter that would suit my preferred style of putting, point and shoot. It was designed with the intention of being very straight and glidey so that when you got farther away from the target you wouldn't get as much of a hyzer finish that overstable putters get. Another huge plus for this mold is the shallow beadless rim which feels great in any hand no matter how big or small, and it comes off of your fingers with a smooth release." -Paige Pierce
FX-2 – Prodigy
From Prodigy: The Prodigy Disc FX-2 packs a punch in our fairway lineup, bringing speed to its class as it fits in between our F Series and H Series. Created in collaboration with 2-time Disc Golf Pro Tour Champion Chris Dickerson, the FX-2 is overstable with dimensions specific to Chris' desires in a disc. The FX-2 has a profile that provides a comfortable feel for both backhand and sidearm throwers. Crank on it as hard as you want and get a fast, straight flight with a medium finish or scale back the power for controlled hyzers. No matter how you throw it, you'll be surprised how far it flies. Not to mention, it's Robot Chicken approved. The FX-2 brings a new brand of fairway driver to the table with more to come.
From the Pro: "The FX-2 was designed with speed and glide in mind while also having a reliable slightly overstable finish.  While only being a 9-10 speed disc I've been able to throw it in place of my drivers because of the glide and control I get out of it being a slower disc." – Chris Dickerson
Voting
Finals voting ends Sunday, October 31 at 11:59 pm PST.