How Idlewild's final seven holes, one of the toughest stretch in disc golf, shaped the tournament's outcome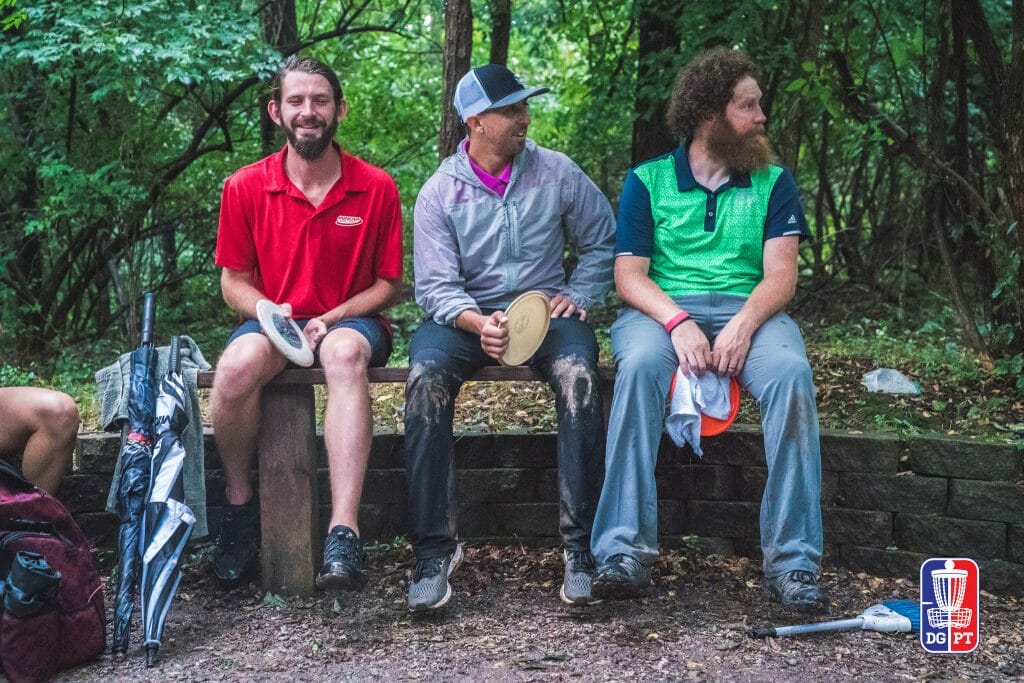 View from the Top examines the shots that make and break contenders at PDGA Major, National Tour, and Disc Golf Pro Tour tournaments. Here you'll find in-depth analysis of the most recent coverage combined with historical perspective, statistics, and POV interviews with professionals and media. James Conrad shot the same total score at Idlewild in 2017 and 2018. This week I delve into why he came up short in his attempt to repeat as champion.
---
James Conrad needed to knock down a 38-foot par putt on the 18th hole to tie Zach Melton for second place at the 2018 Idlewild Open. It was tempestuous and grueling weekend that saw both golfers log 52 ½ holes in the span of 36 hours due to a major lightning delay on Friday. Conrad was seven for 15 from Circle 2 through 53 holes and had just canned a birdie putt from 70 feet on the previous hole.
No stranger to pressure putts on the 54th hole, Conrad cashed a 25-footer in the wind to secure victory over Paul McBeth at this event last year. It was Conrad's first signature win on the national stage.1
On Sunday, he confidently fired his trusty JC Pro Aviar into the heart of the chains to finish the tournament at 16-under par 185 – the same total that won him the tournament last year. When asked to rate his weekend, the Virginian crooned, "Obviously I would have liked to defend my title, but considerin' [the inclement weather], I was happy to be able to keep my head in the game and put together a really solid showin' all weekend."
For the record, Conrad rates the 18th hole his favorite on the course. "It's an amazin' finishin' hole. I've always loved tunnel shots, especially off the tee, and just tryin' to lace it to even have a hope at birdie or par is pretty cool. And comin' down the stretch you know that it matters a lot." The 650-foot par 4 was the second hardest hole relative to par, and Conrad played it 1-under par for the weekend. He was the only competitor in the top ten to achieve this feat.2
The final seven holes at Idlewild are a veritable murderers row. The 13th hole played hardest relative to par (+1.19) and was followed by the 18th (+0.88). Holes 12 (+0.68), 16 (+0.61), and 15 (+0.50) round out the top five, and the 14th hole ranked eighth, sixth, and ninth hardest by round (+0.36). Only the 17th hole lay outside of the top 10 (+0.11) and that was on account of its change from a par 3 to a par 4. Notably, the penultimate hole played 0.17 strokes harder this year than it did last year.
As for why Conrad was unable to repeat as champion despite replicating his 2017 total, it comes down to this final stretch of holes. Conrad recorded eight birdies (-8) against five bogeys and three double bogeys (+11) for a total of 3-over par. McBeth recorded seven birdies and one eagle (-9) against three bogeys and a quadruple bogey (+7) for a total of 2-under par. Had Conrad matched McBeth's total through this stretch, he would have won by one stroke.
Conrad lost four strokes to McBeth on the 16th hole alone, three of which were courtesy of a double bogey in the first round. It was the only time in six tournament rounds at Idlewild that he failed to card a birdie. Amazingly, Conrad's never thrown more than four shots on the hole during the course of play. Last year he scored a penalty-4 in the first round after throwing out of bounds on his drive. This year he recorded a triple penalty, double-bogey 7.
Conrad took his first crack at the hole on Saturday morning and threw a wide-rimmed driver on a flip-up hyzer line. It easily crested the first hilltop, skipped off of the downslope, and just missed the fairway left: O.B. He overcooked his second shot on an aggressive flex line in an effort to give himself a long birdie putt. It sailed wide right of the green and over the creek toward hole 17's fairway: O.B. His third, a long step putt near the edge of C2, clipped some leaves and splashed into the creek: O.B. Conrad's first shot to land in bounds was his fourth thrown, a putt from just outside of C1.
"That was a tough one to swallow. I didn't feel like any of my shots were really terrible, just didn't quite keep 'em in," Conrad explained. "And, you know, a double bogey there hurts when people are gettin' threes and fours, eagles and birdies and such. But I learned my lesson and was able to birdie it the next two rounds, so that was good." Of the misses, his drive looked most promising.
It might seem antithetical to use a treeless fairway to demonstrate Idlewild's thin margin for error, but the 16th hole is deceptively tricky. The 969-foot par 5 offers the opportunity to air one out and play for eagle, baiting players to crush their drives, but the fairway plays narrower than it looks because it is flanked by O.B. on both sides. The second shot is blind to the pin, ending with a significant drop into the landing zone. Nestled in a grove of bunker trees, the island green is fronted by a winding creek and backed by untamed woods – both of which play out of bounds.
Conrad likes the contrast hole 16 provides. "It is definitely a changeup, I mean, 13 and 14 and 15 are three of the tightest tee shots you've played all day and then you step up to like, you know, just a wide open field. And it's a par 5 so you're thinkin' you want to bite off some distance, but with how tight that fairway is, especially with the little bit of a slope it has, it's so easy to let one trickle O.B."
After his miscues earlier that day in round one, Conrad opted to throw a TeeBird on a straight line in the second round. He still flirted with the left O.B., but the slower disc speed coupled with the flatter terrain resulted in a soft landing without a skip. "I was just playin' a straight shot even though there's a wide open hyzer available," he recounted. "Been throwin' straight shots all day, so [I thought I'd] just try to keep one in bounds and then pound it down to the bottom from there. Maybe have a long look at three. At least leave [myself] an easy four."
His drive in the third round offers the best point of comparison with the first round. Opting for a Thunderbird this time, the trajectory of his drive was virtually identical to his tee shot in the first round — perhaps somewhat lower. His disc hit the downslope with speed and skipped dangerously toward O.B., but remarkably, the long grass offered enough resistance to keep him safe. The difference between the first and last rounds, out of bounds and in bounds, was a matter of inches.
Conrad threw 185 shots in 2017 and won; he threw 185 shots in 2018 and finished second, four strokes out of first. That said, he wasn't surprised that his winning total from last year resulted in a lower spot on the podium in 2018. "I feel like the course was a little cleaner this year, a little more fair, a little less underbrush… [just] more scoreable. I would've liked to be able to shave a few [strokes], give it a little better effort on a couple of those [missed opportunities]."
It may seem reductionistic to frame Conrad's loss against the backdrop of the 16th hole alone. After all, the line between winning and losing a tournament rarely comes down to one shot, one hole, or one round. But his play on the 16th poignantly illustrates the thin margin for error at the 2018 Idlewild Open and how missed opportunities cost Conrad the win. The field averaged 5.61 strokes on hole 16 for the weekend, but the top 20 averaged 4.75.3 Even with his double bogey in the first round, Conrad scored 1.83 strokes below the field average; however, he played 0.75 strokes worse than the top 20. In other words, his play on this hole clearly separated him from the field at large but minimally impacted his position within the top 20 because he was able to gain strokes (like on hole 18, for example) more often than he lost them. Ultimately, Conrad is gaining momentum after a difficult stretch in April and May, and as the tour shifts toward the wooded courses on the east coast, the rest of the field should be put on notice.
---
Conrad's breakout performance on the big screen came earlier that year at another DGPT event, the Waco Annual Charity Open, when he lost in heartbreaking fashion to Jeremy Koling in a one-hole playoff. He shot a 15-under par 52 in the final round to force extra holes. His only blemish, a late bogey on hole 17, cost him the outright victory. ↩

The only other players in the top 30 to match Conrad were Tyler Horne (T16, 13 strokes out of first) and James "Snappy" Cole (T23, 20 strokes out of first place). All three finished at 1-under par for the weekend and had the same scoring pattern: par-birdie-par. ↩

Round 1: 1 Eagle, 7 Birdies, 7 Pars, 4 Bogeys, 1 Double Bogey = -0.1. Round 2: 2 Eagles, 7 Birdies, 8 Pars, 3 Bogeys = -0.4; Round 3: 10 Birdies, 6 Pars, 3 Bogeys, 1 Double Bogey = -0.25. ↩