Melton matches Conrad for second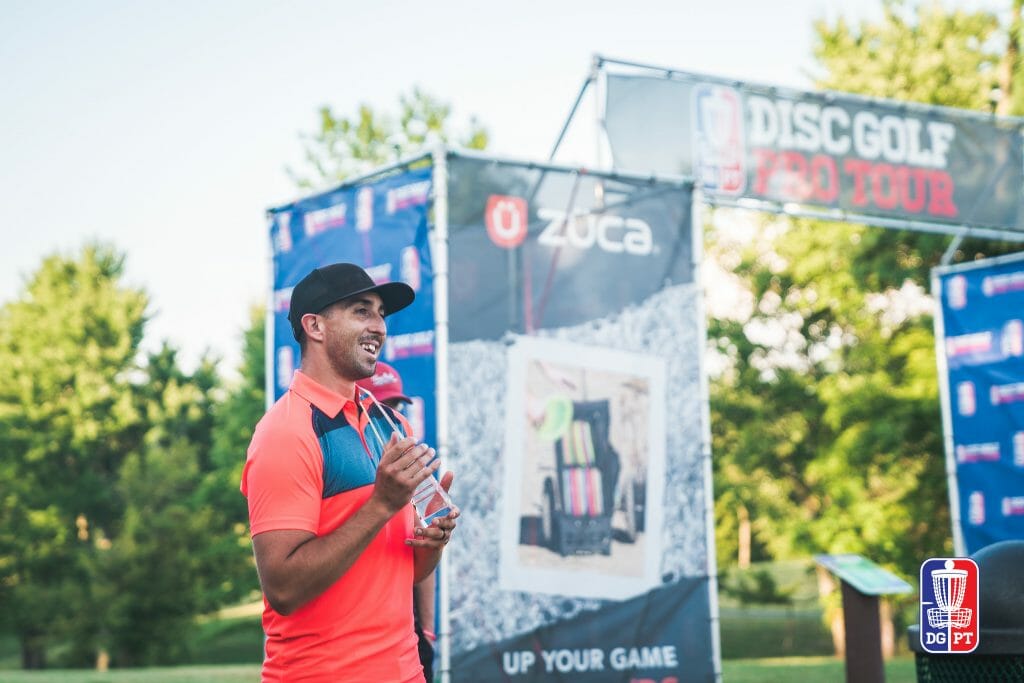 Paul McBeth started the day on the chase card six strokes back of Kevin Jones at one of, if not the, hardest course on tour and finished as the Idlewild Open champion. The back nine at Idlewild is notable for not only playing considerably tougher than the front nine but also for being one of the most demanding stretches of holes anywhere on tour. And that's where McBeth shined in the final round, going 2-under par through the final nine frames. In that stretch, he took the lead on hole 13 and never looked back. The win is McBeth's sixth of the season and now he is 62 points ahead of Ricky Wysocki in first place in the Disc Golf Pro Tour standings.
McBeth concluded his rainy weekend in Kentucky throwing a 1064-rated 10-under par 57 to finish at 20-under par 181. The comeback performance gave him his second DGPT win of the year, and the sixth win overall this season. Zach Melton and James Conrad tied in second place at 16-under par 185. Nate Perkins put together an impressive 8-under par 59 final round to take fourth place with a 15-under par 186 total. Jones, who slipped out of the lead down the stretch finished tied in fifth place with Michael Johansen at 14-under par 187.
Though McBeth entered the final round with a significant deficit to the lead, at this point in his career final round heroics are to be expected. He made quick work of eating into Jones' six-stroke advantage, going 8-under par through the front nine with an eagle on hole 8. Jones, on the other hand, struggled early on, carding just three strokes under par through the front half.
By the 472-foot par 3 13th, Jones fell one stroke back of McBeth after carding his first bogey of the day, though he still had a legitimate chance to reclaim the lead. That was until he took a difficult triple-bogey seven on the uphill 487-foot par 4 15th. Jones went deep into the woods off the tee to the left on the demanding uphill initial fairway and was unable to recover. He attempted what appeared to be an overhand pitchout, but hit a tree right on his release and was forced to try again from virtually the same lie. After eventually pitching out to the basket he appeared to be in position to stop the bleeding, but he missed a putt from inside Circle 1 before he could finally get off the hole. After that, Jones was four strokes back of McBeth, and only Melton had a puncher's chance at taking down McBeth.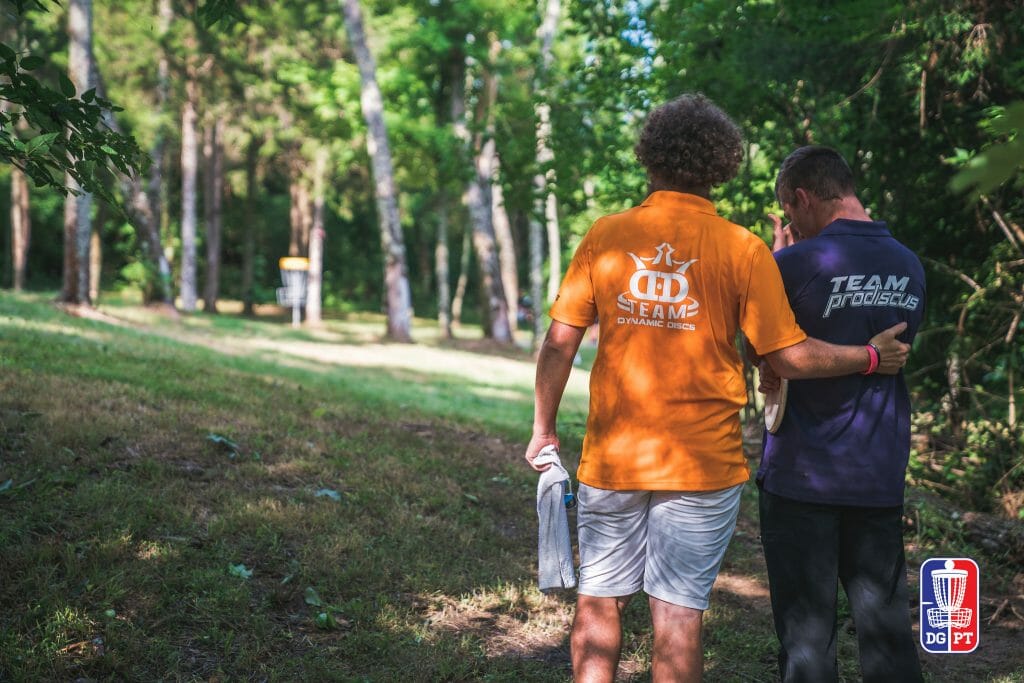 Melton had been laying in wait and stalking the leaders like a bearded orange lion all day but took a bogey five on hole 16 when he went OB off the tee and then threw an uncharacteristically poor second shot which only went about 75 feet.
"The drive felt really good out of my hand and it took a really wild skip and ended up OB by about an inch," Melton explained. "For the next shot I was just thinking about getting down to the bottom of the hill, saving my par, maybe having a look for birdie but on my run-up, I stepped in a hole or something and just threw a worm burner."
As disappointed with that shot as he was, Melton was generally upbeat about his performance given the tough conditions and difficult course.
"My card, we played 35 holes on that second day and, I'm not going to lie," Melton said. "Halfway through Sunday I looked over at Paige [Pierce] who was caddying for me and said to her and my wife, 'I'm feeling it right now'…the course is so mentally demanding and you can't let up, and at that point, I was feeling it more mentally than physically. This is one of the toughest courses we play and you saw a lot of very good players finishing over par."
Melton's second place finish is his best career showing at a DGPT event. He credited his quality play to a number of factors including his hot putting, some familiarity with the course, and sticking to his game plan.
"Last year there were a couple of holes I chose to attack, and this year I decided to play two or three holes a bit more conservatively and the results speak for themselves," Melton reflected. "The only hole which really gave me trouble was 17, but everyone had struggles with that one. I'm really happy with how I putted, especially over the last couple of months. I switched out my putters and have been using ones with Eric [Oakley] and Tina's [Stanaitis] faces stamped on them, which is nice having them out there whenever I look down at my disc."
Having a strong scramble game certainly helped Melton throughout the tournament. Over the final two rounds, Melton scrambled at 82.5-percent. He successfully saved par on hole 12 all during three rounds which certainly kept him in the hunt as long as he was. Hole 12 played an average .68 strokes over par all tournament long.
"I think I scrambled really well, and my forehand was coming out smooth," Melton said. "On a course like this, that's so wooded and technical, having a good scramble game really helped."
McBeth didn't need to scramble for the win down the stretch. His birdie on the 969-foot par 5 16th — a hole he seemed to have dialed in all weekend — virtually iced his win. A bogey on the penultimate hole 17 didn't hurt as his closest competitors were unable to gain enough ground there and he saved his first birdie on 18 for the final round when he needed it most.
Watching the final round at Idlewild felt like watching a nature documentary, or a police procedural show. No matter how fast the water buffalo runs or the bad guy protests his innocence, you know how it's going to end. The pack of lions gets their meal, the cops cuff the guy, and McBeth gets his win. In the live stream coverage, McBeth was always occupying a picture-in-picture place on the screen, and apparently in his opponents' psyches. As the holes ticked away, his win felt inevitable.
---
The next stop on the DGPT is the Ledgestone Insurance Open in Peoria, Illinois which starts August 9. Josh Anthon hasn't played in an event since the Beaver State Fling, but will be returning to the field to defend his 2017 win and Wysocki will be in attendance in his first state-side tournament since the Utah Open. Ledgestone is the second to the last stop on the Pro Tour, with only the MVP Open left before the Tour Championship.