Severe storm damages tournament infrastructure
Disc Golf Pro Tour announcement. Image: DGPT
Severe storms in the Burlington, Kentucky area have caused an extended delay at the Idlewild Open. While the Disc Golf Pro Tour image above, which was posted to social media to announce the delay, reads "Rain Delay" the proceedings were suspended for far more than just rain.
Around 2:45 p.m. players were told to finish the hole they were on and exit the course before winds in excess of 60 miles per hour, rain, hail, and lightning arrived in the area. Earlier in the afternoon, the National Weather Service announced that a Tornado Watch was in effect for Northern Kentucky and the surrounding area, and that the watch was in effect until 9:00 p.m. this evening.
Got a few very valid complaints about the last map we shared. Here is the area currently under a Tornado Watch.
Details at https://t.co/VyWINDk3xP pic.twitter.com/HGzWRnMw3E

— NWS (@NWS) July 20, 2018
As the severe storm arrived at the course, the DGPT advertizing trellis near hole 1 was knocked over by the strong winds, as were some tents and banners: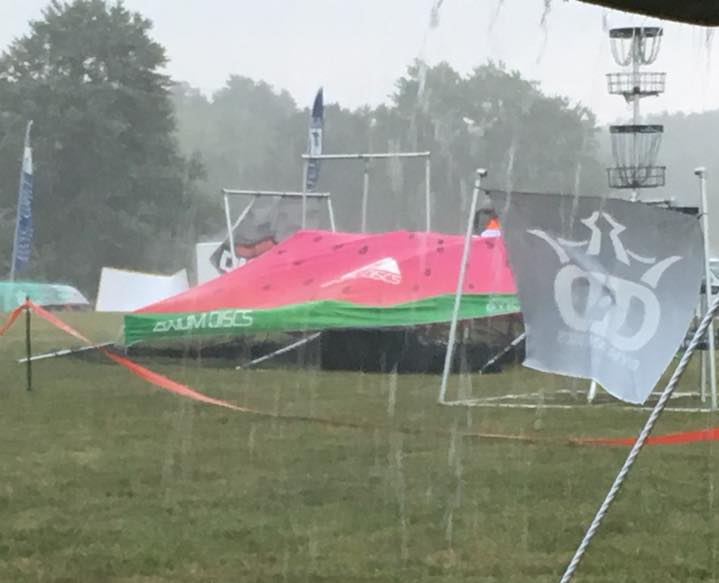 The entire Open Women field completed their first round, with the final card finishing out hole 18 shortly before the delay. Paige Pierce is the current leader at 3-over par 69; Sarah Hokom is one stroke behind. Only one card (four players) from the Open field was able to complete their first round. Tyler Horne, who was one of the four players to finish a complete 18 holes, leads at 6-under par 61. Corey Ellis is currently second, having finished 15 holes, at 5-under par 49.
Play had also been delayed earlier in the round, shortly before noon, after a number of lightning strikes in the area. But that system passed by rather quickly, causing only a short delay of about 15 minutes.
Jomez Productions shot a short video and posted it to their Instagram page as they were leaving the course. In the background, you can see the approaching storm, hear the strong winds, and see vehicles quickly exiting the parking area.
Update 3:40 p.m.
Dana Vicich chimed in via Twitter saying that the horn to call off play was difficult to hear, and some trees didn't hold up too well in the wind.
We were way out there, prob played 15 min too long cause we didn't hear the horn. I'm wet.

— Dana Vicich (@DanaDiscGolf) July 20, 2018
Branch fell on a hole I was on, lots of trees were bending!

— Dana Vicich (@DanaDiscGolf) July 20, 2018
Update 3:45 p.m.
Ultiworld Disc Golf Staff Meteorologist Jacob Wilkins indicates in the radar image below that a storm with additional lightning is expected developing west of Idlewild and is expected to pass near the course soon. This should continue the delay for the foreseeable future.
@UltiworldDG @DiscGolfProTour an additional cluster of storms is now approaching Idlewild from the west. These are less potent as of now, but still contain quite a bit of lightning. pic.twitter.com/es7VQqlkrf

— Jacob Wilkins (@JacobWilkinswx) July 20, 2018
Update 3:55 p.m.
A Facebook post from Paul McBeth indicates that tournament staff plan to try to "squeeze in" as much golf as possible today and any remaining holes from round one will be played tomorrow.
Anyone playing Idlewild Open I got word that we are trying to squeeze in as many holes today once it's safe to play….

Posted by Paul McBeth on Friday, July 20, 2018
Update 4:10 p.m.
Tournament organizers have posted a projected 5:00 p.m. eastern time start to finish out as much of the first round as possible. The 2:00 p.m. tee times will commence at 5:00 p.m. with the feature card teeing off at 6:15 p.m. Any holes left unplayed will commence again with a shotgun start tomorrow at 7:00 a.m.
The current plan is to start back at 5 PM. Stay tuned to https://t.co/Xt19OT9zRX for more updates. https://t.co/7MU5nVuPvc

— Disc Golf Pro Tour (@DiscGolfProTour) July 20, 2018
Update 5:00 p.m.
We have started back here for round one tee times at the Idlewild Open driven by @innovadiscs and @thenatidiscgolf. Follow along with the scores on @udisclive and check-in on the FPO… https://t.co/YP5jpALyHR

— Disc Golf Pro Tour (@DiscGolfProTour) July 20, 2018
Update 6:50 p.m.
After another severe thunderstorm moved through Burlington, Kentucky, round one is now officially suspended until tomorrow with the conclusion of round one beginning at 7:00 a.m. Open Women tee times will commence as scheduled tomorrow. After the Open division finishes their first round, players will tee off with the same starting times as round one.
This is a developing story and we will be updating this post as new information becomes available.