McMahon talks about his approach, looking ahead to touring in Europe, and more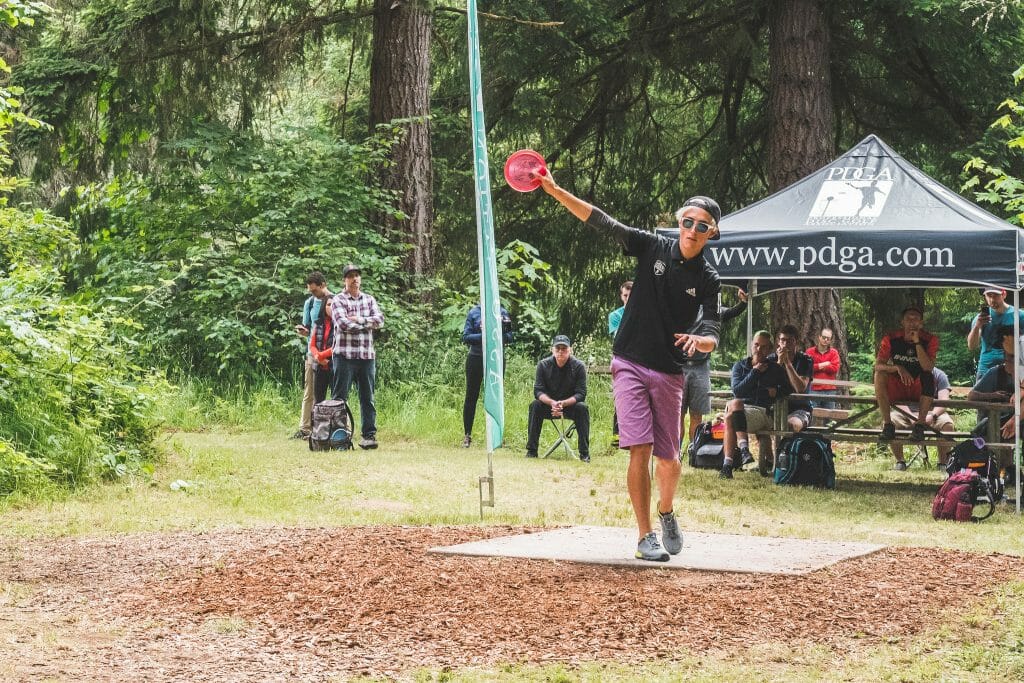 Eagle McMahon is the hottest player in disc golf right now. He has three PDGA National Tour wins on the season at the Las Vegas Challenge, Glass Blown Open, and Beaver State Fling. He's currently leading the PDGA NT Elite Series Points Standings over Ricky Wysocki by nearly 20 points with just two tournaments left in the series. McMahon took some time to talk with us about his approach on the course, what he's looking forward to during the second half of the season, and the vlog life.
The following interview has been edited for clarity and length.
Ultiworld Disc Golf: From watching the coverage, you seemed to play more placement shots, rather than trying to go big on many holes at Milo. And, you spoke earlier in the season about playing more conservatively than you have in the past. Is this something you're still trying to do, and how has it impacted your performance this season?
Eagle McMahon: I'm more or less playing more golf and strategy. My home course is a short pitch and putt, so I've been trying to set up my first and second shot to make the hole more like my home course pitch and putt style. Basically, make it as easy as possible.
UWDG: Have you been maintaining the fitness regime you practiced over the offseason?
EM: I have been maintaining a fair amount of knowledge, obviously not to the same degree because I don't have time. Mainly I just stretch and make sure I get a proper warm up. I sometimes get some strength and endurance training in when I can. I try to maintain proper food choices as well, even in practice rounds.
UWDG: Do you still consider yourself a young gun on tour or after the last couple years do you feel more like a veteran?
EM: Still young I think, I think I can play the young gun card for another couple of years. There aren't many players out there consistently on tour like I am who are younger.
UWDG: Has your more conservative play and mindset impacted your bag at all?
EM: It's pretty much the same. Discmania has a pretty simple lineup so I don't think there's much that I need to change.
UWDG: Are there any aspects of your game you are particularly trying to improve or work on?
EM: I would say my long range putter, I think I'm still trying to find that stroke this year. Also, my control — 360-foot to 420-foot controlled straight shot with a fairway or distance driver, those longer straight tunnel shots with a low ceiling.
UWDG: Yeah, I too struggle with throwing it that far on a straight line.
EM: *Laughs*
UWDG: Are there any players on tour whose game you admire or are trying to emulate?
EM: I'd say a couple. Nate Sexton — I've said I'm playing 'Sexton Golf' a couple times. At USDGC last year he just dissected the course to make it simple, like I was talking about with my new approach. He just made it so simple, you just throw it here, and then here, and get your birdie. Also, Ricky to an extent. He talks about being patient letting others slip up, and this year I've started to see what he means, just play your game and let the round shake out.
UWDG: Are there any events you're particularly looking forward to?
EM: Konopiště. I didn't do as well as I would have liked last year, but I was sick. So this year, especially after I kind of reinvented my game *laughs* since last year, I'm really looking forward to playing well there. Obviously USDGC and Worlds, I also think I'm just about almost knocking on the National Tour title.
UWDG: What are your thoughts on the ball golf courses and wide open courses versus more wooded courses? How do you think filming and spectators inform that question?
EM: Good question. Look at Milo, I think it's the perfect mix. It has those bomber open holes, fair fairways, and woods, I think it's the best of both worlds. The type of course that forces you to throw all kinds of shots, which is the direction I'd like to see disc golf go. The easy fix for spectators in filming is ball golf courses because they can accommodate spectators and they are usually in places where you can get a signal for the live stream. Gleneagles was a great course for those reasons. It had plenty of bomber holes but also used the woods well and was able to have spectators and the stream.
UWDG: What's the word on the vlog?
EM: I haven't been doing as much, and it isn't intentional, I just don't think my normal routine is super exciting. I basically only vlog the major events and they get uploaded to the Discmania channel. I'm hoping to get back to it since I'll be in Europe for a bit.