It's the second PDGA NT win of the season for McMahon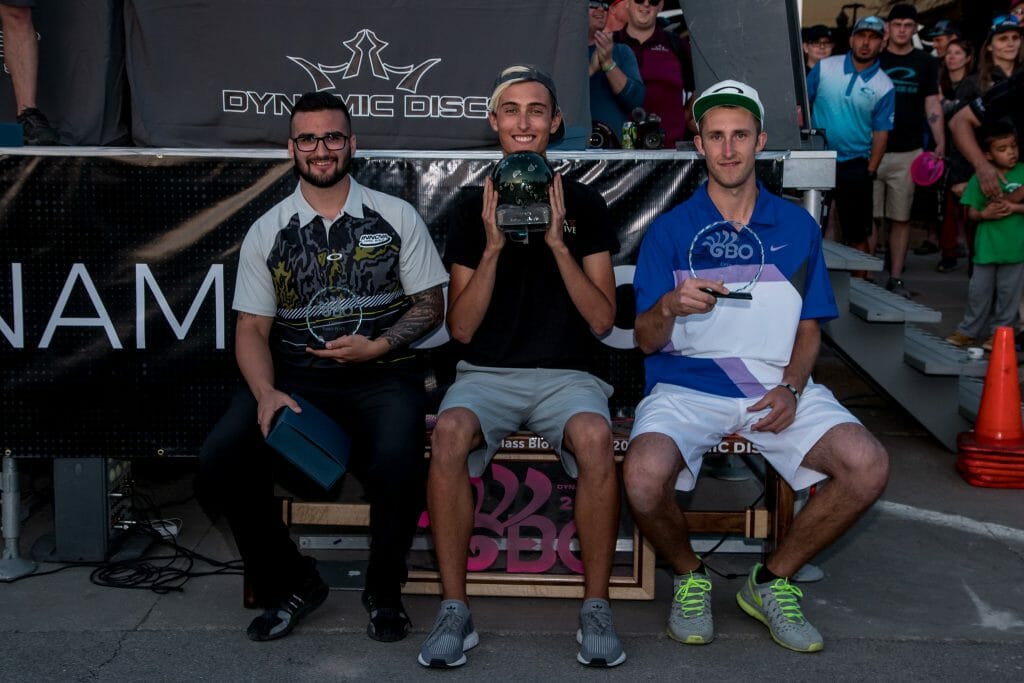 The PDGA National Tour is quickly becoming Eagle McMahon's favorite high-profile event series.
McMahon took home his first career Glass Blown Open victory on Saturday, barely outlasting Drew Gibson and Ricky Wysocki through 54 holes at the Emporia Country Club course. Wysocki shot the hot third round — an Emporia Country Club course record — with an 11-under par 52, but it wasn't enough to take down McMahon, who played a bogey-free final round 9-under 54 to finish with a 26-under par 163 total to secure the coveted glass blown trophy. Wysocki finished one stroke back of McMahon and tied with Gibson in second. McMahon's Discmania teammate Simon Lizotte finished fourth, five strokes behind the winning pace.
McMahon Overcomes Adversity, Corrects On The Island
After his win, McMahon was feeling justifiably confident.
"I was able to execute my game plan," McMahon said. "Right now, unless it's a course that really doesn't fit my game, I feel like I should be competing to win every time I go out there."
His gameplan hit a small speedbump late in the second round on the challenging 365-foot 16th.
There, McMahon's forehand hyzer drive on the island hole landed right on the water's edge. Suspended on some rocks, it was initially unclear if the disc was indeed surrounded by water. After some spirited discussion among the group — Lizotte, Wysocki, and Gibson — McMahon ultimately called his own shot OB, settling for a bogey from the drop zone.
On the final day, McMahon entered the island hole trailing Wysocki and Gibson by one stroke. This time, however, McMahon changed things up, cribbing off partner-in-crush Lizotte's humongous hyzer line over the trees. That correction paid dividends as he was able to spike his drive safely on the island and taking the birdie, and the lead:
Both Wysocki and Gibson each teed before McMahon, and both found the water — meaning McMahon knew there could be a swing if he landed safely. Wysocki and Gibson could not convert from the drop zone, giving McMahon a two-stroke swing and the lead. That put him in the driver's seat where the twenty-year-old from Colorado capitalized. Hole 16 was the pivotal centerpiece in a string of four straight birdies to end McMahon's winning round — and secure his second PDGA NT win of the season.
McMahon described 16 as the moment in the final round when he felt like victory was in his grasp.
"Of course every stroke counts and every hole is important," McMahon explained. "But getting that birdie, and knowing that I could birdie out for the win felt great."
"The GBO really feels like the start of the season," McMahon continued. "Now we go into a stretch of great courses and tournaments. I'd really like to win the Masters Cup; that will be tough though since it's Paul McBeth's playground, but I'm confident."
Gibson Confident Despite Tough Break
Gibson had a couple rough breaks in his final round that kept him from sole possession of the lead. Most prominent was a splash-out ace on hole 15, and after that wasn't able to maintain that momentum on 16. At the time of the splash-out, Gibson was tied with Wysocki in first with a one-stroke lead over McMahon.
"I feel like I played with confidence and executed well, Eagle caught some breaks that I wasn't able to," Gibson told Ultiworld Disc Golf after the event. "He played great. A couple things break my way here or there and it's a different outcome."
Team Discmania Continues To Make Waves
McMahon's Discmania teammates made strong showings in the top ten. After Lizotte in fourth, Grady Shue was able to correct his second round stumble to take sixth place with an 8-under par 55 final round, and Colten Montgomery took eighth after impressive second and third round scores.
While Shue has received a bit more of the attention as the 2017 PDGA rookie of the year, Montgomery is on a tear this month. Including a third-place showing at the Jonesboro Open, his GBO performance is his fourth top ten finish of 2018.
More Strong Performances From The Field
Rounding out the top ten, Kevin Jones carded a strong 10-under par 53 final round, going bogey-free with eight consecutive birdies to start the back nine. Nate Doss appears to be mostly recovered from a shoulder injury that forced him to drop from The Memorial earlier this year, finishing in seventh place. Nate Sexton and A.J. Risley tied in ninth, rounding out the top 10. It was Risley's second career GBO — he finished 28th last year.
The next PDGA NT event is the Masters Cup in Santa Cruz, California, which begins on May 18th.