First career Beaver State Fling win for McMahon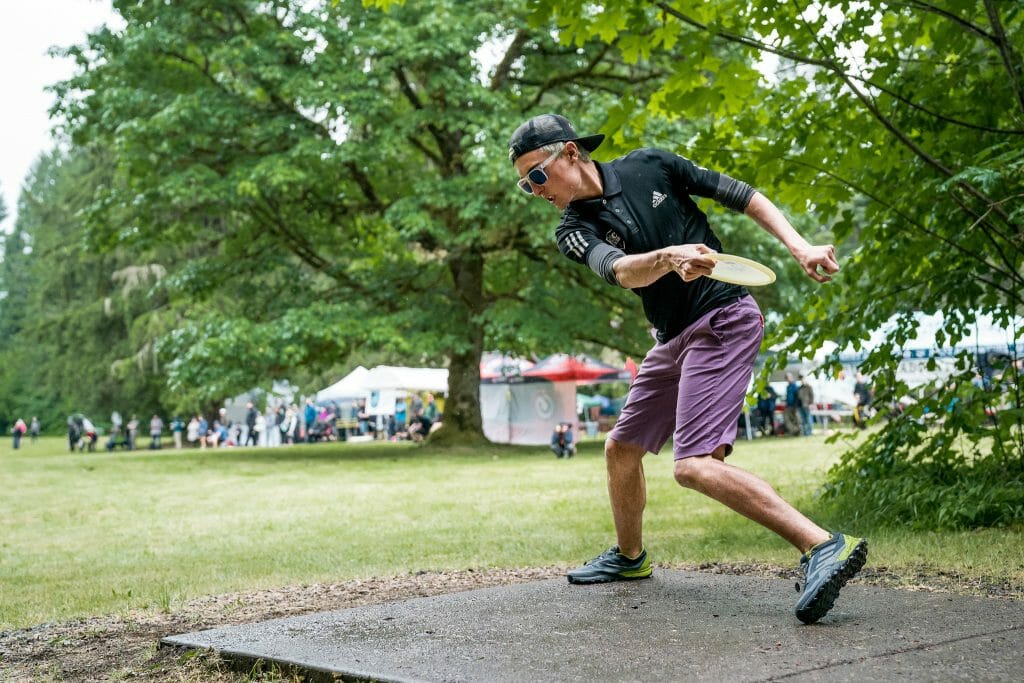 After the Beaver State Fling yielded very little scoring separation through four rounds, Eagle McMahon emerged victorious in the end, capturing his third PDGA National Tour win this season. It's McMahon's fifth win of the season and his first career BSF title. The victory should move McMahon past Ricky Wysocki in the season-long NT Elite Series Points Standings once they are updated.
McMahon finished his weekend with a score of 31-under 213, two strokes clear of Paul Ulibarri in second at 29-under 215. Kevin Jones and Garrett Gurthie tied at 27-under 217 in third place. Ricky Wysocki, Simon Lizotte, Drew Gibson, Chandler Fry, and Scott Withers all tied for fifth at 26-under 218.
Eagle Continues to Soar
While McMahon's strong final round propelled him to the top, it was his opening salvo that set the tone for his winning performance. The young pro soared out of the gates, posting the hot round in round one at Milo McIver's Riverbend West Course with a 1055 rated 10-under par 51. That score proved to be the difference between him and the tight pack behind him after he followed it up with two consistent rounds to stay in contention before the final day.
In the final round, McMahon was able to get scoring again. He birdied six of the first nine holes, avoided OB, and only missed a single putt from inside Circle 1. This final round was representative of McMahon's entire tournament. He took advantage of the opportunities to score when they were there for him, but never really put on the type of run of birdies or made any hyper-aggressive plays which he has been known for, for better or worse.
"I'm more or less playing more golf and strategy," McMahon explained of his approach for the BSF. "My home course is a short pitch and putt, so I've been trying to set up my first and second shot to make the hole more like my home course pitch and putt style. Basically, make it as easy as possible."
Three statistical categories that McMahon was particularly proficient in reflected his strategy to turn the long fairways at Milo into a dissectable pitch and putt course. His Parked rate, rate of reaching Circle 1 in Regulation and scramble percentage each set him apart in Oregon, and led to his birdie rate of 44-percent. McMahon parked 18-percent of the holes he played, and reached Circle 1 in Regulation at a 44-percent clip — both marks were good enough to rank him fifth and sixth respectively. And given the wet conditions all weekend, his 94-percent successful scramble percentage was most impressive, and ranked him tied for first overall in the field.
Ulibarri's Break Pays Off
Paul Ulibarri has put together a strong season, but this was his best showing at any high-profile event in 2018. The 1028 rated Arizonan hit 75-percent of his fairways over the weekend and 95-percent of his putts from inside Circle 1. Like McMahon, Ulibarri played clean rounds, only scoring over par on three holes across all four rounds, and he had a bogey-free round three. According to Ulibarri, a week off prior to the event made things click.
"After Masters Cup I went home instead of going to San Francisco to play that big open bomber golf course because I was throwing a good 50-60 feet shorter than I usually do," Ulibarri explained. "So I decided to go home and put in some field work and something clicked.  I feel I underachieved this weekend based on how well I threw. I only made two putts outside the circle, which is frustrating because that's one of my strengths. For me, there's no difference between fifth and fifteenth, and not competing at a top level is a hard pill to swallow."
"I took a double-bogey on hole 16 in the final round, Ulibarri continued. "It was a long putt from a ways out, and things just kind of spiraled from there with a roll away. At that point, I knew Eagle was ahead of me and I had to run the putt because I couldn't count on a player like him to make mistakes down the final stretch."
GG Puts on a Show
Garrett Gurthie has been one of the best stories of this season, but he has yet to make his mark at NT's in 2018. His best showing at an NT this year was a 28th place finish at the Masters Cup.
Gurthie was in the lead for some time during the final round. Going into hole 10 he was sitting at 28 under and had birdied six of the first nine holes and was in position to make a run at the title, but three bogeys in a row on holes 10, 11, and 12 in the final round ended his chances at the win.
Gurthie's tie for third with Kevin Jones was largely thanks to back-to-back eagles during round three at the West Course. He scored a three on the 850-foot par 5 6th, and a two on the 587-foot par four hole seven. If he birdies those holes he falls to a tie for tenth.
---
Further down the leaderboard, Seppo Paju finished in tenth place at 25-under par 219. Paul McBeth and Bradley Williams tied in eleventh place at 24-under par 220. Philo Brathwaite and Dustin Keegan both dropped out of the top ten during the final round, finishing tied in thirteenth place at 23-under par 221. Zach Melton and James Proctor each moved up nine positions on the leaderboard during the final round to finish in a tie for fifteenth with James Conrad at 22-under par 222.
From here, the PDGA NT series takes a three-month hiatus until the Delaware Disc Golf Challenge kicks off on September 14th at Iron Hill. The pro-touring scene heads next to the Utah Open, part of the Disc Golf Pro Tour, which begins on June 22nd.