Freeman hangs on to second place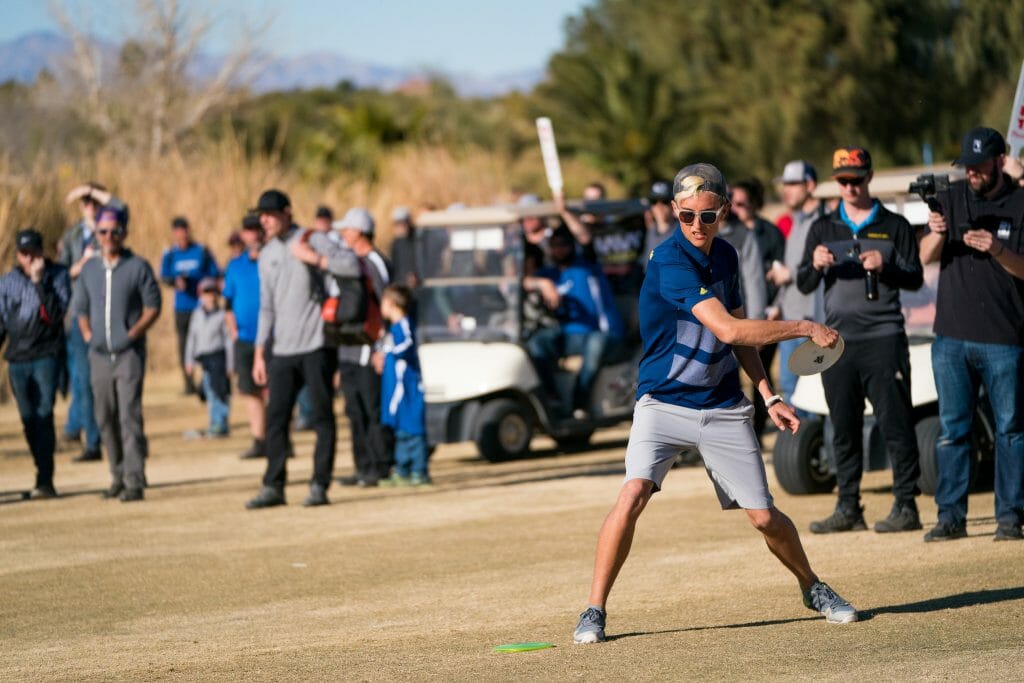 After numerous runner-up finishes and lost leads in the final round of high profile events over the past season, Eagle McMahon entered the final round of the Las Vegas Challenge in familiar territory. He had a one-stroke lead. He had played great golf for three rounds. And he had the creeping sense of doubt that he might not be able to close it out.
"Not a single shot felt comfortable," he said. "The final layup, I was thinking, 'Oh gosh, what if I hit the pole and it rolls away and then I miss the putt.'"
But McMahon executed shot after shot, dropping 11 birdies and just a single bogey, en route to a four shot victory over Joel Freeman and his first-ever National Tour victory.
"It feels really great," he said. "I'm not going to say I can't believe it because I definitely can. I know I've been good enough to do it."
McMahon closed out the biggest win of his career with a 10-under par 51 final round, which brought his winning total to 36-under par 206. After so many almosts and not quites, Eagle opened up the 2018 professional disc golf season with a victory that could portend his arrival as a fixture at the top of the leaderboard. "The water is cleared now," he said. "I have a clean slate to kind of begin being really good."
While other top pros played well (Ricky Wysocki, Simon Lizotte, and Paul McBeth all finished in the top 10), it was Coloradan Joel Freeman who finished second with a 32-under par 210 after a 7-under par 54 final round. It was easily his career-best NT finish (his previous best was 39th at last year's Gentlemen's Club Challenge) as he remained on the lead card for three straight rounds.
"I have worked extremely hard the last couple years," said Freeman. "I played 35 tournaments last year. I have trained and trained over the offseason. I have putted for hours on end. I am trying to make up for lost time while I am still young because there are so many talented players out there. It felt fantastic to see some of that hard work and those hours I have been putting in pay off a bit."
Ricky Wysocki mounted a strong comeback attempt with an 11-under par 50 score (tied for the day's hot round) that took his total to 30-under par 212, which left him tied in third place with Nikko Locastro, who ended his strong week of play with a 10-under par 51 final round. Simon Lizotte and Drew Gibson finished tied in fifth place at 29-under par 213, while Paul McBeth finished seventh at 26-under par 216.
"The conditions early on definitely affected me," said Wysocki. "It was hard to find a rhythm. Especially while putting, I have to change up my putt a lot when it's windy and a spin putt isn't always the most comfortable for me."
McBeth was to the point: "No excuses. I'll be back next week."
Further down the leaderboard Philo Brathwaite finished in eighth place at 24-under par 218. Nate Sexton, Kevin Jones, and Emerson Keith finished tied in ninth place at 23-under par 219. Keith tied both Wysocki and Paul Oman for the hot round on the final day at 11-under par 50.
The tour heads next to the Memorial Championship, which tees off on Wednesday and marks the start of the Disc Golf Pro Tour.