A new look Memorial Championship meets a new look Open field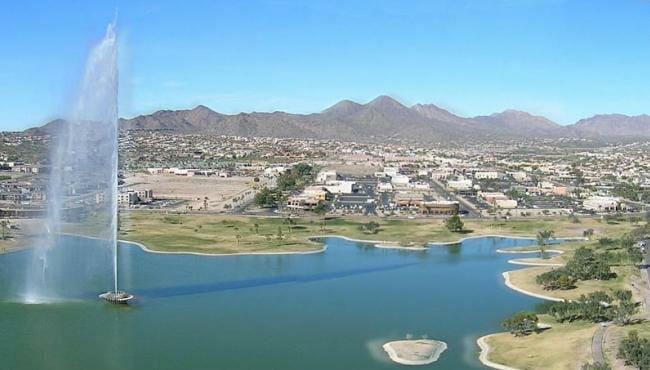 Now that the PDGA National Tour has begun, it's time for the Disc Golf Pro Tour to get underway in Arizona. There are a few changes in store for the Memorial Championship celebrating its 30th year as an early season fixture on the professional disc golf calendar. Specifically, the event has moved back to a two-course format with just Fountain Hills and Vista del Camino XL, which will return to hosting the final round, in play. Additionally, Vista XL seeing the debut of the new Discraft Chainstar Pro basket.
Storylines
Eagle McMahon and his performance at the Las Vegas Challenge, which led to the first NT win of his career, is undoubtedly the headline of this early season. Right out of the gates he has shaken off any lingering doubt from the incomplete finishes of last season and seems poised to take the next step towards pushing Ricky Wysocki and Paul McBeth for wins at every high-profile event going forward. Of course, there's always the possibility this week of a figurative hangover, of the emotional variety, that can come after an initial breakthrough win. (We saw it with Wysocki after his winning his first World Championship.) But in the scope of the entire 2018 season, it seems clear that now the sky is the limit for McMahon.
That brings us to the other regular contenders in the Open field. The Memorial remains, alongside the USDGC, one of the few high-profile events that Wysocki has yet to win. He spends much of the offseason in the Phoenix area and plays Vista regularly. He will have to readjust his putt after windy conditions hampered his came in Vegas in time to mark this event off his win list.
McBeth, who has won The Memorial five times in the last seven years, seems to be struggling with his putting early this season. He missed 11 putts from circle 1 at the LVC, while only missing only 23 putts from circle 1 on the entire Pro Tour in 2017. While he wasn't referring specifically to any one part of his game when reached for comment after the LVC, he was straight to the point in looking ahead to The Memorial, saying, "No excuses. I'll be back next week."
But with the ascendence of McMahon, ever-present threats at the top of the field like Simon Lizotte, Nate Sexton, and Nate Doss, and the emergence of young and talented pros like Joel Freeman, Kevin Jones, and Austin Turner, 2018 might be a season where there is more change than repetition at the top of the Open field.
Paige Pierce put together a significant comeback win at the LVC after starting off eight strokes out of the lead with more than half of the field between her and first place. Erasing that deficit to get the win went a long way to proving she's still the player to beat after a dominant 2017 season. She's won The Memorial five times in the last seven years and it's hard to see any way that she won't make it six times in eight years.
Courses
The long-running Arizona event is back to its original format: featuring two courses, Fountain Hills and Vista del Camino Park XL. You can see maps of all three courses and other information in the caddy book.
Fountain Hills (Wednesday & Friday)– Par 56, 6,953 feet – Fountain Hills will now host the opening and third rounds of the event. This course mixes in long par threes and just two par fours with tons of water hazard and out of bounds. Stay tuned in for holes 7-9, a crucial stretch of featuring peninsula greens that can make or break a round.
Vista XL (Thursday & Saturday)– Par 60, 8,231 feet – Vista features many holes in excess of 500 feet and the notable par 3 hole 9, measuring in at 482 feet where, if you have enough arm and the confidence to use it, you can test the water and go for the green. Now, its back to hosting the final round.
Past Memorial Championship Winners
| | Open | Open Women | | |
| --- | --- | --- | --- | --- |
| 2020 | Calvin Heimburg | Paige Pierce | | |
| 2019 | Eagle McMahon | Eveliina Salonen | | |
| 2018 | Simon Lizotte | Paige Pierce | | |
| 2017 | Paul McBeth | Paige Pierce | | |
| 2016 | Paul McBeth | Catrina Allen | | |
| 2015 | Jeremy Koling | Paige Pierce | | |
| 2014 | Paul McBeth | Paige Pierce | | |
| 2013 | Will Schusterick | Paige Pierce | | |
| 2012 | Paul McBeth | Valarie Jenkins | | |
| 2011 | Paul McBeth | Paige Pierce | | |
| 2010 | Dave Feldberg | Liz Carr | | |
How To Follow
All four rounds of The Memorial will be broadcast live on through the Disc Golf Pro Tour YouTube channel, produced by SmashboxxTV. Each broadcast Wednesday through Saturday begins at 4:00 p.m. Eastern Time.
Additionally, Central Coast Disc Golf and Jomez Productions will be there doing post-production videos for Open division cards. The Disc Golf Pro Tour is filming the Open Women's lead cards and interspersing them within the live broadcast. That footage will be produced by Terry Miller through his TheDiscGolfGuy productions.
The feature card for round one will only be available to watch via the live broadcast, with CCDG and Jomez Productions each picking up two other cards in the Open division.
UDisc Live is back again with live scoring from start to finish, and Ultiworld Disc Golf will be your home for round recaps and additional analysis.
Extended Forecast
Overall, conditions are expected to be on the dry side. This caused some cracking skin and irritation for some players last weekend in Las Vegas. The same could happen this weekend, as humidity levels are expected to be below 30% throughout the tournament.
With southwest winds being a factor both Friday and Saturday, a couple holes at both Fountain Hills and Vista del Camino could be affected. At Fountain Hills, the iconic hole 18 may see a headwind on Friday. Hole 18 is a 400-foot par 3, with Fountain Lake lining the left side of the fairway. Over at Vista Del Camino, hole 6 may play into a headwind on Saturday. Hole 6 is a 783-foot par 4 with OB lining both sides of the fairway and pinching off near the green. And of course, at Fountain Hills, there's always the chance the fountain itself can come into play.
Wednesday:
7 AM: 42° with a slight southwest wind.
2 PM: 57° with a southwest wind around 5 mph.
Thursday:
7 AM: 41° with a slight easterly wind.
2 PM: 68° with a southwest wind around 5 mph.
Friday:
7 AM: 42° with a southeast wind around 5 mph.
2 PM: 68° with a southwest wind around 10 mph.
Saturday:
7 AM: 45° with a slight southerly wind.
2 PM: 68° with a southwest wind around 10 mph.