Discraft to debut new Chainstar Pro basket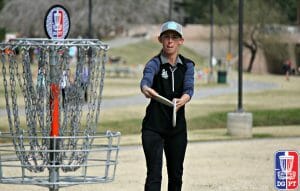 Vista del Camino Park in Scottsdale, Arizona will now host the final round of The 30th Memorial Championship and feature Discraft's new Chainstar Pro baskets.
Tournament Director Keith Murray featured on Tuesday's episode of SmashboxxTV, and revealed the adjustments, saying the move back to Scottsdale should streamline tournament and logistics organization given the course's proximity to their headquarters at Spinners on the Green.
A move back to Vista for the final round is in many ways a fitting nod to the past. Murray noted that while recent iterations of The Memorial finished up at Fountain Hills due to live past broadcast crews needing a wired setup, Vista had been the traditional finishing track since the early days of the event. Removing the Fiesta Lakes course from the four-round event allowed for the change. 2018 will be the first year without Fiesta Lakes on the schedule since 2014.
Murray described the new Chainstar Pro baskets as red in color and having a band at the top, akin to the Innova Discatcher, but smaller. Additionally, he noted that the new design will not feature a cross chain pattern seen on models like the DGA Mach-X, which is in place at Fountain Hills. There's no word yet from the Disc Golf Pro Tour if the Chainstar Pro is among it's approved targets. We emailed the DGPT and will update this post if we hear back.