The spotlight of an NT lead card never got too bright for Freeman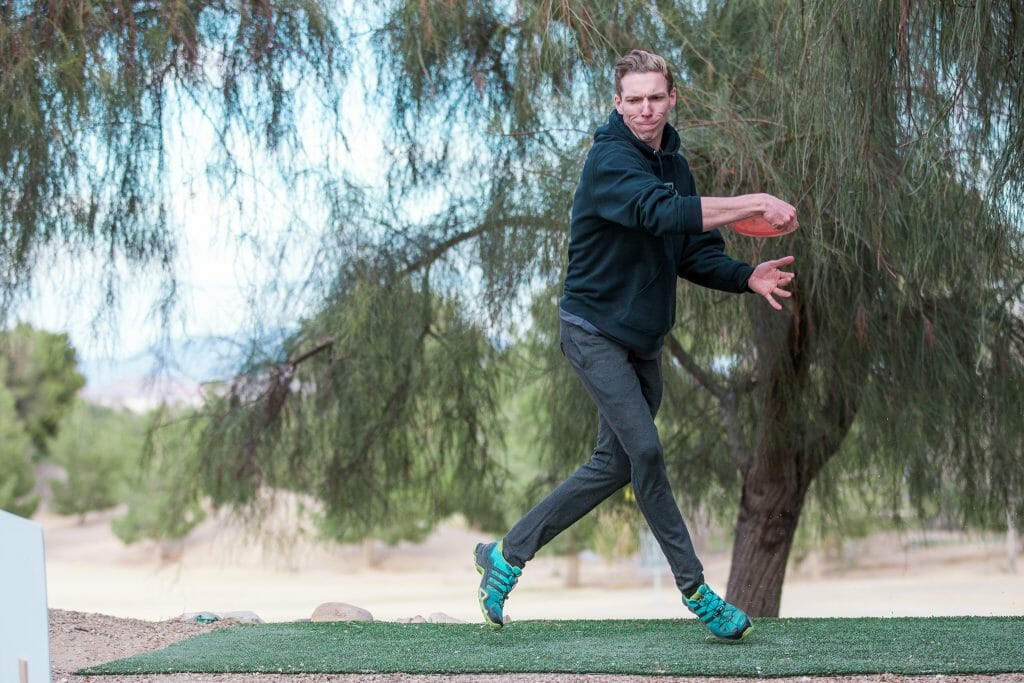 One surprising feature of last weekend's Las Vegas Challenge, the first PDGA National Tour Series event of the season, were the many new faces who appeared on lead cards, especially early on in the event. While some fell off as the event went along, one hung around all the way until the end. That was Joel Freeman, who ultimately finished second after staying on the lead card for the final three rounds.
Before the event, the 1011-rated pro playing out of Greeley, Colorado had never finished higher than 39th in an NT before and has 10 career Open wins to his name in just a little over three years as a pro.
We caught up with Freeman after his impressive performance to find out a little more about his background with disc sports and beyond, and how his past experiences helped him to hang on the lead card.
The interview has been edited for clarity and length.
Ultiworld Disc Golf: how did you manage any nervousness you might have felt spending three rounds on the lead card at an NT, with the added media attention and some of the best players in the sport not far behind on the leaderboard?
Freeman: Of course, there is a stereotype of players becoming nervous on camera and in front of crowds. I had several variables helping me manage this. The biggest thing I think is that I know that I have what it takes to hang with the big dogs. I didn't feel out of place. I earned my spot with my score, so I just thought to myself, 'Well, I guess Paul [McBeth] and Ricky [Wysocki] are going to have to try and chase me this time.' I knew the whole time that I had many holes ahead of me, so I really kept my emotions low. The tournament isn't over until the last putt falls on that very last hole.
A few other things: I've been filmed several times before, I've played with amazing golfers before, and I also grew up as a performer. I've been a musician my entire life, so I've been in countless talent shows, plays, musicals, and bands, etc. The largest crowd I have ever played for by myself was probably around 10,000. I also invite the pressure. I always play my best during tournaments. I can throw farther, I usually am more accurate, it gets me excited and focused when pressure is added.
UWDG: Do you specialize in any specific aspect of music?
Freeman:  I am primarily a singer. I was actually a contestant on season 11 of American Idol! I made the top 1%. I have sung my entire life, but I also play drums, guitar, piano, and a handful of others. I'm not incredibly good at any one instrument, but I can play several on a very basic level.
UWDG: Even though you're relatively new to professional disc golf, you began with a player rating in the 980s immediately. You mentioned after the LVC that you put in a lot of hard work to get to this point, but you also had some Ultimate Frisbee experience in the past to lean on. What were your early experiences with Ultimate like?
Freeman: While I have only played for a couple years, I grew up playing Ultimate, so in a sense, I've been developing my game since I was a toddler. I started at age 5. I will never forget my mom teaching me how to throw a frisbee. She threw it so well and mine barely flew at all! My five-year-old mind didn't understand, but it was because I was throwing it on a vertical angle and she was throwing it flat. She told me to pretend we were at dinner and I had a plate full of food that I didn't want to spill. That connected and from that day on I was great at throwing a frisbee. I played Ultimate frequently in very casual settings between 2006 and 2012 or so. I dreamed of playing in college, but once I got there I never did. My passion for disc golf had taken over by then. I still have a long way to go and still have a lot to learn.
UWDG: What was your first experience with disc golf, and when was it?
Freeman: One day a friend of mine approached me and said, 'Hey, it's nice outside! I was thinking about playing some disc golf. You ever played?' I replied, "I've heard of it, but never played before."
Just like that, we went to a store and both bought a driver and a putter. We stumbled our way through a local park course and fell so in love that we played almost every day that entire summer. That was summer of 2011, I believe.
UWDG: As you discovered the sport, what motivated you to want to compete at the pro level, and put in the work to go from local-pro to making an impact on the touring scene?
Freeman: I actually have a learning disability, so I do not function well in a classroom setting. I was so bad at college, so that made it hard to work hard at it. My poor performance in my classes would normally be evidence of a poor work ethic, but the results of my hard work in school were disproportionate to the work that was being put in. Disc golf was something that I could pour all my passion and hard work into. It also quickly became a viable career option. Once I played a few tournaments and found out how good I was, I knew I could make a living off of it. I thought to myself, "If I just started and am already this good, I can definitely hang with the best players in the world with a little hard work and training." I've been doing that ever since. I played 35 tournaments last season. I got some great wins. I learned a ton about what it means to be a great player and I still have so much to learn. I have a long way to go and a lot to improve, but this weekend was a great milestone!
UWDG: You're signed up for a few more big events this spring — do you have plans for a full season tour, or just for this spring, and you'll see how it goes from there?
Freeman: I am trying to make the push to tour full time. I have a few pieces that still need to come together. I come from a large family that lived off of an extremely low income, so it's just me trying to make it happen, so that means I don't have a great car. It gets the job done, but I feel like any day could be its last! That is one of many examples that make things a bit tough. I have student loans to pay off and I have an amazing girlfriend back home, so I am going on a two-month tour from mid-March through mid-May. After that maybe some local events here and there. Hopefully, more will come together. If I continue getting top 3 finishes, that wouldn't hurt my odds of being able to do more events! To give you a more direct answer, no. I do not have anything specific planned after May. We will have to see how things go and see what lines up!
UWDG: You mentioned wanting to make it to the east coast and the USDGC this year. You qualified with one of the five best scores at the LVC. How does it feel to have made it right off the bat?
Freeman: I am so excited to have already qualified in the first event that I played in 2018! Incredible! It makes it way easier for me to try and envision plans coming together down the road. I have plenty of time to prepare, knowing that I already have a spot!