Czech yo'self before you wreck yo'self.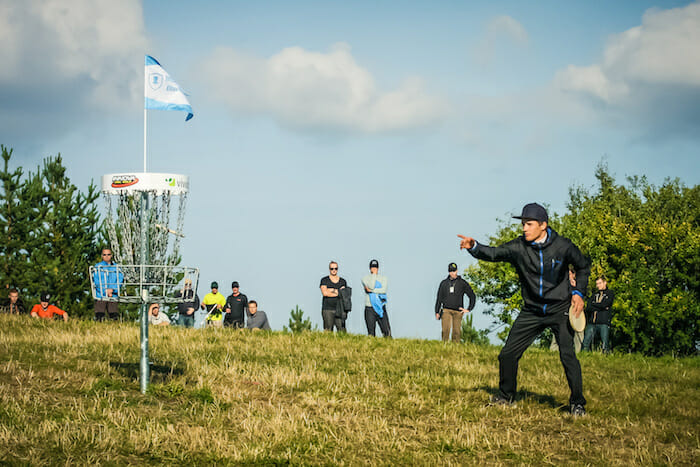 Come join our fantasy disc golf league at SkipAce.com and play against Ricky Wysocki and Paul Ulibarri! Need to sign up? Click here for more details.
Konopiště Open Outlook
After a week off, it's back to the fantasy grindstone—this time, all the way from Europe and the Czech Republic. I'm sure you have all been hoping to move on from factoring weather into your fantasy picks for yet another week, but alas, the possibility of precipitation is in the forecast for each of the three days of this event.
Lineup Building Strategies
1) Choosing Between Three Options
This is a pretty chalk tournament, where you can create lineups that feature virtually all of the top men's players. On the women's side, then, is where your choices come in. Realistically, there are only three players to choose from in the Open Women's field: Eveliina Salonen, Katka Bodová, and Vanessa Van Dyken. While there are plenty of other solid golfers in the field, only these three have a proven ability to throw multiple rounds rated over 950 during the course of an event. What's more, they have all done it multiple times within the last eight months. Salonen and Van Dyken should be familiar enough names so as to inspire confidence fantasy choices, but here's a case for Bodová: The Franz Ferdinand course here in Benesov features some awfully long holes not too dissimilar from what we see in Emporia, where the PDGA World Championships were last year. Bodová finished fifth at Worlds, and she's had to travel the shortest distance of any of these three to play in this event, coming from neighboring Slovakia.
2) Have Your Cake And Eat It, Too.
Yes, you can create a lineup with Paul McBeth, Ricky Wysocki, and Simon Lizotte in it. And it's so delicious you almost have to do it. Just plug in Silver Latt, who we discuss a bit more below, and have a go.
Optimal Lineups
6,000-Point Leagues
| Alex's Picks | | |
| --- | --- | --- |
| Player | Rating | |
| Paul McBeth | 1052 | |
| Simon Lizotte | 1040 | |
| Nate Sexton | 1036 | |
| K.J. Nybo | 1036 | |
| Eveliina Salonen | 936 | |
| Katka Bodová | 919 | |
| Total | 5,999 | |
6,025-point Leagues
| Alex's Picks | | |
| --- | --- | --- |
| Player | Rating | |
| Paul McBeth | 1052 | |
| Ricky Wysocki | 1051 | |
| Simon Lizotte | 1040 | |
| Jalle Stoor | 1020 | |
| Eveliina Salonen | 936 | |
| Katka Bodová | 919 | |
| Total | 6,018 | |
Value Plays
Jalle Stoor (1020) – Because of the way the ratings shake out at this event, and the shallow field across the board, basically anyone in the Open field rated below 1030 can be considered a value play—if only to change things up and not pick chalk. Stoor had a good start to the season in the U.S. at the GCC and The Memorial.
Silver Lätt (993) – Here's another good choice for differentiating your lineup. Lätt finished tied for seventh at last year's Konopiste Open and is quite capable of outplaying his current rating.
Deep Sleepers
This field isn't deep enough for this section. Sorry folks.
Shy Away From
Eagle McMahon (1031) – In this shallow of a field, going with McMahon certainly isn't a bad choice. Then again, you can also stack the rest of your lineup with any of the other top five players and take a break from a player coming off a rough 36th place finish at the Glass Blown Open. Wait until he's back on track to roll him with confidence.
Final Thoughts
This week is pretty heavy on the chalk. Fire up the big guns and have at it!