Make your weekly picks and take on the pros!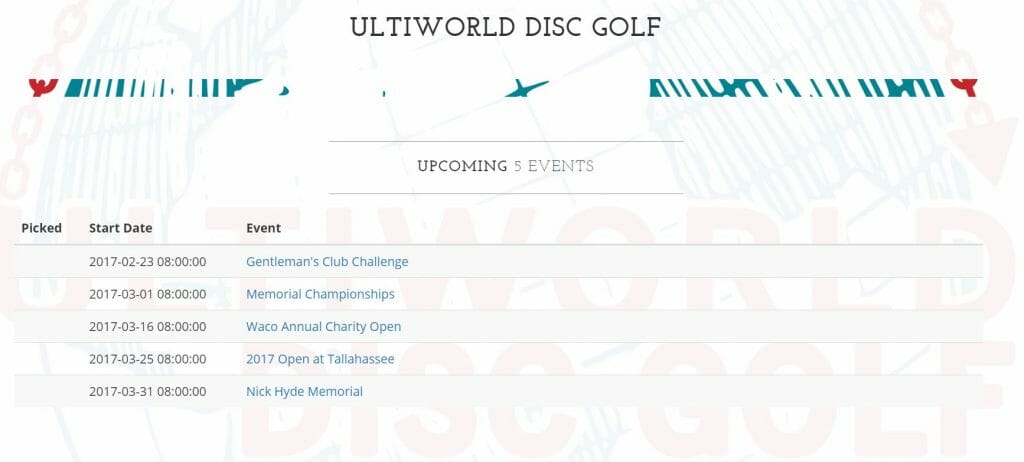 Here at Ultiworld Disc Golf, we're pretty big fantasy sports junkies. So when the we heard about the revamped fantasy disc golf format this season over at Skipace.com, we knew it was time to start our own league and have readers join in on the fun.
So, come join our league! It's free and easy, and for the time being is strictly for bragging rights (although we would like to add some prizes down the road). We'll be making salary cap-based picks every week — you'll get 6,000 ratings points to split among four men and two women — as well as offering fantasy analysis with a weekly column.
Plus, we've recruited some serious disc golf star power to play against readers in the league this season. In addition to our crack staff, you'll be making your picks against PDGA World Champion Ricky Wysocki; Paul Ulibarri, the PDGA's ninth-ranked player; and a host of other disc golf media personalities like Jonathan Gomez of Jomez Productions and Central Coast Disc Golf's Ian Anderson.
If you're feeling a little intimidated, or haven't ever played fantasy sports, have no fear: This is a zero-commitment league. If you tank one week, the scores reset the next. It's no risk, all reward.
Interested? Here's how to sign up:
Head over the Skipace.com and create an account
Under the "Leagues" tab, click "Join A League"
In the drop down menu, find "Ultiworld Disc Golf," and enter the password AllTheNews (one word, case sensitive)
Next, click on "Picks," then select "Make New Pick." Important: Be sure the header of the page says "Your fantasy picks: Ultiworld Disc Golf" so you're in the correct league. You should also see our logo in the background.
Make your picks for the Gentlemen's Club Challenge, or wait until we drop our first fantasy analysis column tomorrow to fill out your roster.
Sit back and enjoy! Additionally, you can make our league your default under the "Profile" tab.
From there, you can come back at the end of each event and see how you fared. There will be different scoring rules for Disc Golf Pro Tour events, so we'll be sure to highlight those as they happen. On the whole, this should be a fun way to bring disc golf to the same level as other mainstream sports, and it's something we look forward to seeing grow throughout the season.
So, if you're ready, sign up for our league – and create your own with friends, while you're at it – today. Check back tomorrow for our first fantasy column, and let the smack talking commence!