Everyone's back for this weekend's Texas tilt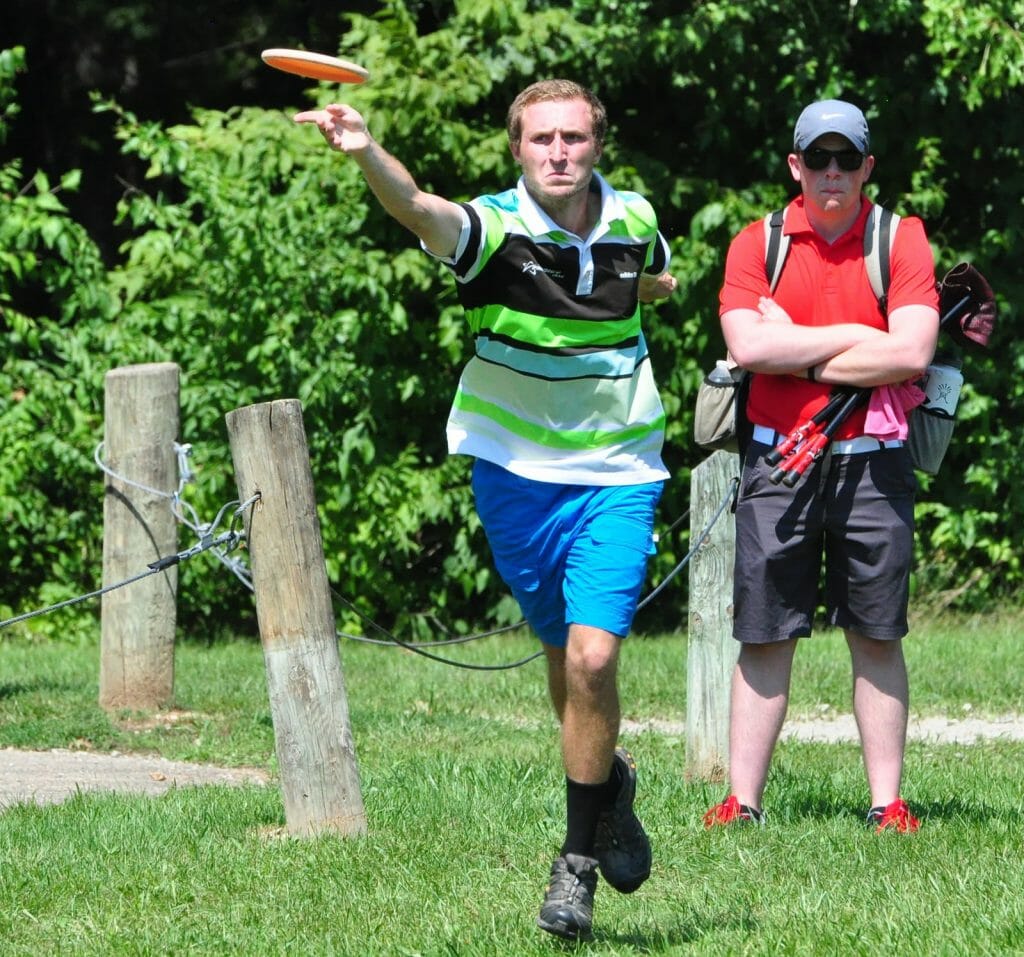 Come join our fantasy disc golf league at SkipAce.com and play against Ricky Wysocki and Paul Ulibarri! Need to sign up? Click here for more details. 
Nick Hyde Memorial Outlook
A ratings update, combined with most of the field returning to Texas for another Disc Golf Pro Tour stop, makes this weekend's Nick Hyde Memorial one of the most exciting we've had, from a fantasy perspective, in this young season.
First, all the stars are there. We've got to choose between Paul McBeth and Ricky Wysocki again, and Nate Sexton – he of the second place Nick Hyde finish in 2016 – is there to throw a wrench into the works. Add in Simon Lizotte's recent hot streak, Eagle McMahon's fifth place finish here last year, and Nikko Locastro's recent surge, and it's a veritable cornucopia of quality roster choices.
Beyond the usual suspects, though, are a few players making their way to the Disc Golf Pro Tour for the first time this season after stellar regional starts. 2015 PDGA Rookie of the Year Chris Dickerson headlines the list and enters the Nick Hyde chock full of potential and on a roll: He's won eight out of the nine events he's played this year, and in that span is averaging 1032.25-rated golf. Dickerson has only played below 1020 three times in 27 rounds, with his low being a 1011-rated opening round at the Hilton Head Invitational, which he won. Additionally, he's shot better than 1050 three times in the same span, making him an incredibly consistent, safe play this week.
For those concerned Dickerson might wilt when faced with the larger stage of the Disc Golf Pro Tour, fear not: He took fourth place at last year's Brent Hambrick Memorial Open, a PDGA National Tour event, and only finished outside the top 5 at 2016 A-Tiers twice. Yes, he also came in 24th place at both the Vibram Open and the United States Disc Golf Championship, but his recent play suggests he's ready for the big time. Dickerson is the very definition of a must-start this week.
He's not the only one worth plugging in lineups, though. Hannah Leatherman makes her 2017 DGPT debut and has not lost yet this season – and is a relative bargain in the women's division with her 930 rating – while Barry Schultz brings his veteran presence and 1025-rated skills to Open.
Suffice to say, it's going to be a fun weekend in Texas.
Lineup-Building Strategies
1) 1020s Or Bust
While it's always tempting to anchor your lineup with either McBeth or Wysocki, they're not getting any cheaper. In fact, Wysocki's rating went up by one point, and starting either of these two studs takes a major chunk out of your lineup budget in 6,000-point leagues. Instead, there are numerous lineups that can be built with Open players all in the 1020s, and all of these players have home run potential.
Nick Hyde Memorial - 1020s Or Bust
| Player | Rating | Player | Rating | |
| --- | --- | --- | --- | --- |
| Simon Lizotte | 1029 | Simon Lizotte | 1029 | |
| Nikko Locastro | 1027 | Eagle McMahon | 1028 | |
| Chris Dickerson | 1027 | Barry Schultz | 1025 | |
| Jeremy Koling | 1023 | Philo Brathwaite | 1023 | |
| Paige Pierce | 963 | Paige Pierce | 963 | |
| Hannah Leatherman | 930 | Hannah Leatherman | 930 | |
| Total | 5,999 | Total | 5,998 | |
Sure, it's nice to have the security of McBeth or Wysocki at the top. But with that much of your budget devoted to the top in a deep field, you're likely to have to make a sacrifice at the bottom end of your lineup that could come back to haunt you. Instead, picking from anyone in the 1020s gives you a near certain top 10 finish, with the possibility of a huge win in the offing.
2) Go With The Hot Hand(s)
Build your Open lineup around who's hot, instead of who's not. This idea isn't exactly groundbreaking, but let's explore it some anyway. Try starting from the bottom up, because every house needs a good foundation. Make James Conrad, one of the hottest pros out there at the moment and a great selection in terms of value (more on that below), the floor of your fantasy lineup.
Moving up into the 1020s you've got a bevy of choices with which to furnish the inside of your dwelling. Jeremy Koling just won the last Disc Golf Pro Tour event; Dickerson has only lost once since the season started and has been on fire for the better part of the last eight months; and Simon Lizotte had been in the hunt for a win since the Memorial Championship and bagged one last weekend.
The ever-present choice at the top should be an easy one this weekend: Make McBeth your ceiling. Wysocki hasn't exactly lit it up in recent weeks, and everything is pointing towards McBeth here: He's played well in this event before and has looked like his old self in the last two events he's played in — and won.
Choosing any two of the three of Lizotte, Dickerson and Koling you want — plus McBeth and Conrad — leaves you with 1,877, 1,881 or 1,883 points remaining in 6,000-point leagues and 1,902, 1,906 or 1,908, points remaining in 6,025-point leagues to fill your Open Women's spots. That leaves plenty of room to snag one of the three top players there, plus a solid second choice.
Just don't blame us when you burn your house down.
Optimal Lineups
6,000-Point Leagues
| Steve's Picks | | Alex's Picks | | |
| --- | --- | --- | --- | --- |
| Player | Rating | Player | Rating | |
| Simon Lizotte | 1029 | Paul McBeth | 1051 | |
| Nikko Locastro | 1027 | Nate Sexton | 1034 | |
| Chris Dickerson | 1027 | Simon Lizotte | 1029 | |
| Jeremy Koling | 1023 | James Conrad | 1016 | |
| Paige Pierce | 963 | Paige Pierce | 963 | |
| Hannah Leatherman | 930 | Stephanie Vincent | 906 | |
| Total | 5,999 | Total | 5,999 | |
With both lineup strategies at play here, it will be interesting to see which one pays more dividends. Will paying for McBeth and going with a more shallow women's roster be worth it?
6,025-Point Leagues
| Steve's Picks | | Alex's Picks | | |
| --- | --- | --- | --- | --- |
| Player | Rating | Player | Rating | |
| Ricky Wysocki | 1050 | Paul McBeth | 1051 | |
| Simon Lizotte | 1029 | Nate Sexton | 1034 | |
| Chris Dickerson | 1027 | Simon Lizotte | 1029 | |
| James Conrad | 1016 | James Conrad | 1016 | |
| Paige Pierce | 963 | Paige Pierce | 963 | |
| Hannah Leatherman | 930 | Hannah Leatherman | 930 | |
| Total | 6,015 | Total | 6,023 | |
The added points of the 6,025-point leagues are phenomenal for adding one of the two studs to your lineup, and we've gone in opposite directions here. Wysocki hasn't lost four tournaments in a row since 2015 — but did it a few times that year — while McBeth seems to be back in his own 2015 form.
Value Plays
Patrick Brown (1015) – Bay Area native Brown comes off an eighth place Waco Annual Charity Open showing in which he played two of the three rounds above his rating. His value comes not only at his sub-1020 price, but also in the fact that he will likely be rostered by few players, providing more bang for your buck if he has another top 10 finish in store.
James Conrad (1016) – We brought him up as a value play two weeks ago for the WACO, and that sure paid off. This week he comes in at a point less than back then and with just as much of a chance at another top finish. It's probably the last week we'll need to mention him here, too, because if you aren't picking him then you might want to reevaluate how you're playing this game. Go with what works until it doesn't anymore, then find something else that works. Right now, Conrad works.
Lisa Fajkus (924) – It's a strong Open Women's field here, but Fajkus feels like the play for those looking to fill their second spot with a player rated between 935 and 915. Jennifer Allen, Des Reading and Madison Walker have all had up and down performances over the past two months, while Leatherman hasn't been playing against the top competition to start the season, despite racking up a number of wins to this point. Fajkus has consistently finished inside the top 10 over the past few weeks and came in second at the Nick Hyde last year.
Deep Sleepers
Nolan Grider (1009) – Texas pro Grider comes with some inherent risk – he hasn't played as much over the past season – but notched a fourth place finish at the 2015 Nick Hyde.
Melody Waibel (918) – Sneaking under the ratings cap and still playing some of your favorite highly-rated players might be tricky this week. If that's the case, check out Waibel, who has been consistently hanging inside the top 10 in the early season. She finished fourth at last weekend's Open at Temple.
Shy Away From
Will Schusterick (1016) – After back-to-back top 20 finishes, Schusterick trekked east to the Open at Tallahassee and came in 24th place in a field where he was the second highest-rated player. He's not consistent enough these days to rely upon, unfortunately.
Avery Jenkins (1011) – The last time Jenkins was inside the top 10 at the end of an event of this size was in 2014. It's great to see him out there, but for fantasy purposes you're better off looking elsewhere.
Madison Walker (921) — Walker is nursing a sore arm after last weekend's Open at Jacksonville. Better to see how she responds before adding her to your squad.
Final Thoughts
It's a deep field this week, which can be a blessing and a curse. With choices aplenty to stock your rosters, it truly puts the focus on your fantasy skills and analysis. Make sure to join us back here next week to claim bragging rights — or drown your sorrows, depending on how your week goes — but don't be afraid to take a risk. After all, it's just fantasy disc golf. Have some fun with it and roll the dice.