Locastro makes a big move, plus a shuffle at the top of the women's field!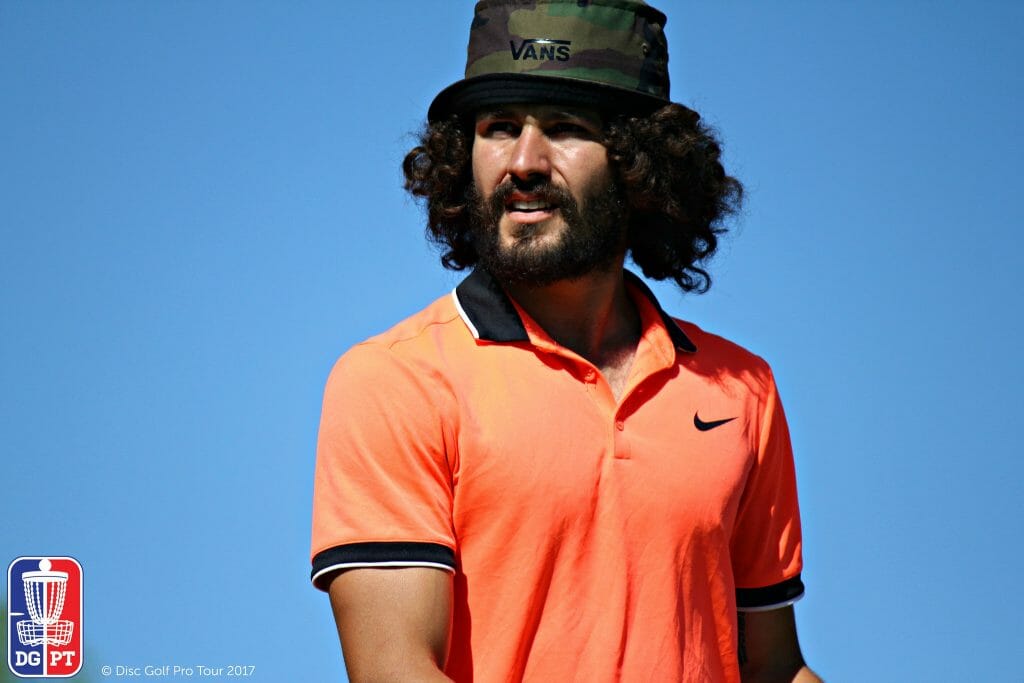 For Nikko Locastro, a car accident before the first round of the Waco Annual Charity Open could have easily been a harbinger of doom. Instead, the veteran pro has turned his fortunes and played strongly when he easily could have crumbled.
In the seven rounds since the incident, Locastro has only played two below his rating. He used those performances to claw his way back up the leaderboard at Waco, and kept climbing at the Open at Temple, where he tied with James Conrad for second place. He came back at last week's Nick Hyde Memorial and tied for fourth place, his 11-under par second round putting him onto the lead card for the eventually canceled final round.
Whether it was a positive attitude, his penchant for excellent headwear, or a combination of both, Locastro has shown some grit in recovering from what could have been an excuse for poor play. Instead, he made the biggest climb up our Power Rankings board this week.
1) Paul McBeth has now won three in a row. If he's back to his pre-injury form, look out.
2) After his 16th place at the Gentlemen's Club Challenge, Simon Lizotte has finished no worse than third place. He mixed in a win at the Open at Temple for good measure.
3) Ricky Wysocki made some waves with his post-Nick Hyde commentary. Fierce competitor, or in need of diplomacy? Your call.
4) Nate Sexton only had a couple bad holes at the Nick Hyde Memorial and continues to be a threat no matter the event.
5) It looks like we won't see Nikko Locastro again until the Glass Blown Open at the end of the month.
6) Eagle McMahon has cooled slightly from his early season scorcher, but only slightly.
7) Jeremy Koling came in ninth place at the Nick Hyde Memorial, but scored some first place tickets to the Texas Rangers game the other night.
8) Austin Turner has only finished outside the top 10 once this season.
9) After a sixth place finish at Temple, Drew Gibson was one shot off a top 10 showing at Nick Hyde.
10) James Conrad broke his second place streak by tyinig for 14th in Rockwall.
11) Devan Owens is, very quietly, stringing together solid performances week in and week out.
12) Setting a course record on a national stage is good enough to bring Peter McBride to the board. Here's to hoping he keeps making noise.
13) Chris Dickerson struggled a bit during the second round of the Nick Hyde Memorial, sliding down to a 22nd place tie.
14) Philo Brathwaite was also in the 22nd place logjam in Rockwall.
15) JohnE McCray took second place at the Jacksonville Open last weekend.
16) Fear the beard? After some early-season hiccups growing into his new Dynamic Discs plastic, Zach Melton has started to heat up lately.
17) Bobby Musick returns to the board after his win at the A-Tier Daniel Boe Memorial outside San Diego.
18) Gregg Barsby tossed a 990-rated second round at Nick Hyde, but has otherwise been enjoying a strong swing through Texas.
19) Matt Orum took the Open at Tallahassee by a whopping 10 strokes.
20) Calvin Heimburg rebounded from a rough showing in Tallahassee to take Jacksonville by three.
On the bubble: Cale Leiviska shot a couple rounds below his rating at a local C-Tier…Bo Tillman and Tim Barham have both played well in Texas…K.J. Nybo took a European C-Tier and will be an instant contender come Konopiste.
1) Catrina Allen beat the former #1 in our rankings at Temple and took a share of first at the Nick Hyde Memorial. She's back in the swing.
2) Sarah Hokom is taking off this weekend's Texas States Championship to rest.
3) Things are so close in the top 3 here that Paige Pierce could easily be at the top again in the next set of rankings.
4) Jennifer Allen took fourth place at the Nick Hyde with two rounds above her rating.
5) Elaine King took the Jacksonville Open and has now won her last three straight events.
6) Melody Waibel continued her strong start to the season with a fifth place finish at Nick Hyde.
7) Lisa Fajkus continues to enjoy her home state swing: fourth palce at Temple, sixth at Nick Hyde.
8) Vanessa Van Dyken's tremendous 14-shot win at the Daniel Boe Memorial brings her to the board.
9) Jessica Hill has finished in second place by two strokes at back-to-back Florida A-Tiers.
10) Jessica Weese slipped in the rankings a bit after her second place finish in San Diego. She rejoins the Disc Golf Pro Tour at the Jonesboro Open next week.
On the bubble: Stephanie Vincent and Hannah Leatherman tied for eighth place at Nick Hyde…Madison Walker is rehabbing an injury and will be out for a couple weeks.