McBeth wins truncated event, while Leatherman and Pierce split women's title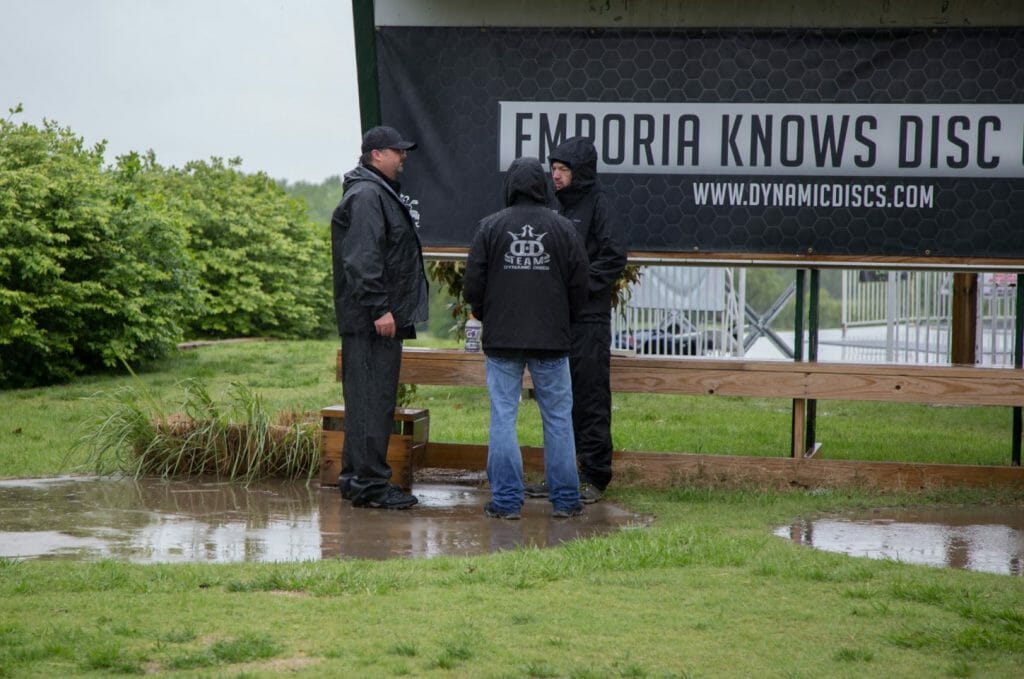 After the first two days of weather at the Dynamic Discs Glass Blown Open outperformed forecasted expectations, tournament director Doug Bjerkaas was hopeful for a similar turn of events for Saturday's final round.
"I was definitely optimistic going into the day," Bjerkaas said. "We had two fantastic days of weather, and actually the first two days initially did not look real good. Coming out of Thursday and Friday with great weather, the weather forecast didn't look good for Saturday but we thought, 'Man, it's gonna work this time.'"
That optimism quickly dried up, though, as Mother Nature reigned from the sky. Shortly after 7:30 a.m. tee times were underway, a lightning detector at the tournament's Olpe Lake course — the PDGA provides the instruments to all course directors at their premier events, Bjerkaas said — sounded the first of many alarms. With the strike coming within five miles of the venue, play was delayed for 30 minutes, but it was only the first of many that would lead to the cancellation of the final round.
"When Olpe called, we're like, 'OK, we're gonna live through this,'" Bjerkaas said. "Then suddenly there was Emporia Country Club caught one, and then Municipal caught one, and then all of the sudden all the courses were down."
Bjerkaas and Assistant Tournament Director Jeremy Rusco then convened at the Dynamic Discs distribution center with PDGA Events Manager Mike Downes for a 40-minute session in which they discussed any and all scenarios to keep the event afloat. But every time an additional lightning strike was reported, those prospects grew more and more dim.
"Lightning was seemingly coming out of nowhere, which made it really difficult to predict kind of how a storm is moving and how quickly it was coming through," Downes said. "We pulled up this lightning map and it was so intimidating. It was incredibly scary."
After much deliberation, and with no end to the weather in sight, the team decided to pull the plug on the event's final day.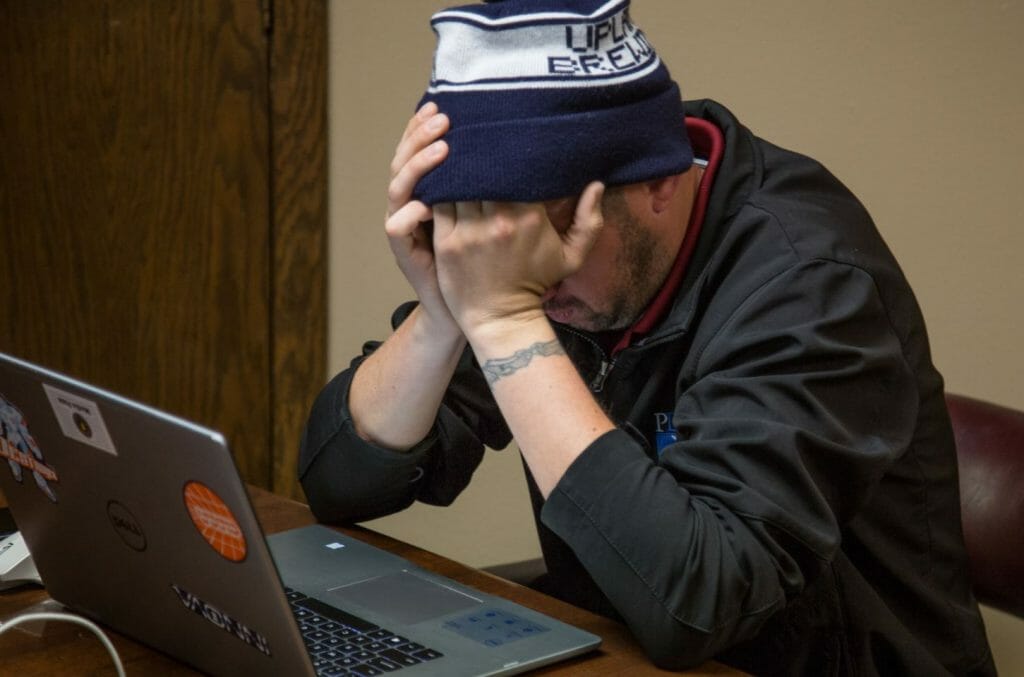 "Believe me — Doug, Jeremy, and I, when we were talking it all out, all three of us are literally head in our hands," Downes said. "It's not easy."
"At the end of the day, player safety was the number one concern," Bjerkaas said. "The last thing we want to be is that tournament where someone got struck by lightning and died on the course."
The cancellation marked the second time in just over a month that the final round of a high-profile event was called off, after the Nick Hyde Memorial suffered a similar fate at the beginning of April. Add last year's shortened United States Disc Golf Championship to the mix, and that's three events in eight months that have been truncated by severe weather. And while plenty of options were on the table — a cut to the field was briefly discussed, as were playoffs to settle ties atop multiple divisions — Bjerkaas said the logistics of an event that featured nearly 1,100 players did not allow for much flexibility.
"The last thing we wanted to do was just drag it out, drag it out, drag it out," Bjerkaas said. "Those things were discussed, but it just didn't seem like a — for instance, do we do it for just MPO and FPO? Do we do it for all pro divisions? Do we do it for all amateur divisions? Do we get them all on one course that's maybe better weather-resistant than some of our courses? What do we do here? The right decision was made to just call it."
The end result saw Paul McBeth take another victory at a weather-shortened event, as his 22-under par 97 after two rounds paced the field. And just like at the Nick Hyde, the women's division ended in a tie, as Hannah Leatherman and Paige Pierce closed their two days of play with matching 2-under par 117s.
McBeth said the cancellation did not surprise him, but he also offered some perspective about fan and player reaction to the decision.
"It happens, and I think it's gonna happen more," McBeth said. "It's not a surprise because we don't make enough [money], the PDGA doesn't pay us to stay extra days, so for us to have it canceled like this, it happens. People wouldn't complain if it was like day two got canceled but we still got Saturday. They wouldn't complain the same way that they do now because, 'It's the final round, excitement,' this and that."
Leatherman, meanwhile, said it was a "weird day," but that she agreed with the decision to halt play.
"I think Paige and I both were disappointed that we didn't get a chance to play the final round, obviously," Leatherman said. "I definitely think they made the right call. The weather was terrible. There was lightning, constantly lightning. It just wasn't playable — non-playable conditions. I'm really glad they called it the way they did because I definitely didn't want to have a risk out there just to get the last round in, either. But it does kind of feel like you have unfinished business when you play two out of three rounds."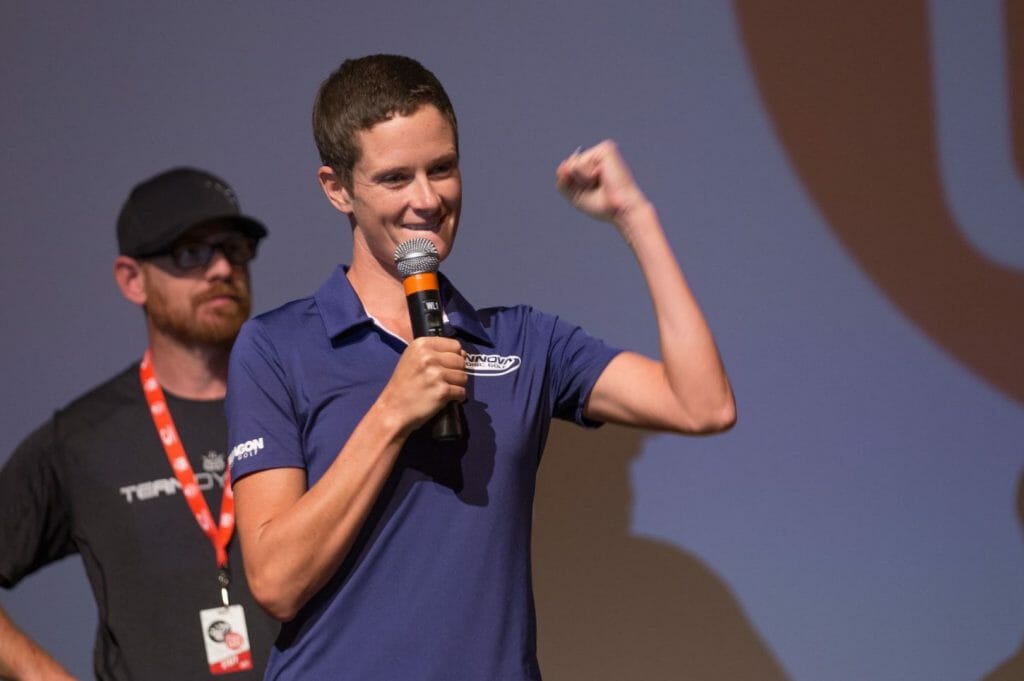 Leatherman averaged 977-rated golf through the weekend, a full 46 points above her player rating. The shared victory was not only her seventh finish atop the podium in 2017, but also her first PDGA National Tour win.
"It's not what I envisioned for myself when I thought of winning my first NT, to tie because I didn't get to play the last round," Leatherman said. "But I'm just really thankful that I got the two really good rounds in this week and I guess it just paid off in that way, even though it is not what I expected."
Most players who did not have an opportunity to chase down a victory on day three took the cancellation in stride.
Nate Sexton, who ended up in second place with a 20-under par 99, joked that the run of severe weather was "an epidemic," but was satisfied with his placement.
"It would have been fun to get a chance at it, but it could go either way," Sexton said. "I could have moved up to one, or I could have fallen back to fifth, so I'm fine."
Like Sexton, Simon Lizotte also took on the abbreviation with his usual light-hearted approach.
"Every tournament should have a back-up indoor course," Lizotte deadpanned. "That's my new request.
"It's crazy," he continued. "I've been playing this game for freaking competitively for 12 years now, and I have never witnessed a tournament being canceled — like completely the whole round got canceled — and now within just a couple months it's happened three times at huge events. It's kinda weird. I don't know what's going on."
Lizotte's aggressive round two play vaulted him into a third-place tie with Ricky Wysocki at an 18-under par 101 total. That now makes for seven consecutive top 3 finishes for the German star.
"I would sign a piece of paper that says, 'You'll finish top 3 at every event,' and I'll be fine without playing," Lizotte said.
Wysocki, meanwhile, had an opposing viewpoint. Though he did not come out as strongly about the GBO cancellation as he did about the Nick Hyde Memorial, he emphasized that the most important thing to him as a competitor is simply being able to finish an event.
"I'd feel the same way if I was winning or losing," Wysocki said. "I would not feel accomplished if I won a tournament this way, and I would feel the same way that I do right now if I did win. It has nothing to do with me winning or not."
Lisa Fajkus, who put together two strong rounds and was only five shots off of Leatherman and Pierce's lead heading into Saturday, said the ending was "bittersweet." She was pleased with her play and wanted a shot at the title, but certainly understood the difficulty in making changes to such a large-scale event with limited time.
"I'm sure people are thinking, 'Why not just push it to Sunday?'" Fajkus said. "But logistically that's another night of lodging, food. It is kinda hard to do that on the fly, but maybe knowing if that was an option moving forward — like, if there's a delay there's a possibility of this going into Sunday, it would be tough for a player like me. But I might make it work. I would make it a priority to make it work if I was in that position, to where I was kinda competing and doing well in the tournament and things like that."
Downes said he expects that the PDGA Competition Committee will begin to look at the weather issue, and Bjerkaas said GBO organizers may discuss moving the event's date in future iterations if they can find a reasonable solution — especially given that last year' event was also affected by poor conditions. Still, he was confident that ending this year's event was for the best.
"It was ironic, because at four o'clock in the afternoon I walked from my — my wife and I have an apartment right downtown in Emporia, and I walked over to the civic auditorium where we moved our vendors to create kind of a fly mart over there," Bjerkaas said. "At about four o'clock as I'm walking over there, big bolt of lightning and thunder, and I'm thinking, 'Wow, this was a whole day of rain, rain, thunder, thunder, lightning.' So yeah, it was — I'm 100 percent committed that it was the right decision, but it's also very difficult making a decision like that when you've spent a year working on an event and have to basically cancel a third of it because of weather."