Fajkus a close third heading into today's final round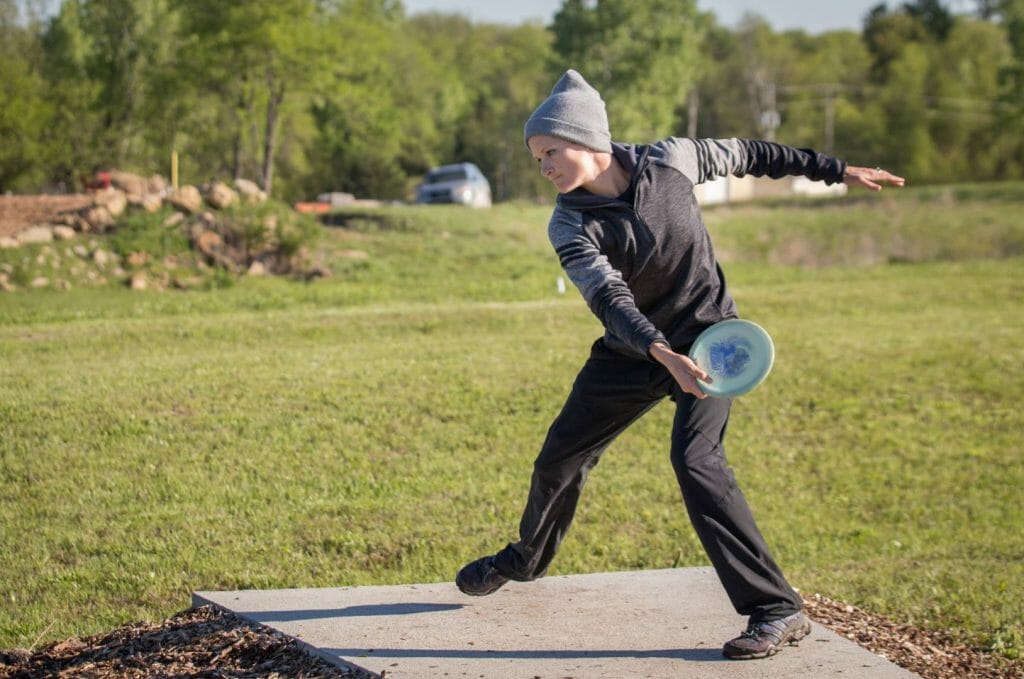 After a 2016 season plagued by injury, Hannah Leatherman has patiently waited for another shot at the Emporia courses, and she made the most of that chance during yesterday's second round of the Dynamic Discs Glass Blown Open.
"I played horrible at GBO and Worlds last year, and we played Jones East for both," Leatherman said. "Now I'm not injured, and one of the things that was definitely on my mind was getting revenge on these courses."
Leatherman's 4-under par 55 was the best in the field and moved her into a tie for the lead with Paige Pierce heading into today's final round. Pierce's 2-over par 61 dropped her to a 2-under par 117 total, while Lisa Fajkus continued her solid play, matching Pierce's round to move to a 3-over par 122 and into sole possession of third place. Jennifer Allen and Catrina Allen are tied for fourth with 6-over par 125s.
While the Jones East course has gone through some changes since the GBO joined the PDGA National Tour two years ago, Leatherman's 55 was the lowest women's score ever recorded at the venue during the tournament, besting Pierce's mark of 56 set in 2015. Making the most of 2017 after rehabbing the abdominal tears that slowed her last season has been a goal of Leatherman's, this already being the eighth event of the season for the Pennsylvania-based professional.
"I came out in January feeling great, without any issues with my old injuries, and I've been able to play tournaments and it's awesome," Leatherman said. "Some of these holes today — on Jones East in particular — I was so excited to play them again because I am finally injury-free and I feel great so I wanted to shoot better. That definitely motivated me."
Leatherman stuck to her plan of smart golf, not trying to go for too much off the tee and laying up for par when she wasn't feeling longer outside the circle putts. This approach allowed her to get off to a 2-under par start to the round. Pierce, on the other hand, started slowly, carding two bogeys and one birdie through the first three holes.
Then on hole 4, Pierce caught a tough break when her tee shot hit an early tree and took an unfortunate roll into the OB pond. She appeared to slip and release her shot from the drop zone early, resulting in it heading left and ultimately coming to rest on an OB path. From there she was forced to lay up to the basket for the double bogey 6. The errors dropped Pierce to 1-over par, two strokes ahead of Leatherman.
Despite the difficulties, Pierce battled back, carding four birdies through hole 12 — though Leatherman managed two of her own to keep the margin at four strokes. Both competitors collected pars until the par 3, 405-foot hole 17. Here, Leatherman unleashed perhaps her most impressive drive of the round, landing inside the circle and draining her putt for birdie.
Pierce was less fortunate. Her outside the circle birdie bid floated long and into the tree line behind the basket, forcing her to pitch out and settle for the bogey, losing two strokes in the process. Things got more challenging on the final hole: With Leatherman set for an easy up-and-down from the fairway for par, Pierce's turnover drive landed short and in the rough off the right side of the fairway. Tasked with an awkward stance, Pierce's approach attempt caught some low-hanging shrubbery, leaving her with a long par-saving putt. She missed that bid wide right, and her comeback attempt clanged low off the front rim.
The double-bogey 5 gave Leatherman a share of the lead heading into the GBO's final day at the Emporia Country Club. With high winds and rain set to play a significant role during the final round, Leatherman doesn't plan to deviate from the style of play that's got her tied for the lead with 18 holes left to play.
"Just go into tomorrow with the same mindset as today and play my game," Leatherman said. "Play smart and stay in bounds as much as I can with the conditions the way they are."
Leatherman, Pierce, Fajkus, and Jennifer Allen tee off at 8:30 a.m. CDT. Recorded footage of their round will be played during the Open live broadcast beginning at 3:00 p.m. CDT, with next-day video coming from Central Coast Disc Golf.