Leiviska shines under the National Tour's bright lights, while the women's division gets a bit of a shake up!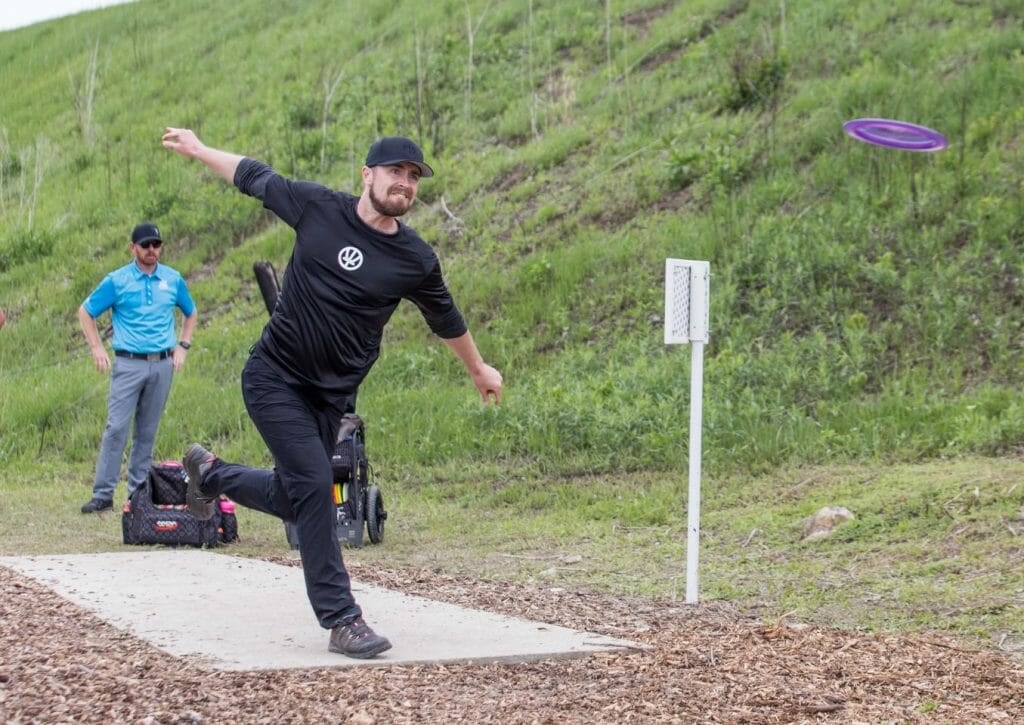 Talk about rising to the occasion.
The Dynamic Discs Glass Blown Open was Cale Leiviska's eighth event of 2017. Five of those events have been B- and C-Tiers mostly in or around his home state of Minnesota, while the other three fall into the "high-profile" category covered by the PDGA National Tour and the Disc Golf Pro Tour. Leiviska has logged 10 rounds at both levels, making for a clean comparison between the two.
And what we've seen is this: Leiviska is the epitome of the adage that iron sharpens iron.
His performances in the lower profile events have left something to be desired. He's carded four sub-1000 rated rounds in those 10 attempts, with his high a 1034-rated first round at the Spring Rip-It in Shakopee, Minnesota, last month. And while he's logged three second place finishes over those five events, he hasn't taken home a single victory despite being the highest-rated player in each field.
When it comes to prime time, though, Leiviska becomes another player. Faced with the deep pro fields at the Gentlemen's Club Challenge, The Memorial Championship, and the Glass Blown Open, Leiviska is averaging 1045.5-rated golf — 18.5 points above his current 1027 rating. He's only thrown one round below 1000 — his opener at the GCC came in at 993 — and has tossed two rounds in the 1070s. So it should register as little surprise, then, that when the bright lights of the National Tour stage were on him in Emporia, he delivered a sixth place finish to leap back into the top 10 of our Power Rankings.
Now, though, we won't see Leiviska in another high-profile event until the PDGA Pro World Championship in seven weeks in Georgia. If his early season is any indication, though, we should prepare for another top performance when the competition is stronger and the stakes are higher.
1) Paul McBeth may joke that he has the two-round strategy down, but he was peak champ at the Glass Blown Open, mixing smart play with touches of aggression.
2) After the last two weather-shortened events, Ricky Wysocki has come out and won the next event. Does that make him a no-brainer for Konopiste?
3) Or will Simon Lizotte go back-to-back at the big castle?
4) Nate Sexton was on the cusp at GBO. That elusive signature victory feels like it's on the horizon, but that's also why he stayed outside of the top 3 in this week's rankings.
5) Week in and week out, JohnE McCray shows no signs of slowing down. We can't see any reason – other than a financial one – why he'd retreat to Masters.
6) Please tour more, Cale Leiviska.
7) James Conrad has hung below the radar a bit since his second place showing at Waco, but he continues to climb up leaderboards at each passing event.
8) Jeremy Koling slipped to 11th place at the Glass Blown Open, but boom or bust has kind of been his game this year.
9) Philo Brathwaite was only one stroke off Wysocki's hot round at Jones East last week.
10) Though his performance at GBO wasn't in the top 10, Devan Owens finally cracks ours. He's been quietly solid all season.
11) After a couple of strong tournaments, Nikko Locastro struggled to a 28th-place tie at GBO. His round at Jones East was hampered by a slow start and a couple late bogeys.
12) We'd be surprised if Eagle McMahon dropped any lower on this list. His talent is tremendous, but so is his bogey rate, which currently sits at 14.4 percent on the season.
13) Kansas City pro Chris Clemons has only finished outside the top 3 once this season.
14) Zachery Newhouse's seventh place tie and lead card showing at GBO was impressive, but we aren't sure when we'll see him back on the list this season.
15) Miles Seaborn doesn't play many events, but when he does, he shows up. His ninth place GBO tie was actually his lowest placing of the season.
16) Though on the surface it looks like Austin Turner might have hit the proverbial rookie wall, he actually played both rounds at GBO above his 1012 rating.
17) Matt Orum didn't perform as well in Emporia as we expected him to, but he's still a top 20 player.
18) Copy and paste our comment for Cale Leiviska for fellow Minnesotan Alex Geisinger.
19) Drew Gibson tied for 41st at the GBO, which is his lowest showing of the season. He actually only has two finishes outside the top 15.
20) Gregg Barsby got hot late at GBO to stay on our list. If we were ranking commentators, he'd be top 5, easily.
On the bubble: Paul Ulibarri tied for 28th in Emporia, while Chris Dickerson averaged 996 golf at the Barfield Open…Peter McBride trekked back to the West Coast for a third place finish at the C-Tier Santa Maria Showdown.
1) Another tournament and another win for Paige Pierce — though it did end in a tie, and she's had trouble putting together consistent rounds to finish events this year.
2) Averaging 977 golf and getting a share of the win at an NT gives Hannah Leatherman a high spot in the rankings. She now has seven wins on the season.
3) Catrina Allen looked like her usual self off the tee last weekend, but things were inconsistent around the green. Ending up tied for fourth, though, doesn't move her in our rankings.
4) Lisa Fajkus made a lot of putts during the second round of the GBO to hang on comfortably to third place. That's good enough to move up a couple spots.
5) While Jennifer Allen certainly didn't play poorly at the GBO, Faikus and Leatherman just played at a higher level to move ahead this week.
6) Sarah Hokom's seventh place finish at the GBO was her lowest of the season.
7) Des Reading always seems to play well in Kansas, and she used the experience to jump into the top 10 at the GBO and back onto our rankings.
8) Probably still learning her new bag, Valarie Jenkins had a solid, if unspectacular, performance at the second NT stop.
9) Jessica Weese made a big jump in the last rankings, but after a rough go over two rounds in Emporia she slips back down. Don't be surprised to see her move up again as the tour swings through her home turf in Northern California later this month.
10) After a couple months of solid play, Melody Waibel slipped a bit in Kansas–especially during the second round at Jones East where she shot 40 points below her rating.
On the bubble: Paige Bjerkaas took ninth place on her home courses…Elaine King didn't have an event during this set of rankings.