Sexton, Lizotte round out the lead card for today's Emporia Country Club final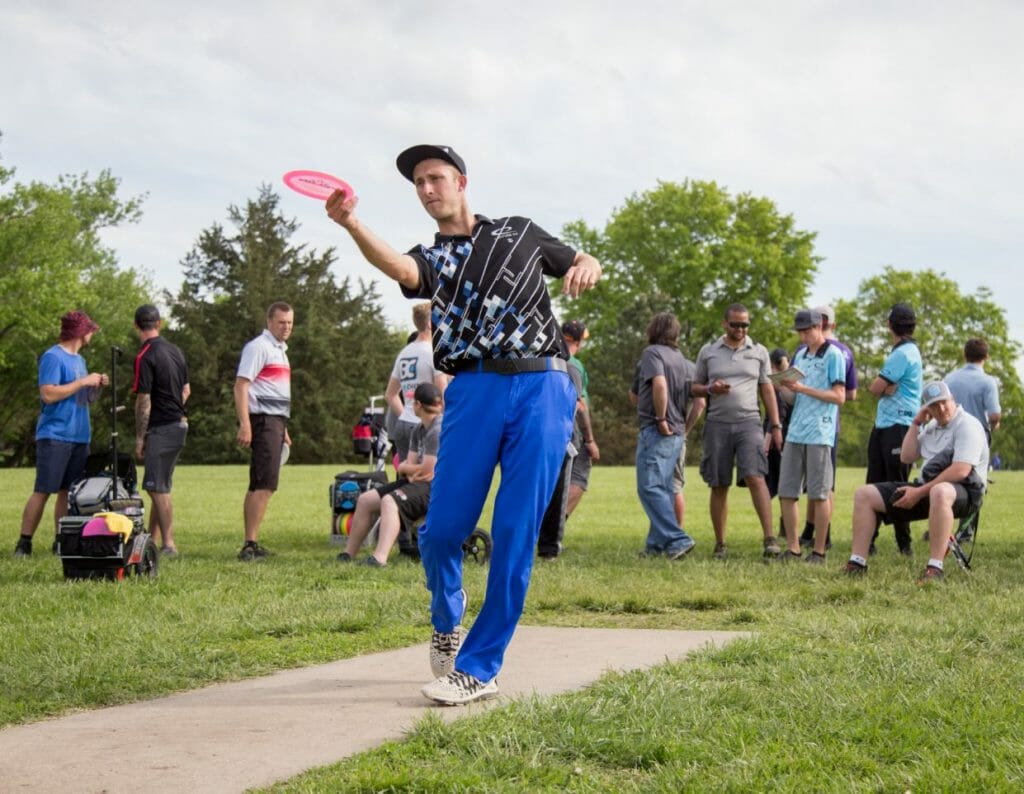 After an opening round showing in which he carded an uncharacteristic four out-of-bounds strokes to fall into a six-way tie for fifth place, Ricky Wysocki only had one thing in mind heading into yesterday's second round of the Dynamic Discs Glass Blown Open: absolutely nothing.
"I wasn't really thinking about [round one]," Wysocki said. "I just knew that I needed to have a good round today no matter whether I was winning the tournament, or whatever place I was in. It didn't really matter to me."
The short memory trick worked, and Wysocki's rebound performance at Jones East Park — a 13-under par 46 — shot him up the leaderboard and into a third place tie with an 18-under par 101 total.
The heroics, though, still leave him four strokes behind Paul McBeth, whose 12-under par 47 put him at a 22-under par 97 before today's final round tilt at the Emporia Country Club. Nate Sexton matched McBeth's 12-under to remain in second place with a 20-under par 99 total, while Simon Lizotte and Chris Clemons also tossed a dozen under par and are tied with Wysocki. Lizotte, who sports a lower PDGA number than Clemons, will be the fourth contender on the lead card.
Though the first round didn't quite go his way, Wysocki still managed to approach moving day with a sunny demeanor.
"Right when I woke up, I knew it was gonna be a good day," Wysocki said. "That's always a good sign, when I know that I'm gonna have a good day before the round even starts."
That premonition was served with a side of aggression. Wysocki set the tone for his round early by attacking the course's second par 4, the 477-foot hole 5, with a Dynamic Discs Defender. He landed within 25 feet of the pin and connected for the eagle 2 in a rare display of urgency for a player who usually opts for slow and steady.
"Normally I don't go for that hole," Wysocki admitted. "But being in the position I was, I knew I had to play the round to try and get back in the hunt for the tournament."
From there, it was game on. Wysocki birdied the next seven straight holes, and by the time he hit hole 12 he was at 11-under for the round and tied for the overall lead with McBeth, who came out of the gates slowly and was only at 6-under for the round just a few cards behind.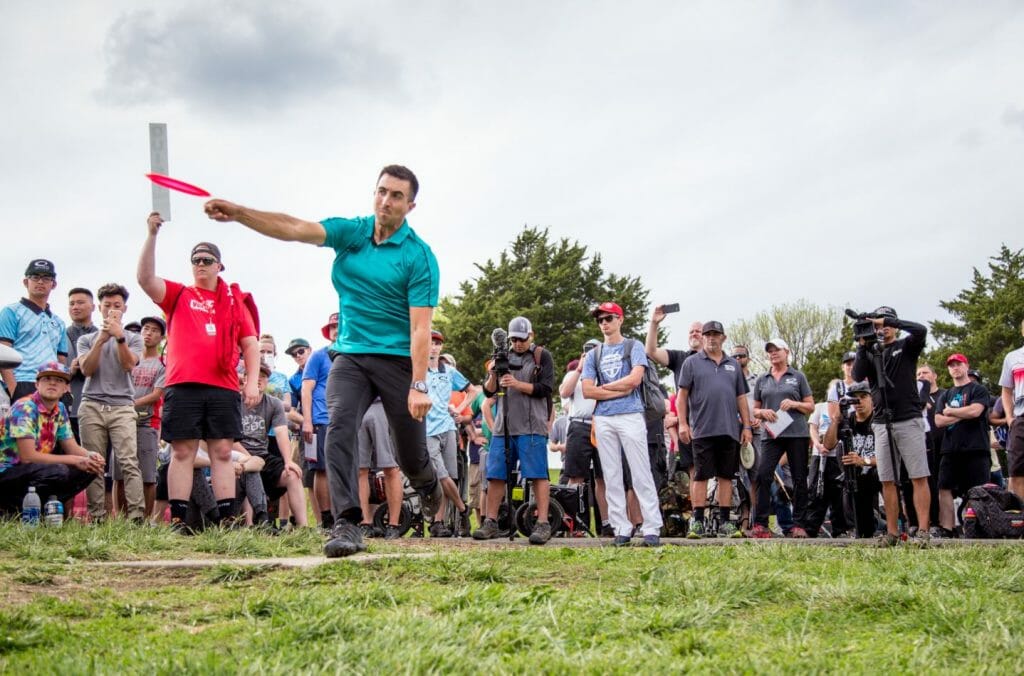 Indeed, McBeth — in spite of his score being one off Wysocki's pace and four points above his player rating — said he never felt like he was having a good round. He snagged an eagle of his own — on hole 6, avoiding the low ceiling in a play that has become his Emporia calling card — but took awhile to settle into a rhythm.
"I just never felt super confident, like, 'This is gonna be parked,' or 'This is going in,'" McBeth said. "Some of the holes I missed were whatever — early on, it was kinda slow. The whole back nine is birdieable holes, but there was never a stretch where I was like, 'Alright, on a roll right now.' It never felt like that, but when I missed the easier ones I got the tougher ones, which made up for it. So that's kinda what I think saved the round."
A quick look at the live scoring may have also played a role in his performance. McBeth said he checked the scores during a backup and saw that Wysocki was gaining ground. Though the update didn't change his approach to any holes, it did clean up his focus.
"It's kind of a reality check, you know?" McBeth said. "It's just like in basketball when they do a heat check and stuff like that, and they start shooting from half court. It's like, 'Alright, here's a little heat check,' you know? 'I know I'm struggling, but how bad am I really struggling?' And then seeing the scores and it's like, 'Alright, I still have the lead over everyone, so that's good. I know I can't really do much worse than I'm doing right now, so put it together.'"
And put it together he did. A strong second half performance saw him birdie six of the final nine holes, highlighted by a four-birdie streak on holes 13 through 16, which McBeth said were the most difficult of the back half. That run buoyed not only his score, but also his confidence that he was at least holding off the charging pack.
"[Wysocki]'s not gaining any strokes, or no one's gaining strokes on me through there," McBeth said. "That's a tough section to where I think a good score through there is 2-under."
Sexton, meanwhile, stayed right with McBeth. Save one unlucky roll-away on hole 14 that saw his putter trickle out of bounds, he played another strong round and executed shots with his trademark precision. And whereas McBeth made his money on the course's back nine, Sexton said he was most happy with how he handled Jones East's par 4 fiesta from holes 7 through 10.
"I got [birdies on] all those par 4s in a row," Sexton said. "That's always kinda the key to Jones, I feel like…If you just can get all 3s you're in a good position because they're all pretty easy par 4s. But if you start to give away strokes there, it can turn into a long round."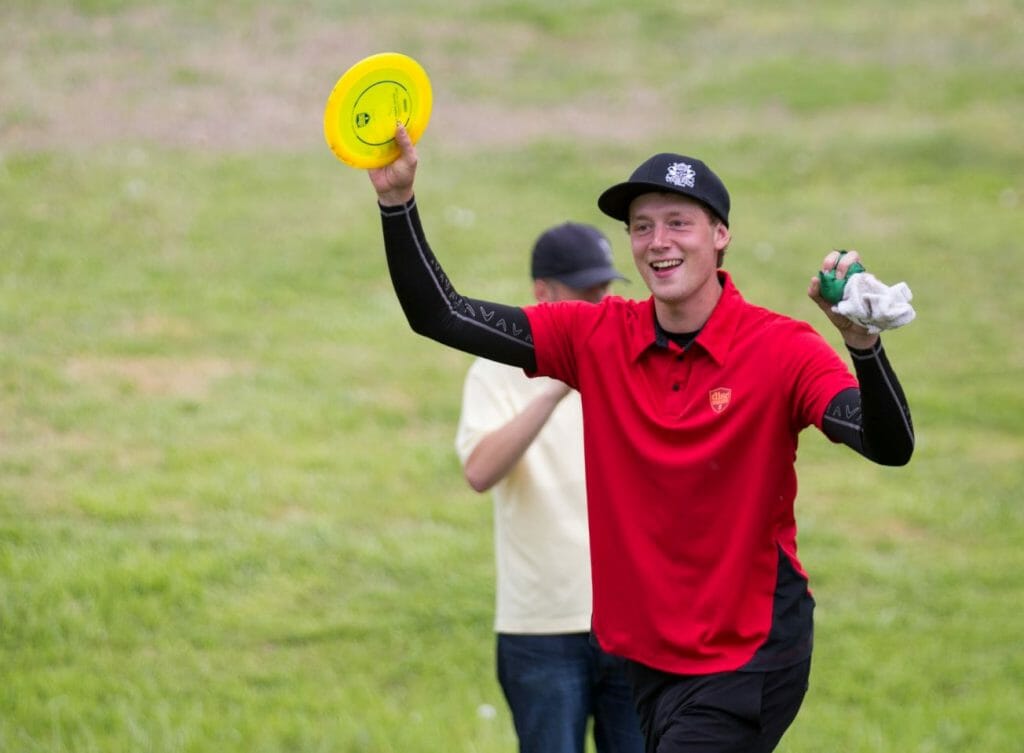 Also attempting to hit the comeback trail was Lizotte, who started the day in the same six-way logjam as Wysocki. Though he only carded one bogey, on hole 1, and a whopping three eagles for the round, Lizotte downplayed his performance.
"The round was decent," Lizotte said. "I mean, the three eagles of course were awesome. Yeah, that was fun. But the rest of that was really not that good."
He said his putting — which has been the cornerstone of a six-tournament streak in which he hasn't finished lower than third place — failed him during the round, but that he was confident he could flip the switch back on for the final.
"I was airballing 30-footers again today," Lizotte said. "I'm like, 'What am I doing?'"
Rather than let the struggles — which may have not been struggles, as two of his three eagles featured long putts — keep him down, he decided to put on a show. In front of a large gallery on hole 9 — a 720-foot par 4 that plays slightly downhill — he unleashed a massive drive with a Discmania PD2 to leave himself in tap-in range for the eagle. He said Jeremy Koling told him it was the best tournament drive he'd ever seen.
Video courtesy of Central Coast Disc Golf
"I was thinking that this might be the final round, because tomorrow looks freaking horrible again," Lizotte said. "So I was trying to make a move, trying to give myself a chance to somehow maybe get a lead, and that's what I was thinking. I was in attack mode. I had practiced that shot. I knew I could reach the basket if I threw it good, and that's all it was."
With a storm moving into Emporia overnight, the weather looms large over today's final. Though forecasts are sketchy — some call for thunderstorms, while others simply say rain, wind, and temperatures in the low 40s — three of the top four players had a simple game plan, as summed up best by McBeth.
"It's the cliché thing: Just keep it in bounds," McBeth said.
Still, he did say he might alter his approach to drives, dialing back the power if the concrete golf paths that double as teepads at the Emporia Country Club become too slick. Sexton also said he would choose his spots wisely and would rely on his trusty Firebird even more than usual.
"You have to kind of take your lumps and attack where you can and try to just be solid – easy, little short par putts everywhere else so you don't have to stress out about making long putts," Sexton said. "Hopefully I'll tap in a lot of putts and not have to do a lot of stressful putting."
And while most on the course will be in survival mode, Wysocki said he relished the opportunity to take advantage of the poor conditions. It's a mentality that's led to some affectionately dubbing him "Raincoat Ricky."
"Four strokes in weather like that is nothing," Wysocki said. "Four strokes in calm weather is a different story, but four strokes when it's raining the whole day — that's something that you can make up the difference in two or three holes. That's really boosting my confidence and my outlook for tomorrow, and I really feel like I have a very good chance of winning, no matter who's winning [before the round] or who's at the top."
In other action at Jones, there was plenty of scoring that upset the leaderboard. James Conrad tossed an 11-under par round to move into a ninth place tie, while Philo Brathwaite's 12-under moved him into a tie for 11th. Alex Geisinger and Gregg Barsby also shot 12-under to move to 15th and 28th, respectively.
In addition to the weather, there will be one other, perhaps more sentimental storyline to follow during the final. This marks the last tournament where longtime touring partners McBeth and Sexton will be traveling in the same RV. The rest of their journeys until June will take place on an airplane, and with Sexton's first child due shortly thereafter it was time to get his own vehicle.
After three years of touring and friendship, Sexton expressed gratitude for McBeth bringing him into the fold.
"Paul was on top of the disc golf world," Sexton said. "He threw a ladder down to me, he let me climb up. I really appreciate that he did that. Now it's time for me grow my own wings."
The shift makes their appearance on today's lead card — which will be broadcast live on SmashboxxTV at 3:00 p.m. CDT — all the more intriguing.
"It's bittersweet for sure, man," Sexton said. "It's not like the adventure is over. We're still gonna be traveling and hanging out for years to come."