Who are the best value plays for your fantasy dollar this week?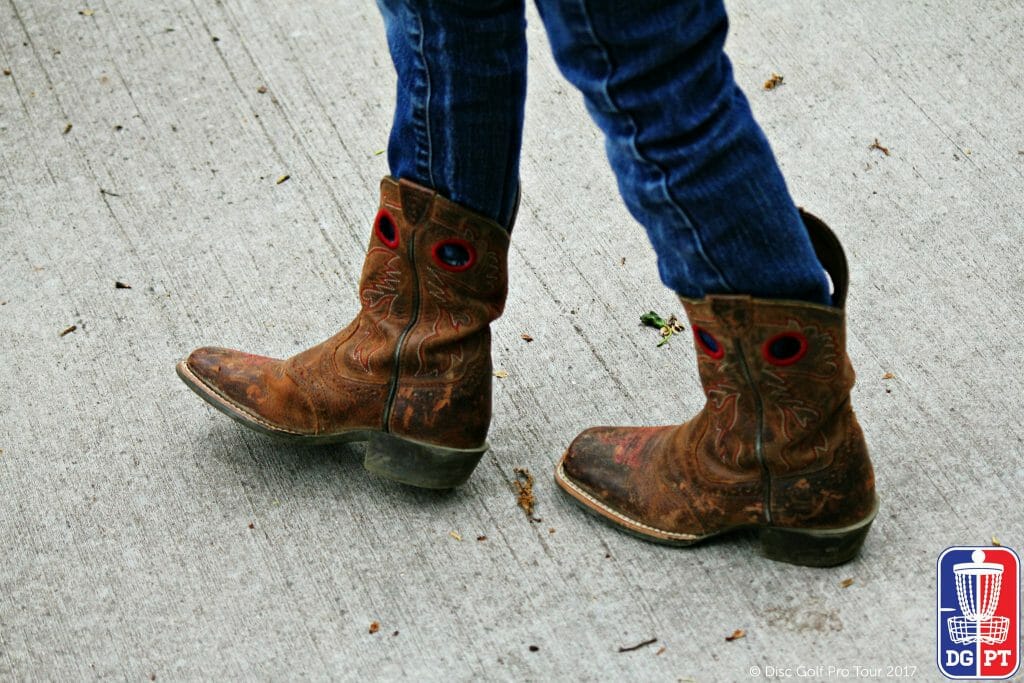 Come join our fantasy disc golf league at SkipAce.com and play against Ricky Wysocki and Paul Ulibarri! Need to sign up? Click here for more details. 
Texas States Championship Outlook
The 22nd Texas States Championship takes place at this weekend at two courses: Evergreen Flyways in Baytown, Texas, and Milby Park in Houston, Texas. The three-round event goes from Friday to Sunday, with two rounds to be played at the converted ball-golf Evergreen Flyways course on Friday and Sunday, and the Saturday round at the more traditional, park-like disc golf setting at Milby Park. Evergreen Flyways features an abundance of water, four holes over 600 feet, and a total distance of 8,166 feet, while Milby Park looks to play similarly to the Texas golf seen at the last few events these pros have taken on over the last month.
At last weekend's Nick Hyde Memorial, the story—besides the extreme weather and cancelation of the third round—was the play of Peter McBride, who emerged to throw a 1078-rated 49 that was 15-under par. McBride is back again, along with up-and-coming players Chris Dickerson—who we featured here last time—James Conrad, and Austin Turner, who perhaps all pose the greatest threat to the usual names at the top. The style of play necessary at both courses suits each one of them in many respects, which will make for some tricky choices while filling out the third and fourth slots in your fantasy lineup.
Lineup-Building Strategies
1) Maximizing Open Women's Points
With Catrina Allen's recent surge to the top of the leaderboard over the past two events and Sarah Hokom taking the weekend off, everything points to a showdown between Allen and Paige Pierce. Given the added distance at the Evergreen Flyways course—where the average hole length is 454 feet—Allen and Pierce have a distinct advantage over their competition. Considering there are a number of quality value plays in the slightly smaller Open field (only 19 players are rated over 1000, and only seven of those are rated over 1020), this could be a good opportunity to reach a bit deeper into the Open field and get the most out of your two Open Women's slots.
2) Use Value Plays to Stack Open Players in 6,025-Point Leagues
Finding a lower-rated player who isn't just a punt at the back end of your fantasy lineup can really open up a lot of options, especially in leagues with less restrictive points totals—like 6,025 point leagues. Both Stephanie Vincent and Rebecca Cox present opportunities to fill your second women's spot with a quality player, plus play many of the most highly-rated Open players in the field.
Both Vincent and Cox are very likely to collect top 5 finishes, while Vincent has a chance to challenge for a top 3 showing. The water-heavy Evergreen Flyways course appears to set up well for the Texas pro, who has the fourth lowest OB Rate on the Disc Golf Pro Tour according to UDisc Live. Plus, given the two rather long courses in play for this event, both Vincent and Cox rank highly in Fairway Hits, with Vincent ranked second at 70 percent and Cox ranked seventh at 65 percent.
Optimal Lineups
6,000-Point Leagues
| Alex's Picks | | |
| --- | --- | --- |
| Player | Rating | |
| Paul McBeth | 1051 | |
| Nate Sexton | 1034 | |
| Chris Dickerson | 1027 | |
| Austin Turner | 1010 | |
| Catrina Allen | 968 | |
| Stephanie Vincent | 906 | |
| Total | 5,996 | |
6,025-Point Leagues
| Alex's Picks | | |
| --- | --- | --- |
| Player | Rating | |
| Paul McBeth | 1051 | |
| Nate Sexton | 1034 | |
| Chris Dickerson | 1027 | |
| James Conrad | 1016 | |
| Catrina Allen | 968 | |
| Lisa Fajkus | 924 | |
| Total | 6,020 | |
Value Plays
Austin Turner (1010) – He had a strong showing over two rounds at last week's Nick Hyde Memorial, finishing tied for sixth. Given his appreciation for playing on ball golf courses and distance off the tee, the Evergreen Flyways course seems like somewhere he can excel.
Lisa Fajkus (924) – A top 5 finish here is very likely, and it seems like she's the best bet to perhaps challenge Pierce and Allen at the top of the field. Fajkus offers an opportunity for a high finish without the price tag of either of the top two women in the field.
Deep Sleepers
A.J. Risley/Eric Oakley (992) – Both players' ratings have jumped up into the 990s now, and they've backed that up over the last month—perhaps Risley a bit more so. Oakley had the slightly better finish in the abbreviated Nick Hyde Memorial last weekend, while Risley has thrown seven rounds rated over 1000 in four events in Texas over the past month.
Stephanie Vincent (906) – While her Nick Hyde Memorial finish was a bit lower than her last few as the tour has moved through Texas, she was still just five strokes out of fifth place. Given that this field is quite a bit smaller than the past few, we don't foresee any risk in Vincent finishing outside the top five.
Shy Away From
Cam Todd (1017) – For fantasy purposes, Todd just hasn't had the quality finishes to warrant rostering despite the relative value of his 1017 rating. Last week he finished 72nd at the Nick Hyde Memorial.
Final Thoughts
The incomplete feeling left after the Nick Hyde Memorial might extend into choosing your fantasy lineup for this weekend, as well. Instead of just looking back at last week's finishing order, perhaps look through some advanced stats to help make your decision, or try to find patterns of high finishes over the past few weeks. There aren't as many choices out there compared to last week, but there are plenty to be confident about.