Sexton, Wysocki tied for third before today's tilt at Fountain Hills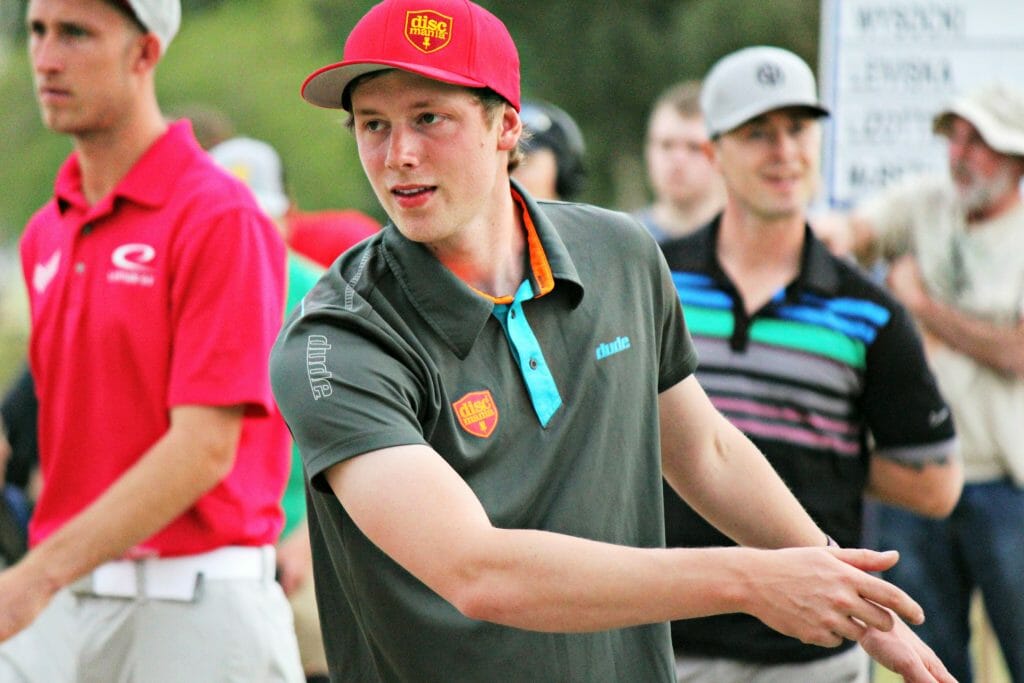 Simon Lizotte has made it clear that, coming off of knee surgery, he was keeping his expectations low early in the season.
So he's been just as surprised as anyone by his Memorial Championship performance, which finds him tied for first place heading into today's final round at Fountain Hills Park.
"It's quite crazy, I don't know what's going on," Lizotte said. "I feel like I'm playing pretty – I don't know how to explain it. It's kind of like, not feeling good, but the scores turn out good. It's kind of weird."
What Lizotte terms "weird" resulted in a third round 10-under par 50 yesterday at Vista del Camino Park, bringing him to a 29-under par 142 total to top the leaderboard. He's joined there by Paul McBeth, who for the second day in a row shot the hot round – another 11-under par, this time a 49 – to add to his continuing Memorial legacy. Nate Sexton rebounded from a rocky round two to also toss an 11-under par 49, which brought him from 10th place to third, where he is tied with Ricky Wysocki with a 26-under par 145. Cale Leiviska lurks one behind the lead card, his 6-under par 54 at Vista putting him in fifth place with a 25-under par 146 total.
Lizotte took a couple holes to warm up yesterday, carding a par-bogey combo to open play on the tournament's longest course. Starting with the 360-foot hole 3, though, he caught fire, unleashing park jobs and green hits to birdie six of the next seven holes. Though common sentiment would hold that his putting would be the strongest part of his game coming off rehabilitation, it's been his long shots that he's leaned on in Arizona.
"It's just consistent drives," Lizotte said. "Like, I give myself a look for birdie on almost every hole, but all of my putting just feels like 50/50 from inside 20 feet, even. It's ridiculous."
Though he may not be feeling as skittish as Lizotte, McBeth has also spent the tournament working through his own kinks in his putting mechanics, and they were on display again early in yesterday's round. After missing a relatively short attempt on hole 2 and one from the second circle on hole 3 – using the straddle stance he's been sticking with since midway through round one – he settled into his motion and started to connect. A 27-footer on hole 6 started a five birdie streak that also included a 50-footer and brought him to 7-under par through the first 10 holes.
McBeth admitted to his own mistakes about the early missed putts, but he also cast some blame at the baskets being used on the Vista del Camino course.
"I just kinda let them slip out, wasn't too focused on them," McBeth said. "But just a little soft on some of them, but I think it's mostly the Mach Xs. I'm not really a fan of the Mach Xs… They catch if you putt them really hard, but they don't catch the softer putts, which is more what putting should be."
Still, the baskets hardly seemed to impact McBeth for much of the rest of the round. After going OB on hole 11 to card his only blemish of the day, he birdied five of the last seven holes to end with a 1074-rated round.
Playing on the third card after a tough front nine at Fiesta Lakes Thursday dropped him down the standings, Sexton came out on a roll – literally – at Vista. Attacking the par 4s with his oft-employed roller, Sexton went bogey-free to match McBeth and climb back into contention.
"I was ripping 'em," Sexton said. "My strategy was kind of just crush a roller, and if it stays in bounds get a birdie. If it does go out of bounds, get a par. And that was working pretty well. I went out of bounds two times, but if you're out of bounds 500 feet down the fairway it's not that bad to get up and down and get your par on those par 4s."
Wysocki, meanwhile, came out hot after losing two strokes off his total before the round began due to a scoring error the day before. He carded four straight birdies to open play, putting three of his first four drives within mere feet of the basket. His pace cooled, though, once he got away from the basket, the putter he has come to be known for failing him on holes 5 and 6. He mixed in an inconsistent performance through the middle of the round, dotting his scorecard with three OBs, before closing with three straight birdies to remain on today's lead card. Both he and Sexton are within striking distance, just three shots off Lizotte and McBeth.
In other action at Vista, Eagle McMahon slipped to a 7th place tie after a 6-under par 54, while veterans Steve Brinster and JohnE McCray used their days to climb to 13th and 16th, respectively. Steve Rico, who had climbed into the top 10 after round two, was forced to withdraw from the event, reportedly due to a family emergency.
Lizotte, who has been on the lead card the whole tournament, wasn't quite ready to change his expectations for the event. Still, he was certainly feeling pleased as he headed into today's final at Fountain Hills, where he carded an 11-under par hot round on Wednesday.
"I mean, disc golf is a mental game," Lizotte said. "Physically, I'm feeling great, and I feel mentally stronger than ever. It's just about dialing in those putts and — I don't know. I just feel ready. Fountain Hills has always treated me well, and anything's possible tomorrow."
Sexton also carded an 11-under in round one, but he said he would likely have to shoot better to keep up with his cardmates.
"I figure I probably need like a 40 or a 41 to have a shot against Simon and Paul," Sexton said. "I know I'm capable of it, but it's 1100 golf. I've never shot 1100 before, but tomorrow would be a great time to do it."
McBeth, who has won the Memorial four times in the last six years and shot the highest rated PDGA round ever at Fountain Hills in 2013, was keeping a more simple approach heading into the final.
"If I win the card, I win the tournament, so just score, score, score," McBeth said. "There's no real laying up there at that course. There's only really the par 4s that you'll be happy with a 3 on, and then that challenging par 3 on the peninsula. Other than that, everything's up for grabs."
Lizotte, though, just said he had to stay calm – he was more nervous during round three than any other during the tournament, he said – and keep breathing – and make a few putts — as the pressure of the final round came to a head.
"Yeah, it's crazy," Lizotte said. "I'm just throwing my shots and trying to slop them into the basket somehow. But my drive's feeling super confident, and as long as I keep somehow making those 30 to 25-footers, then I think there's a chance."
The final round lead card tees off at 4 p.m. EST and will be live streamed on the Disc Golf Pro Tour's YouTube channel. Live scores can be followed via UDisc.