Gentlemen's Club Challenge finds the trio coming back after long-term injuries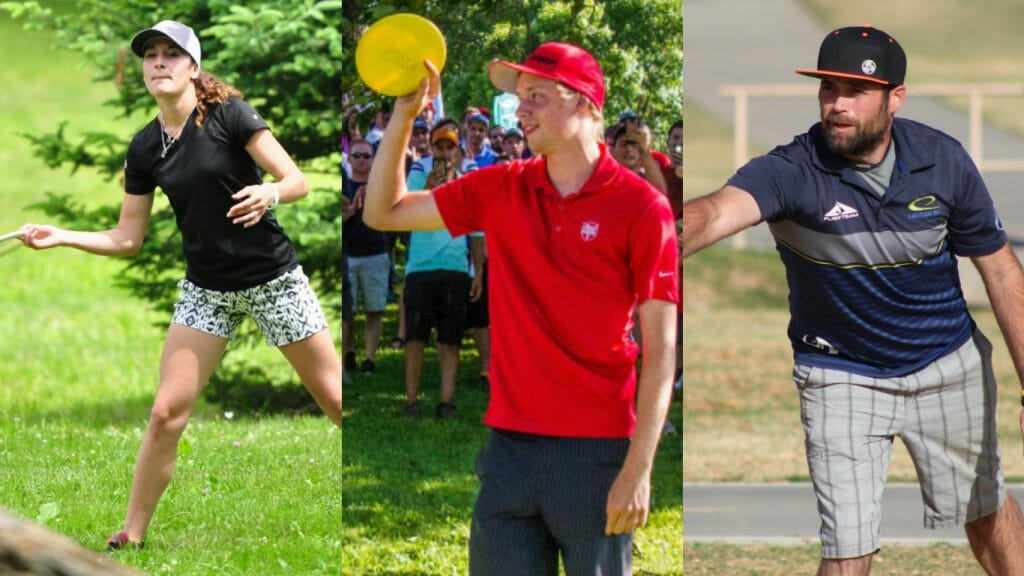 Jessica Weese is a self-proclaimed disc golf addict. So when the Northern California pro was beset by an injury to her right pectoral deltoid — "Basically your armpit," she said — around this time last year, she took matters into her own hands.
Her left hand, that is.
"Being injured and having such a passion for the sport, I wasn't able to just sit around and watch everybody else play disc golf," Weese said. "I had to try and do it left-handed, so I learned how to do that. And because I'm such a competitive person, I decided to try and take it to the next level and see what I could do in a tourney left-handed."
It's that dedication that Weese brings with her to this weekend's Gentlemen's Club Challenge, where she is one of a handful of prominent players – along with Simon Lizotte and Dave Feldberg – using the event as a return from a long-term layoff due to injury.
How each player handles the rigors of the PDGA National Tour's first event of 2017 – a four-day test of both physical and mental endurance just outside Las Vegas – remains to be seen. And just as the three are all recovering from different maladies – Lizotte had knee surgery late last year after partially tearing a ligament during a clinic in Finland; Feldberg had three vertebrae in his neck fused together – each brings a different level of preparation and recovery to the event.
Weese, for example, estimated that she was on the shelf for a total of nine months as she rested her shoulder and embarked on physical therapy. She took to throwing with her off arm during the Pro Worlds mixed doubles event, struggling in torrential rains alongside Nikko Locastro to a 25th place finish.
After a few months, she headed to the Canyon Springs Disc Dash For Cash, an unsanctioned event in Twin Falls, Idaho, in October. She took second place in a three-woman division, throwing primarily lefty.
Now fully recovered, she has already hit the course in competition three times in 2017. First, she played another unsanctioned event in Central California in January, taking the women's division by 15 strokes and building her confidence in the process.
"After the first round, I had played so solid that I was behind the men's lead by only four strokes," Weese said. "So I felt like I had played really solid for only my first tournament back."
She parlayed that into a second place finish at the C-Tier Rain or Shine in Auburn, California, in early February, then followed it up with another 15 shot victory at last weekend's CSUMB Otter Open in Monterey.
Lizotte, meanwhile, has barely touched the course. He just arrived back in the United States last week and quickly undertook three practice rounds alongside touring partner Eagle McMahon. And to hear Lizotte tell it, the rust wasn't terribly heavy. He said his distance control was lacking, but that he felt better than expected.
"I mean, I still beat Eagle all three practice rounds we've played so far," Lizotte said. "No, I didn't beat him. I, like, destroyed him."
Perhaps Lizotte can bring that same performance to his date alongside McMahon, Philo Brathwaite, and Ricky Wysocki on the GCC's round one feature card. Lizotte was the top vote-getter in the fan-driven sweepstakes to choose the super card, and while he was grateful for the support, he was also hesitant to face the spotlight so soon.
"The Vegas one, just like the first tournament for me after eight months of being injured, it just doesn't seem necessary and I don't really understand why I was an option," Lizotte said. "Then again, of course I understand why I'm an option."
Still, Lizotte planned to temper his hopes for the GCC, as well as the first few events of the season, as he reacclimates to the sport.
"My putting feels pretty good, and what's just really important for me is I don't go into Vegas with high expectations," Lizotte said. "I'm just gonna play my game, take it easy as I said before, and maybe it helps my game if I take it easy? Who knows?"
The pressure that accompanies the attention of the Open division is one reason Feldberg said he opted to play Masters at the GCC. It's his first season of eligibility for that division, and after consulting with his doctor he decided to ease back into the fray.
"Masters isn't any less course or anything, so that's not the reason I did it," Feldberg said. "I just figured those guys, [there's] more camaraderie. Maybe they make me feel a little more welcome than trying to go out there against the young bucks. I might get a little too competitive [in Open]. Inside of me I've got that adrenaline, and I might push myself too far and blow my arm out. Maybe if I play in the Masters, those guys seem a little more relaxed."
Feldberg has only played one event — a December match play event in San Diego — since last March's La Mirada Open, and he's only been logging a single round per day in preparation for the GCC. He said his arm and shoulder have been sore, and that he hasn't had a lot of putting practice. Add it all up, and he was viewing the event with some admitted trepidation.
"I'm nervous, I ain't gonna lie to you," Feldberg said. "It's a good thing to be nervous. But I've never gone 11 months without competing in anything."
Aside from the natural jitters of returning to play, Feldberg said he was also worried about how his body would hold up to two days of practice on top of four rounds of tournament play. With the Memorial Championship – and its own four rounds in consecutive days – coming after the GCC in quick sequence, he was refreshingly candid about his mentality as he approached the impending gauntlet.
"It's more like a self-doubt," Feldberg said. "When you have the experience I have, and being older, it's more like, 'Do I still have it? Can I do what I used to be able to do?' That's more of the pressure. Am I gonna throw a shot that doesn't look as good as the shots I used throw, and then start to get down? Hopefully that's not the case. Hopefully I can tap into things I'm better at now with my experience, or find something positive about the new arm I have, or the new body."
Weese, on the other hand, said she was more than confident heading into the weekend. It doesn't hurt that she won the women's division in the event last year, either.
"I definitely feel comfortable on the courses playing my game, I don't know how anybody else feels or how comfortable they are on the courses," Weese said. "That being said, if I go out there and be one with the course, I feel like nobody can beat me. I have every shot the game could ask for, and if I can just follow that up and execute, then nobody's gonna be able to beat me."
And even if that doesn't happen in Las Vegas, Weese plans on hitting the road hard this season to make up for lost time.
"I can't tell you," she said, "how hungry I am to win tournaments this year."