"I still wake up in the morning with that drive," 2008 PDGA World Champion says.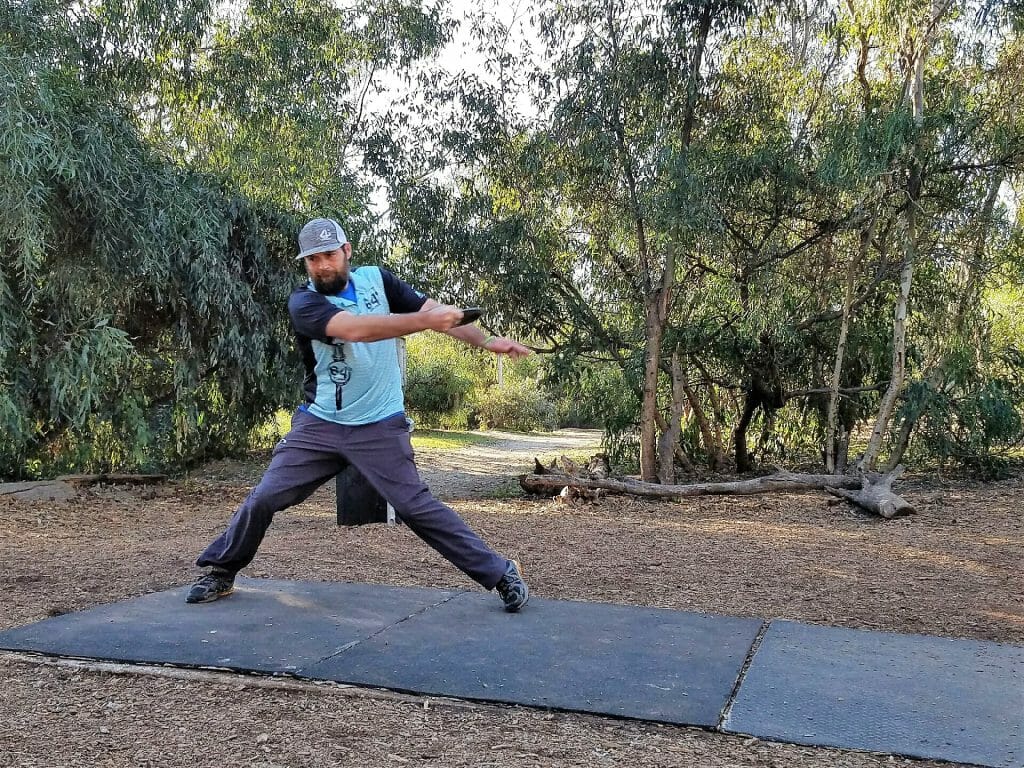 SAN DIEGO – After 24 holes of play at his first tournament in nearly nine months, Dave Feldberg showed few signs of fatigue, his voice still bouncing with characteristic energy.
"Unbelievably, I feel zero pain," Feldberg said. "I don't feel tired at all. I think maybe the average age on the surgery is 58, and maybe because I'm so young I'm healing faster."
The operation the longtime touring veteran and 2008 PDGA World Champion is referring to is a May spinal surgery that fused his C5, C6, and C7 vertebrae together using cadaver bones and metal plates. After originally hoping to return to play by August, he was not cleared by doctors to throw until September – and even then, he was only supposed to play nine holes at a time three days a week.
Those 27 holes every seven days pale in comparison to the 60 he played Saturday at the Southwestern Team Disc Golf Invitational, a match play tournament where he represented Arizona, his current state of residence. Tack on the 24 holes that followed yesterday – his team came in third place, bringing that total down from a possible 48 – and it was clear Feldberg would be getting the evil eye from his doctor when he went in for final clearance x-rays today.
Still, a sly smirk let on that he wouldn't mind a reprimanding, so long as he was still feeling well.
"[The doctor] already did [scold me]," Feldberg said. "I called to make the appointment and said, 'Oh, I've already run over 50 miles.' And silence."
Feldberg might be defying his doctor's orders, but he certainly has not been taking his injury, or his subsequent rehabilitation, lightly. After being confined to a neck brace, he gained 30 pounds, but has already lost 24 of those after taking up a morning running routine. He's slowly worked his way back into playing, struggling, he said, to beat local players at league nights in his first couple attempts back on the course. And while there were some signs of rust this weekend – his driving form looked flawless, but his putting was shaky – the most important key to his future success has not waned.
"Part of me is moving on and doing all kinds of organizational stuff and helping the sport grow, but I still wake up in the morning with that drive," Feldberg said. "I want to win, you know? But at the same time I know that I have to think about my future."
As a result, Feldberg has set up his 2017 around what he called the "Ken Climo Schedule:" He'll arrange his touring to focus on quality over quantity, playing only 13 tournaments. He's currently registered for three events – the Aussie Open, the Gentlemen's Club Challenge, and the Glass Blown Open — but he said the latter two of those would be his only appearances on the PDGA National Tour this season. Instead, he'll focus on the Majors, as well as throwing his weight behind the Disc Golf Pro Tour.
"I think in the years past I tried to do these jobs I had and tried to squeeze in 25 events, and then all of them suffered," Feldberg said. "I want to get back to the point where I can practice ahead of time and give it a shot at it. At least I can say when I'm done, 'Hey, I gave it a shot.'"
Referring to this point as a transition in his career – he said he has signed up for both the Open and Masters division so far, as he wants to wait until the last minute to decide which field he should play against – Feldberg also hinted at big plans for the second year of the Next Generation Tour he started this season in conjunction with Latitude 64. But first, he was focusing on getting his driving power back up to 500-feet and regaining the mental fortitude needed to convert on those short putts that used to be effortless. And as difficult as those hurdles might seem for someone who, up until the surgery, had missed only one tournament due to injury in 19 years, Feldberg was ready for the challenge.
"I really think that I can get back into it," he said. "But it requires much more work than I ever thought."