The start of a new series digging in to disc golf's archives.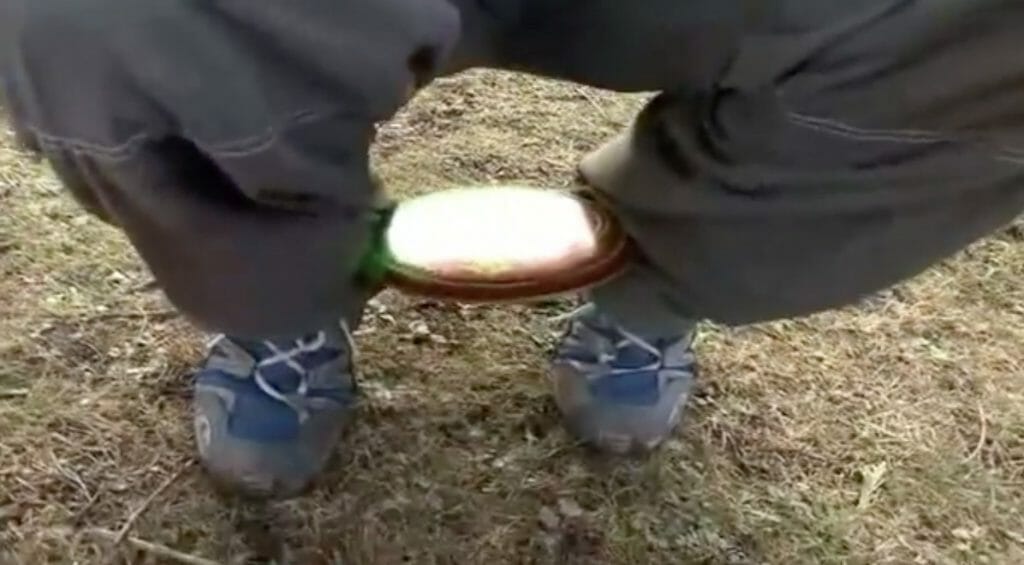 Video Vault is a new series exploring some of the finest moments of disc golf captured on film. 
I bought my very first disc golf video in the summer of 2004, not long after I had started playing at Wickham Park in Manchester, Connecticut (no, not the Wickham Park in Melbourne, Florida – though I have played there). On some obscure website, I found the Scott Stokeley instructional video set. It was a fun watch the first time through, and some of Scott's lessons have stuck with me over the intervening 17 years, not the least of which is "throw the slowest disc possible," even though sometimes a slightly faster disc is the right choice. But learning about those old Discraft discs like the APX, the MRV, and the XS was enlightening to a neophyte player, and watching Scott absolutely smash a disc backhand and forehand lit a spark to get better that has never extinguished.
Not long after that, the 2004 Marshall Street Disc Golf Championship DVD was released (we'll cover it in due time), and I watched that one so many times in the apartment that I shared with my brother that not only did I know every word and vocal mannerism of Steve Dodge's first foray into commentary, but I knew the songs on the highlight reels too. Living about 30 minutes north of New York City at the time meant that most of my early disc golf tournaments were spent meeting, playing, and hanging out with the guys highlighted on that video.
From these early purchases through the advent of YouTube coverage, disc golf videos on VHS and DVD were the only way to consume my growing appetite for disc golf. I sought out everything I could get my hands on, and I've got almost anything you can think of. I've got the 1990 Columbus Open VHS, I've got the 2003 National Tour DVD, I even have all of Clash DVDs (except the Waterworks one that never got released – if you know, you know). I want to relive each and every one of the 60+ that I own with you over the course of the next year or so. Each article will focus on a specific DVD that I own: I'll discuss the players, the courses, the shots, and the tournament itself (some of which I actually attended or played in: the 2006 MSDGC will be especially fun).
But before we dive head first back into the analog world, I really wanted to share two seminal YouTube videos from 2007 and 2008. Both feature one of the best putts you'll ever see.
Going into the final nine of the 2007 Minnesota Majestic, Cale Leiviska trailed Ken Climo by three strokes. Over the first eight holes, Cale had made up two shots and, with one hole left, needed a birdie and Kenny to par to force a playoff. What followed was epically captured by Disc Golf Planet TV:
Set to energizing music and filmed with a potato cam, the video shows Cale throwing a downhill bomb but coming up short. Though it isn't shown, the story is that Kenny came up shorter and laid up under the basket. With a huge local crowd cheering him on, Cale steps up and cans a monstrous jump putt. What stands out for me, though, is the raw emotion of that moment. The roar of the crowd, Cale running around and then slamming his disc down. It still feels transcendent all these years later, like someone decided that disc golf could be exciting in a way it had not yet been. And even though Cale eventually lost the playoff, no one really remembers that part because it doesn't really matter.
The second YouTube clip has stuck with me since 2008 for completely different reasons. Filmed and edited by Orion Lange (PDGA #29613) as OwlFistProductions and featuring original music, "A Day With Dave at Dexter" is one of the most legendarily ridiculous nine minutes of disc golf you'll ever have the pleasure of viewing over and over again. It is fun, it showcases Dexter DGC in Eugene, Oregon, in its late fall glory, and you can't help but be impressed by the skill shown by Dave Feldberg in his late 2000s heyday.
But the moment that will stick with you long afterwards begins at the 6:05 mark and could be considered the climax of this video opera of absurdness:
We are first treated to Dave smashing a backhand hyzer and nearly acing a protected basket beneath a large pine tree. We then get a guest appearance from "The Germans" as well as Dave showing off the putting that made him the world champion that year. But the showcase is Erik "Buck" Smith (he of the most astonishing swirly discs seen on Facebook over the last decade or so). Buck rips his backhand shot a little wide and the camera perfectly follows it as it skips and suddenly nestles directly between Dave's legs. The look on his face is priceless: both bewilderment and pure joy at the one in a million shot.
But what takes it to another level is Dave's willingness to endure the physical requirement to stay in a squat and keep the disc suspended as we see Buck walk down the fairway unhurried. One quick cut later, Buck is taking a straddle stance from a knee and cans the putt with his off hand on Kinky the Dog. It's beautiful, it's hilarious: it'll make you smile just as much as Buck and Dave do.
Next time, we'll yell start and tee off on Hole 1 with the 2003 USDGC and one of the best playoffs in disc golf history.