Wysocki penalized after scoring discrepancy to fall out of first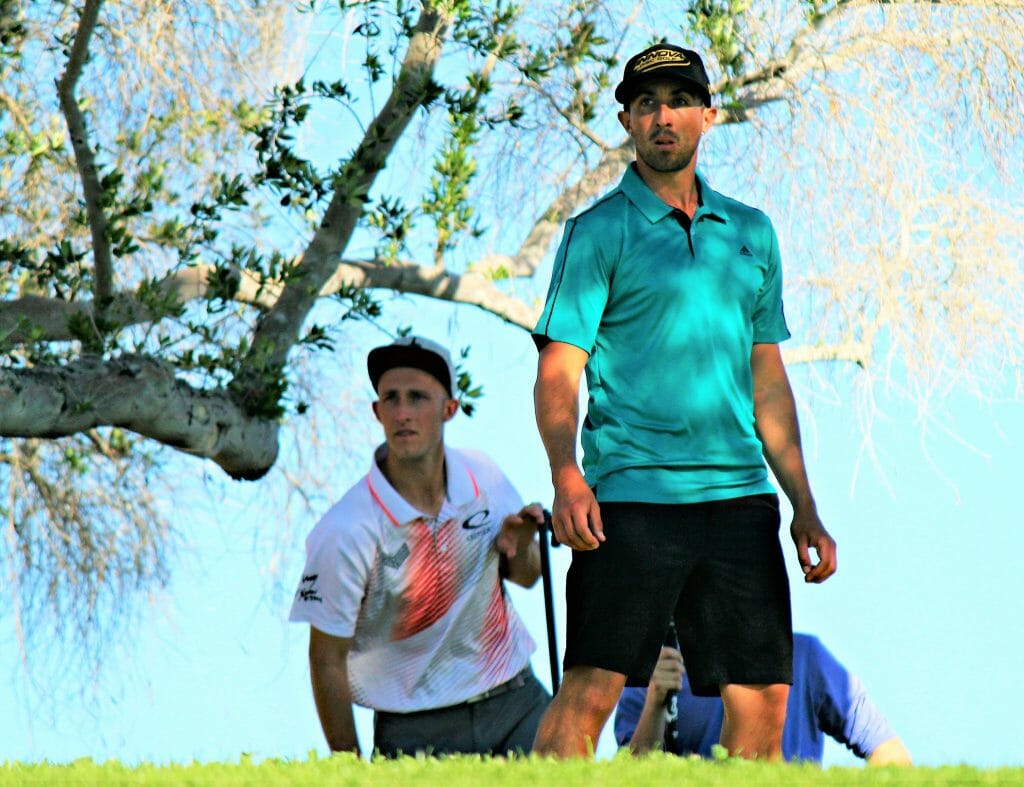 Paul McBeth set out for what he called a leisurely stroll yesterday during round two of the Memorial Championship. When he was finished, he found himself almost at the top of the leaderboard.
The defending Memorial Champion's 11-under par 44 counted as the day's hot round and sent him flying up the standings. He started the day in 19th place and ended it in third, his 18-under par 93 total putting him on the lead card for today's third round.
Cale Leiviska and Simon Lizotte share the lead, their 10-under par 46 and 9-under par 47, respectively, bringing them to 19-under par 92 totals. Ricky Wysocki originally shared first place honors with Leiviska and Lizotte, but was penalized after a scorecard error. His card was marked with an 11-under par 44 to match McBeth, but he actually threw a 10-under par 45. Post-production video crews caught the discrepancy and alerted tournament officials, who spent the morning sorting through the ordeal.
PDGA rules do not allow for video evidence to be introduced to verify scoring, PDGA Events Manager Michael Downes said, so players on Wysocki's card were contacted to review the round. When all was said and done, Wysocki had scores marked incorrectly on three holes: hole 14, where he carded a 2 instead of a 3; and holes 13 and 16, where he carded 3s but was marked with 2s.
The correct round score, plus the resulting two stroke penalty for an incorrect total, dropped Wysocki from first to second place, where he is tied with McBeth with an 18-under par 93 total.
"Never at any time did any of the event organizers think there was any mal-play in practice," Downes said. "In effect it was all honest mistakes and it's an unfortunate situation, but it is what it is."
Wysocki was not available for comment shortly before the start of round three.
McBeth entered round two at Fiesta Lakes looking to recover from a disappointing 7-under par the day before at Fountain Hills. He flipped that script from the start, carding four birdies in the first five holes. His 60-foot putt on hole 2 set the tone for his day, one he said was pretty straightforward.
"It was just drive, putt, drive, putt," McBeth said. "It's a really easy course, so it's hard to say that 44 was really good. But I guess I maneuvered the wind better than most people today. I feel like it was just honestly a walk in the park out here."
Wysocki, on the other hand, came out sluggishly, carding pars on the first three holes. He said he couldn't quite put his finger on what led to his slow start, but admitted to taking some time adjusting to the 10 to 15 mph winds. He wouldn't allow himself to blame the conditions, though, and bounced back with three straight birdies to get his scoring on track.
"I just knew that deep down I had to grind out the round," Wysocki said yesterday before the scoring errors were highlighted. "I didn't start off the way I wanted to, so I knew I had to come back in the middle and toward the end to really make up for the first few bad holes. It lit a fire under my butt, and I just definitely got a lot of birdies after that."
Not as many as McBeth, who switched back to a straddle putting stance full time after toying with a standard stance during the beginning of round one. He said he wanted to test his preferred stance early, but quickly abandoned it after failing to get comfortable.
"I figured it was the first round and it was Fountain, and I didn't feel like I'd get into too much trouble — and then there I think I switched to straddle halfway through," McBeth said. "I just figured, I know this place well enough, if I get a few behind I'm not too worried. I figured I'd try feeling it out because I know when I do start making them from standard, I get a lot better distance and a lot better putting accuracy."
The switch has been successful, as he's currently hitting 92 percent of his circle one putts through 36 holes. He was bogey-free during his 1086-rated second round.
And though Wysocki is known for his own putting prowess – he's canned 100 percent of his shots from 10 meters and in during the Memorial – he said his day at Fiesta Lakes was comprised of a balanced game.
"Sometimes, for me, it's either throwing good drives or throwing good putts," Wysocki said. "Today it was a little bit of both. It's just a sign of me starting to feel a lot more confident and getting back into my rhythm."
Leiviska and Lizotte, meanwhile, continued their steady play. Both sprayed a few more drives than Wysocki and McBeth – the pair shared a matching fairway hits percentage of 78 during round two, compared to 93 percent for Wysocki and 89 percent for McBeth – but made up for it with consistent putting. Leiviska only threw one shot out of bounds, on hole 13, giving him his first penalty stroke since the event's first hole.
Now, the tournament makes a dramatic shift. Players leave the friendly confines of Fiesta Lakes, which both Wysocki and McBeth called the easiest of the three Memorial courses, for the long, hard-packed fairways of Vista del Camino XL. Wysocki said he'll attempt to play skip shots with fairway drivers as he aims to keep his throws in bounds, but also will not be afraid to push the pace — a plan he expressed before learning of his scorecard error and now becomes even more appropriate.
"I'm gonna be playing pretty aggressively, as there's still a lot of people behind me," Wysocki said. "So I'm gonna have to play two more hot — two more really good rounds to win. I know that. It's not like last week, where I had the luxury to have a five or six stroke lead."
McBeth plans to make plenty of use of his go-to drivers as he chases down a single shot deficit.
"Vista is one of those ones where it's a lot of Destroyers," McBeth said. "I'm really comfortable with touch Destroyer shots and things like that and playing the ground. It's probably my best course out of the three."
McBeth wasn't the only one to take advantage of the Fiesta layout and move up the leaderboard. Feldberg entered the round also in 19th place and moved to fifth, while Steve Rico moved from 22nd to eighth after his own 10-under par round. Anthony Barela moved to 10th place with a 9-under par round, as well.
It wasn't all smooth sailing, though. Nate Sexton, who started the day on the lead card, fell to 10th place after a 4-under par performance that saw him carding a double bogey 6 on the 741-foot, par 4 hole 7. K.J. Nybo also ran into difficulty, slipping from fourth to 10th after a 5-under par 50.
Live coverage of the lead card begins tomorrow at 4 p.m. EST on the Disc Golf Pro Tour's YouTube channel.
An earlier version of this article incorrectly stated that McBeth was in second place. We regret the error.