Leiviksa joins the lead card heading into round two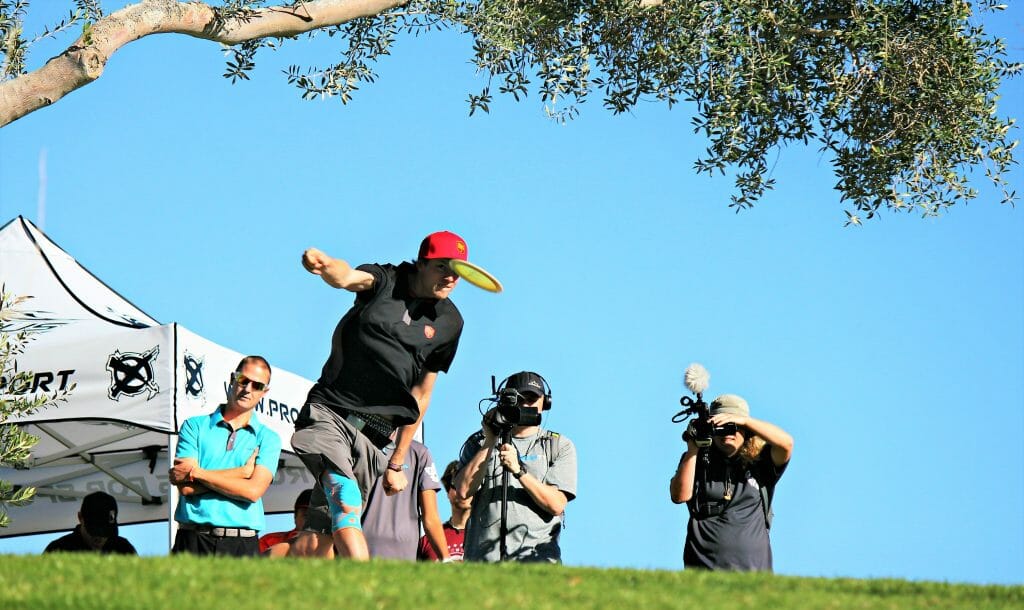 After an eight month absence due to a knee injury, Simon Lizotte struggled at last weekend's Gentlemen's Club Challenge, battling inconsistency with his release angles on his way to a 16th place finish.
So when he tossed an 11-under par 45 during yesterday's first round of The Memorial Championship, the return to form begged one question:
Is Simon back?
"No," he said with a laugh. "No, no, no."
Even if he doesn't feel quite there yet, the performance certainly counts as progress. His score is tied for the Memorial lead after a calm, clear day in the Arizona desert, as he shared hot round honors with Eagle McMahon and Nate Sexton. Four players – Cale Leiviska, Philo Brathwaite, K.J. Nybo, and Ricky Wysocki – are tied for fourth place after 10-under par 46s, while five players are tied for eighth place at 9-under par 47 totals.
Lizotte was pleased to be in the lead, even though he felt like his round at Fountain Hills Park could have been better.
"I'm surprised I'm at the top with that number," Lizotte said. "It felt pretty good, but I made some really bad mistakes. All in all I feel pretty good about it, but in the past years, like, you had to shoot 12, 13, or 14 [under par] to be in the lead."
The German pro started out sluggishly, carding a penalty stroke and a bogey on hole 1. Appearing on the feature card for a second straight week, he admitted to some butterflies – "I was actually a little more nervous this week," he said – but settled down quickly, racking up birdies on eight out of the next nine holes. His accuracy was key, as he landed in circle two – roughly within 60 feet of the pin – on 94 percent of his drives during the round.
"It's pretty much 16 hyzers and two anhyzer shots," Lizotte said, "I'm really good at throwing hyzers. I was really on point with my drives today, but my putting was feeling really off. I think I made one 30-footer and the rest was just shaky and [I] kind of just barely made it work, so it was good enough. I'm hoping I get my confidence back tomorrow in putting."
The putting woes cost him, in particular, on hole 16. After leaving his drive wide left, Lizotte three-putted en route to a bogey 4. What should have been a simple birdie – he called the 322-foot hole the easiest on the back nine – instead left him scratching his head.
"That was horrible, yeah," Lizotte said. "If I would have twoed that hole I would be really happy with my round."
McMahon, meanwhile, continued his strong start to the 2017 season. Grouped with Lizotte, Wysocki, and Paul McBeth on the day's feature card, the 18-year-old did not disappoint in his second appearance at the Memorial. He hit the second circle in regulation on 83 percent of his holes, parking four, while making all of his putts from inside 30 feet.
Though he has said that he does not thrive under "birdie or die" conditions, instead preferring longer holes that reward accurate placement shots, McMahon actually carded 13 birdies during round one.
"I'm not necessarily the greatest at that," McMahon said. "I surprised myself today and, as I said, I was really happy with how things went."
McMahon left some shots on the course, his three penalty strokes the most of anyone populating today's lead card. But considering his lack of experience – he's only played The Memorial once in his career and logged four practice rounds at Fountain and three each at Fiesta Lakes and Vista when he traveled to Arizona with the sole purpose of preparing for the tournament – and recent health – a head cold and a split finger from the recent dry conditions have made for less than optimal performance – he came away well placed to attack tomorrow as play moves to Fiesta.
"It's a little more technical – I think I'm only throwing one full power shot tomorrow," McMahon said. "It's a lot of touch, and I'm gonna do my best throw the shot that's in front of me…Just go out there with a smile and do my best."
Sexton was one of a handful of players on the day who carded a bogey-free round, with his only penalty stroke coming on Fountain Hills' hole 7. He saved that par, then added some outside the circle putts – including a 50-footer on hole 10 – before closing out the round with three birdies in the last four holes.
"The front nine was little bit sloppy, but I played a really good back nine," Sexton said. "It got back to where that's the same score I shot both times last year at Fountain – 45, 11-under – so that was right where I want to be."
Sexton said he relied on his experience with the Arizona courses – this is his fifth Memorial – to compensate for the condensed schedule heading into the event.
"I'm definitely glad that I've been here a few years," Sexton said. "We only had time for one run through in practice to try and reacclimate myself with some distances and see how my discs are flying. But I think having some experience in previous years helps a lot, because the course hasn't changed at all."
Down the leaderboard, McBeth struggled with OB during the round and met some bad luck – his birdie putt on hole 9 bounced out of the cage, caught an edge, and rolled out of bounds – en route to a 7-under par 49. He's currently tied for 19th place with Dave Feldberg and Drew Gibson.
2013 Memorial Champion Will Schusterick, who battled putting woes last season, hit 100 percent of his putts inside the circle and tossed a 9-under par 47. He's currently tied for eighth place.
Putting is where Lizotte said he most wanted to improve for the rest of the tournament. Once he dials it in from close range, he said he'll be ready to declare that he's his old self.
"I feel like the rest of the field is struggling if I'm on top right now," Lizotte said. "I mean, it's great that I can play [what] kind of feels decent and I'm still on top, but if my putting was on today I would have just shredded this course. My putts will come back soon, then I'm back. Give me two or three more weeks."
The men's lead card, which will feature Leiviska joining Lizotte, McMahon, and Sexton due to his having the lowest PDGA number of those tied for fourth place, will be broadcast today at 3 p.m. EST on the Disc Golf Pro Tour's YouTube channel.