What do we do when the players don't, you know, play?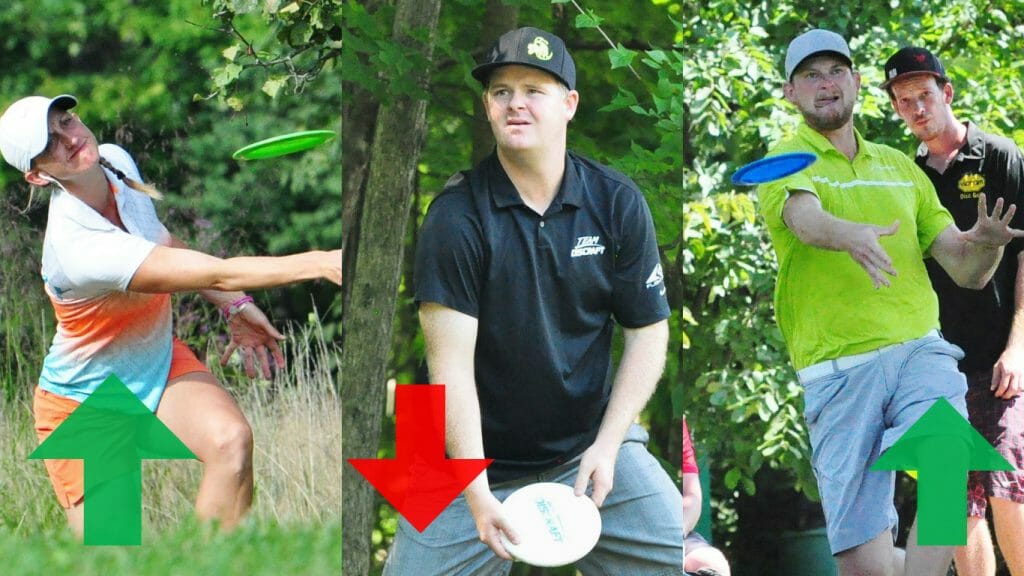 Last week's Brent Hambrick Memorial Open further cemented the top two positions in our men's rankings, but muddied up the rest of the board and left us with one overriding question:
What do we do with all of these players who aren't playing?
It's been a conundrum with this list throughout the season, but it truly reared its ugly head after Ohio, as two players in our Top 5 in the prior rankings did not play, and 11 on the total list skipped the tournament. Sure, a couple played smaller events, and we ranked those as appropriately as possible, but how to address players like Cale Leiviska and Alex Geisinger, who have shown well when they've played, but aren't at all of the tournaments? The same issue was present on the women's side, as those who didn't play all took slides down the board.
For now, we did our best, and as time goes on we'll figure out how to refine these nuances. In the meantime, sound off in the comments if you think we missed the mark. We're good listeners.
1. It's safe to say Paul McBeth has titled the 2016 conversation back to him.
2. That said, can anyone argue 2016 has been Ricky Wysocki's year on the whole to this point? These next couple months should be interesting.

3. Oh hey look, Nate Sexton is back up in the Top 3. His sneaky consistency isn't so sneaky anymore.
4. Jeremy Koling, meanwhile, has gotten stronger over the last few events. He's due for an improvement on last year's 10th place finish at the United States Disc Golf Championships.

5. There are no more events on Cam Colglazier's PDGA ledger for the rest of 2016. Let's hope he graces us with his presence somewhere.

6. Should be interesting to see if Nikko Locastro can use the Green Mountain Championships to launch himself into the Disc Golf Pro Tour's Top 8. He's knocking on the door at 10th.
7. Devan Owens didn't play the BHMO, but he did go and win a B-Tier in Arkansas.

8. We were treated to the smooth form of Bradley Williams on the lead card for round three of the BHMO, but he couldn't hang on for a spot in the finals.

9. Nate Doss' 29th place tie in Ohio was his lowest National Tour finish of the season, but he's just as likely to show up in the Top 5 when most of the field plays in Vermont in a couple weeks.
10. Eagle McMahon headlines those who sat out the BHMO this week, as his raw talent has been on display for much of 2016.

11. Thankfully Cale Leiviska has been playing all of the Pro Tour events, because he missed another NT at the BHMO. Someone get that man on the road more.
12. Matt Orum drops a bit only because he didn't play.
13. Take the Leiviska comment, and do the same for Alex Geisinger.
14. Young gun Chris Dickerson makes his debut on the list after consecutive strong events, including a 4th place BHMO finish.
15. Congrats to new European disc golf champion Leo Piironen, who adds another feather to his cap in what has been a strong season. Time to lobby Discmania for some overseas trips.

16. Cam Todd's renaissance season continued with a win at the Indiana State Championships and a return to Team Innova.
17. Juho Parviainen barely lost out to Piironen after four solid rounds in his hometown.

18. The midseason swoon is real, as Philo Brathwaite clings to the list.

19. Gregg Barsby got back on track with a Top 10 BHMO placement.

20. K.J. Nybo rebounded from a rough start to take fourth in Europe. He'll be fun to watch at USDGC.

On the Bubble: James Conrad, Will Schusterick, Drew Gibson
1. Catrina Allen: Still dominating.
2. A full season of health in 2017 is going to make Sarah Hokom even more fun to watch.
3. A home-state victory would have been nice for Valarie Jenkins, but she'll look to get back on top in Vermont.

4. Paige Pierce drops a bit after taking the BHMO off.
5. But Madison Walker gets some of that Pierce magic instead. (Pierce caddied for Walker at BHMO.)
6. We've said it once, we'll say it again: We hope to see Eveliina Salonen here in the States sometime soon. The newly-crowned European champion can sling it.

7. Melody Waibel's 4th place finish at BHMO brings her to the list for the first time this season.

8. Lisa Fajkus headlines those who did not play this weekend on the women's side.
9. Des Reading is hanging on to a Top 10 spot in the DGPT standings despite only playing three of its events.
10. Holly Finley's early season schedule wasn't packed, but she'll make a few appearances as 2016 comes to a close.