Jussi Meresmaa on why the company left Innova, what's next.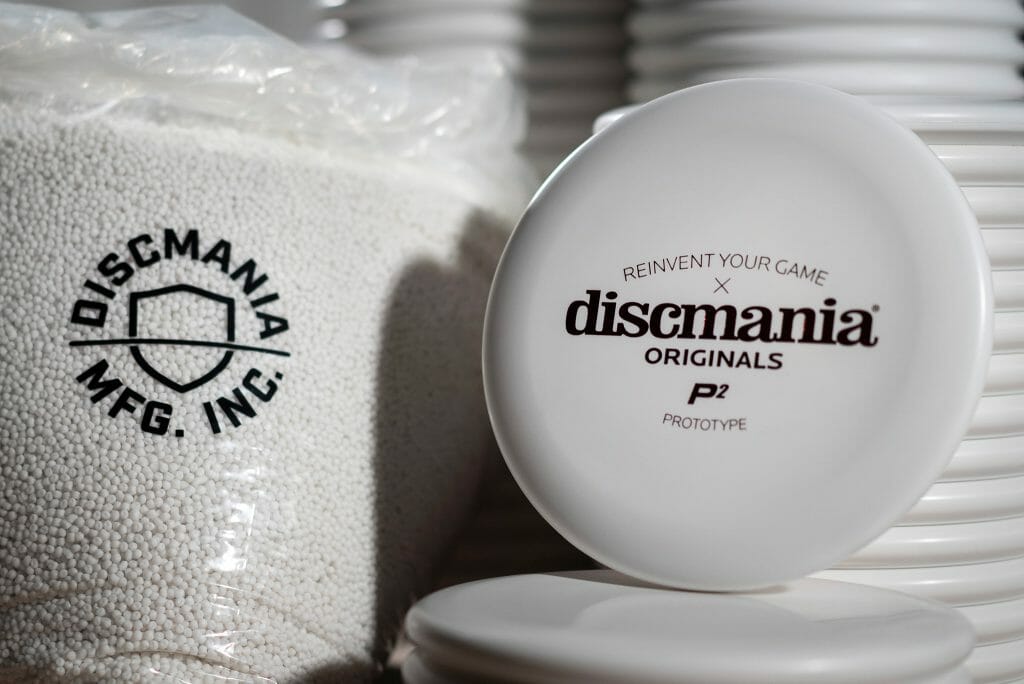 After going months without releasing discs from their popular Originals lineup, Discmania announced last week that they were ending production with their long-time partner Innova Discs and opening a dedicated factory in Sweden to exclusively produce their discs.
Discmania dropped a new P2 putter prototype along with the announcement and shared plans to begin production of additional Originals discs in the coming months.
This marks a fundamental shift in Discmania's business approach. For years, they relied on Innova offering them machine time to produce discs before expanding to two new lines with Latitude 64 and Yikun as partners two years ago. But they were still beholden to production time made available by companies that make their own discs.
Now, Discmania has a facility that is dedicated to their own discs around the clock — but it remains a collaboration. The factory is a disc's throw away from Latitude 64's primary plant in Sweden, and the companies worked together to build and staff the Discmania one.
"Latitude 64 has helped us to build this thing," said Discmania founder and CEO Jussi Meresmaa. "Latitude is helping to make this the level of production that I need and I want. But this is a separate factory; this is a Discmania factory."
"We have the power of decision making," he noted. "And that is all that matters to us."
The molds and disc designs are also being developed collaboratively: Discmania is sharing prototypes with its professional players, particularly Simon Lizotte and Eagle McMahon, for feedback, but Latitude 64 has the requisite experience in production to actually make the molds. Latitude 64 declined to comment.
That means that the Originals lineup won't be the same discs that Innova made for Discmania: Innova owns all those molds (it's widely known that Innova typically used mixed-and-matched molds from its own disc lineup to develop Discmania's).
The intellectual property and branding, though, belongs to Discmania, so don't expect to see Innova selling DD3's now (at least under that name).
The different molds do mean that the newly-produced Swedish Originals will be classified as different discs in the eyes of the Professional Disc Golf Association. The disc might be called simply a P2, but it's not the exact same P2 that players bought last year.
"It will be PDGA approved next week," said Meresmaa. "And the name will be 'new P2.'"
New Originals may be an oxymoron, but it does represent the way Discmania is looking at developing the discs. The company hired a chemist to reverse engineer the C-Line plastic that Innova used to make their Originals lineup. They want the discs to be unmistakably the ones that players know them to be, but they aren't carbon copies: the plastic suppliers are different and the molds aren't perfectly identical.
"Every putter is a copy of an Aviar," said Meresmaa. "But every copy of an Aviar is its own unique thing."
Innova & Discmania's Split
What was once a tight, familial relationship between Innova and Discmania grew increasingly business-like in recent years, particularly after Discmania started working with Latitude 64 and Yikun. But the shock of the pandemic — which caused the close of Innova's California factory for two months and a huge spike in demand for discs — caused even the business relationship to deteriorate. Innova was months behind their production schedule and facing unprecedented interest in its products, so they prioritized their own production. Discmania got increasingly less machine time. Orders weren't filled. Innova didn't make any Originals discs in 2021.
"I wouldn't be here without [Innova founders] Dave [Dunipace] and Harold [Duvall]," said Meresmaa. "But the fact is that we didn't get discs from them."
It became clear to Discmania last summer that the increased demand for their products — paired with decreased supply from Innova — was going to be unsustainable. Discs were selling out fast, and customers bombarded the company with angry messages. A number of high profile drops left fans feeling cold when they couldn't get discs except at sky-high prices on the secondary market.
"I don't want to blame anything on Innova," said Meresmaa. "This is not Innova's thing — the pandemic, nobody knew it was coming."
Regardless, conversations began about how to solve the supply shortage. There was almost no choice: Discmania had to have more control over its disc manufacturing process. In August 2020, the company signed paperwork to begin the process of opening the new factory.
"I had to do this," said Meresmaa. "There was no way I could run my business into the ground because they weren't making our discs."
Discmania didn't tell Innova about the decision until last week. Subsequent conversations have been positive, and the two companies are expected to continue working together in some capacity: Discmania has been the long-time distributor for Innova discs in Europe. Innova declined to comment.
What's Next
Discmania's production facility will focus for now on building stock in certain Originals discs, like the just-released P2 and the upcoming MD3. Latitude 64 will continue to produce the Evolution line in their primary factory across the street, but that line, too, will eventually move to the Discmania factory.
The Active line is expected to continue to be produced by Yikun.
Overall, 2021 is about "catching up," according to Meresmaa. The company won't do its popular mystery box release over the summer and won't start releasing stock run discs until September. Some popular signature discs from the Originals lineup will be out late this year.
"We've learned over the last couple of years that we need to have many more discs from the get-go," he said.
The surge in demand in the last 18 months may have accelerated the timeline of this new approach from the company, but it was always a matter of time.
"I've been pretty clear that I wanted Discmania to fly with its own wings at some point," said Meresmaa.