Getting ready for the biggest season of disc golf yet!
The 2021 disc golf season is upon us! The top professional players are warming up in the Nevada sunshine as the Las Vegas Challenge, the first stop on the 2021 Disc Golf Pro Tour, kicks off the touring season tomorrow.
Inside, we look at the stories that will define the next nine months!
How Will the Sport's Growth Affect the Tour?
We can argue about how much disc golf grew in 2020 — whether it doubled or tripled or ended up somewhere in between — but there's no disputing that the sport grew by leaps and bounds in a pandemic year. While disc golf has been defined as recession-proof given its low cost to play, the explosion in 2020 seems more about the sport's outdoor setting, social distance friendly competition, and accessibility rather than its low cost.
What is it going to mean for the tour this year? For now, spectators still can't head out to events (or, if they can, they are heavily limited), but it's easy to imagine that once they are allowed that we will see larger crowds than ever before. The prospect of a post-pandemic, spectator-filled Worlds and European Open this summer is tantalizing.
Players are also likely to see more money in their pockets as signature and tour series disc sales continue to be robust. That is tempered at least somewhat by manufacturers' inability to keep discs in stock, but there are often contractual obligations to make a certain number of the discs on which players typically earn $4-5 per sale.
Expect more eyeballs on video coverage as well and ballooning social media followers for both players and media companies. There could be increasing scrutiny on players' statements online, as well as the way that companies handle themselves, particularly as the diversity in the sport continues to grow.
– Charlie Eisenhood
Will Paige Pierce Reach a 1000 Rating This Year?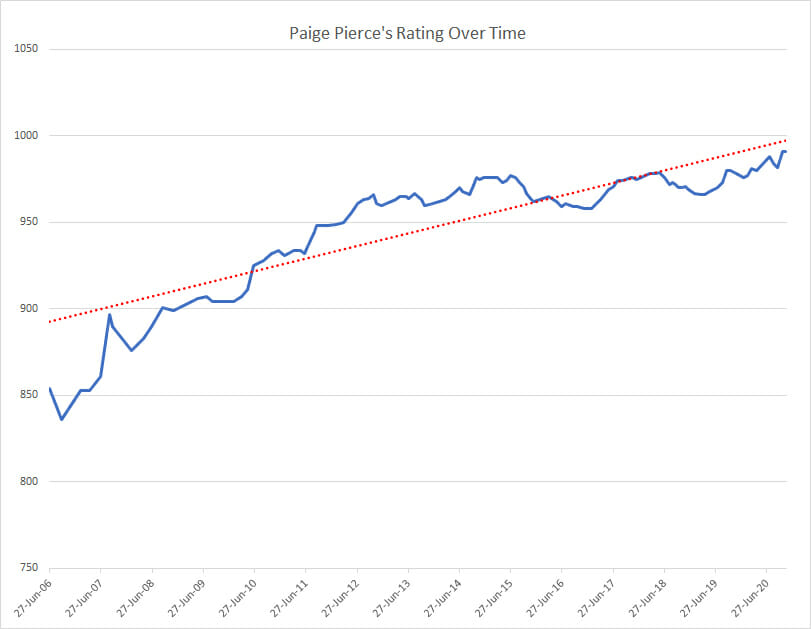 Will we see the PDGA rating of the game's most accomplished female player cross the 1000 barrier in 2021? Admittedly, a linear regression taken from an excel spreadsheet is a blunt tool when it comes top predicting athletic performance — for a deeper dive, see this statistical analysis from the summer. Nevertheless, Pierce's steady improvement over the past decade suggests that she's quite a way from her ceiling – it also suggests that she could have 1000 beneath her name during one of the ratings periods in 2021.
At 29 years of age, she has time on her side. The peak age for athletic performance remained remarkably static for the century prior to the 1980's — and that age for golf was 31. However, in recent decades, those peak ages are being lifted in many sports as athletes understand the value of recovery, nutrition, and better training. That bar has yet to be set in a relatively young sport like disc golf and it may well be players like Pierce who lead the way in the next decade.
It's an optimistic view that is shared by Strength and Conditioning Coach Seth Munsey, head of Disc Golf Strong.
"I think there is still considerable upside to an athlete like Paige," he said. "She will get stronger and continue reaping the benefits of the years of 'turning up to the work' of disc golf as a professional – in her routines, her preparation and recovery."
"I definitely feel more prepared," said Pierce, when comparing this year's off-season to seasons past at the recent Las Vegas Challenge press conference. "I've been eating right and working out a lot and trying to stabilize the muscles that we use in disc golf. I feel more balanced physically and mentally and I feel like I've been lining myself up for future success with what I was doing this off-season."
– Kingsley Flett
Ricky Wysocki: Top Rated, but Underrated?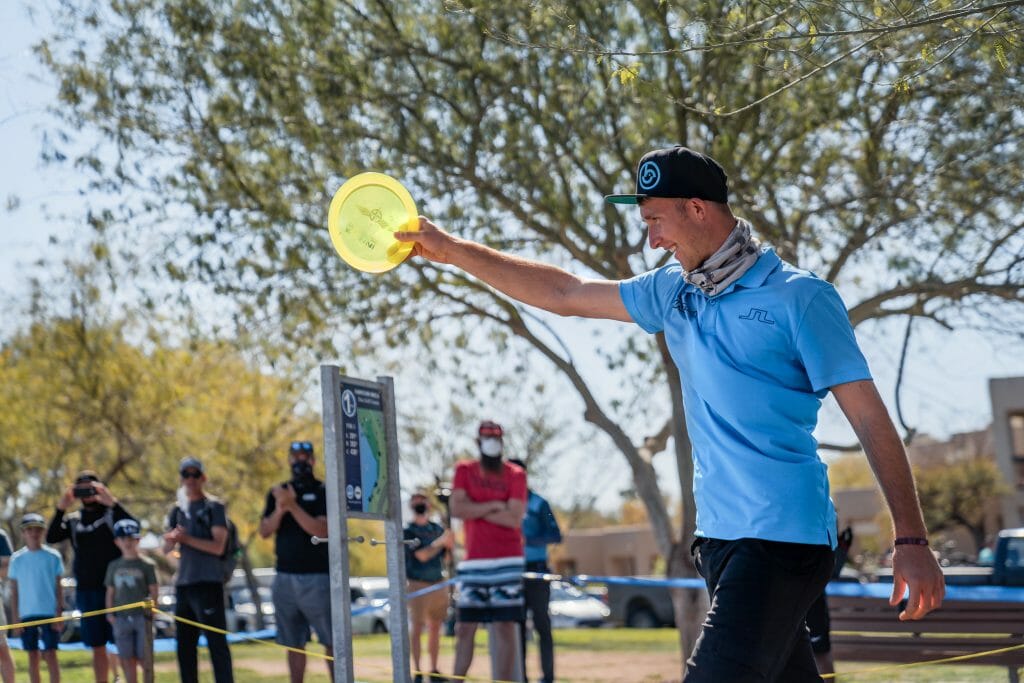 After the 2020 season restart in late June at the Dynamic Discs Open following the COVID-19 hiatus, Ricky Wysocki played 13 events and only finished outside of the top five once. He ended the season finishing top-5 at 11 consecutive tournaments. His 2020 stats are arguably the best of any player in the sport. Five A-tier wins, a podium spot at the year's only major, and a nearly impossible 12 point ratings jump in the last four months of the season to propel himself to be the solo-number one rated player in the world to start 2021. All this comes after a months-long battle with Lyme disease symptoms.
It was a surprisingly quiet ascent back to the absolute top tier of the sport. His current rating of 1054 is the highest of his career.
He may not have had the start-to-finish high level performance to win a Player of the Year award, but he was the best player on the planet from June to October.
For Ricky, it's not about accolades or the lack thereof. He's about winning and perfecting his craft. That's it. He has his sights on being the world #1, not from our point of view, but from his.
I asked the man directly: Why are you the top rated player in the world but still being overlooked?
"I think the biggest reason is because I'm quiet and humble," he said. "I just let my play do the talking. That's what has allowed me to consistently be a top player for so long. I play to be the best player I can be for myself, and I hit my goal to become the highest rated player. It's a good feeling. I don't necessarily need the general public's approval or to be acknowledged to be pumped about my achievements. The fans are great and I love their support and love to entertain them, but the perfectionist inside is what fuels me."
Entering 2021, there won't be any excuses. He's healthy and playing well and must now defend his pole rating perch while seeking to win his first major championship since 2017 Pro Worlds.
– Darren LeMay
How Pros Are Preparing Physically in 2021
Anyone who's been to the performance zone set up by Disc Golf Strong's Seth Munsey at a Disc Golf Pro Tour event will notice top professionals in the sport doing exercises that are more intricate and complex that your standard gym class. The routines devised by Munsey are aimed at improving functional movement patterns and stability more than the brute strength and power of days gone by. Even the term 'warm up' is limited because the techniques are about more than just raising tissue temperature – they aim to improve how the brain and nervous system sequence the patterns of movement to create more stability and injury resistance.
All very cutting-edge stuff. Which prompted us to ask Munsey (who has been working with pro disc golfers since 2016): What ideas about off-course training have pro disc golfers left behind now? What's become redundant?
"Nothing" he said. "There's been no real migration away from older methods because, as far as I can tell, there [were] no older methods. Most disc golfers were doing little-to-no off-course, or off-season preparation at all. It seems that most pros were in the routine of drive-practice-play."
We asked him then, what we can expect to see from the touring pros this year and beyond in the way they prepare.
"The physical demand of our sport is high," he said. "Baseball pitchers will throw once every five to seven days, yet disc golfers will throw every day. The accessibility of our sport can create problems. It's been tough to say to disc golfers 'play less disc golf.' To lower their throw volume and train smarter. But I have noticed a culture shift. More players are identifying as an athlete and paying attention to things like sleep, nutrition, and hydration, but especially recovery. Before tournaments, you can see them visiting the performance zone before they go out and throw. I've had a few pros comment that, if they were forced to choose between a warm-up and practice throws before they compete – they'd choose the warm-up. It's great to see more people adopt this holistic approach to their preparation and I believe we'll see that reflected in performances this year."
– Kingsley Flett
Paul McBeth Is Still The Best Player on the Planet
Sure, Calvin Heimburg won the 2020 Ultiworld Disc Golf Player of the Year award. And Ricky Wysocki is the highest rated player right now. But Paul McBeth is still the heavyweight champ awaiting a contender to truly yank away his belt.
As outlined here, McBeth was the most consistent player on tour last year. His redoubled commitment to improving his putting — which was in fact somewhat worse in 2020 than 2019, falling from 91% C1X putting to 87% — should only serve to solidify that reputation.
McBeth doesn't really have that much left to prove, to be honest: he's won 15 major championships. That's what makes it is amazing that his best disc golf could still be in front of him. His performance dipped slightly in 2020 and it was still good enough for him to win a pair of DGPT events and finish inside the top three more than any other player. If he can get back to his 2019 numbers — and maybe even push the putting to a new high — he could return to the truly dominant form we've seen in multiple years of his career.
Nobody has yet been able to dethrone McBeth from his perch as the best disc golfer in the world. Will it happen this year? Not likely.
– Charlie Eisenhood
The Return of the National Tour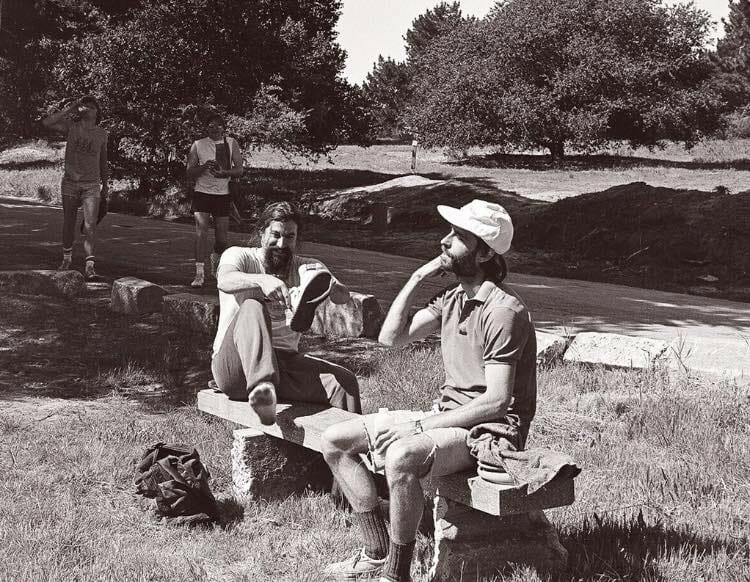 The Disc Golf Pro Tour has become the de facto professional tour of note. There are more stops, more coverage, and more money to be earned. Looping the PDGA National Tour events into the mix when referring to the Elite Series feels like you're throwing the old guard a bone. Fans who started following the pro scene during the pandemic may not even know what the National Tour is or how it is different from the DGPT.
One thing the National Tour has on its side, however, are fan-favorite courses and a certain level of prestige the DGPT hasn't quite captured.
It will be about two years in between pro visits to Milo McIver and the Beaver State Fling. The lush green layout is not just picturesque but also make for highly competitive disc golf. In 2019, 75% of the MPO field was rated 1000 or higher, and, as always, only 40% cashed. It brings out the best in every aspect of a tournament. This year will be even more special as Estacada, Oregon, experienced two wildfires in September 2020 that threatened the future of the state park. The return of the Beaver State Fling is something the entire disc golf community is lucky to have.
While DeLaveaga has a few quirks and demands some atypical throws, it is still a significant part of disc golf's history and culture. After a year of missing bad rollaways and The Top of the World, competitors and viewers will be able to see DeLaveaga back in action at the Santa Cruz Masters Cup. They've even removed the golf course from competition this year, so it's all in the hills. The course has been home to a Pro World Championship. If you want to differentiate yourself as a top-tier pro, these are the types of trophies you need.
Some of these old school courses have become outdated, not just from a technical and design standpoint, but from the media and hospitality side too. As livestreaming has grown, cameras and cell signals have struggled to keep up on tracks like DeLa, Milo, and Iron Hill at the Delaware Disc Golf Challenge. Even post-produced coverage can struggle to capture the action on certain layouts. The lack of facilities on the ground at stops can also lag behind what is available somewhere else like this weekend's Wildhorse Golf Club in Vegas.
The future of the National Tour remains to be seen. There is already more cooperation happening between the PDGA and DGPT, as the latter takes on live coverage responsibility for the NT events via the Disc Golf Network this season.
After going a year without seeing some of my most beloved courses on video, I can say that whatever becomes of the professional tour should include some of the venues we've watched for years. Things don't feel complete without them.
– Rick Holland
Verzuz Battle: Calvin Heimburg v. Chris Dickerson
One of the highlights of 2020 was the creation the Verzuz Battle on Instagram Live, which sets two musical stars' hit-single catalogs against one another in a back-and-forth jam session (don't miss Timbaland v. Swizz Beatz).
In similar fashion, let's take two stars of disc golf in their prime on trajectories toward the top of the game and compare them against one another going into 2021.
This is Calvin Heimburg verzuz Chris Dickerson.
Player of the Year
Calvin Heimburg was awarded Ultiworld's Breakout Player of the Year back in 2018. Two short years later, he won Ultiworld's 2020 Player of the Year award.
Similarly, Chris Dickerson won the PDGA's Rookie of the Year in 2015 and, after just five seasons, took home the 2020 PDGA Player of the Year award.
1050 Club
Heimburg reached his career high-rating of 1052 in October (currently 1051), which made him only the fourth player ever to reach the 1050 mark.
As of February 9th, Dickerson is rated 1050, also his career high, making him the fifth member of the 1050 club.
2020 Season
Dickerson won the USDGC (his first career Major) as well as three other A-tier events. He placed on 12 podiums at top-level tournaments.
Heimburg placed 2nd at the USDGC, just one stroke behind Dickerson, after taking a quadruple bogey 7 on hole 17 in an otherwise spectacular final round. He was able to win two A-tier events with podium finishes at seven top level tournaments.
Their average finish at Elite Series event was almost identical — Dickerson at 4.4 and Heimburg at 4.5. Heimburg had two Elite Series wins to Dickerson's extra special one.
Dickerson's high number of tournaments also helped boost him to the highest tournament winnings in the field: $41,713.
2021 Season
Heimburg is already off to a hot start. He ranked first in the 2020 Ultiworld World Rankings (an objective measure of performance) and first in the preseason Power Rankings (a combination of subjective and objective inputs). He is also coming off of a second place finish at the Disc Golf Pro Tour All-Star Weekend after losing a one-hole playoff to Paul McBeth. It adds up to plenty of momentum going into Vegas, where he won two years ago.
Dickerson is also playing great with two wins at smaller events to start the year. He is, however, taking off the Las Vegas Challenge. We will see how the delayed tour start will affect his early season game and his World Ranking, where he currently sits in fifth.
All together, the margin between the two rising stars is razor thin — it should be an exciting 2021!
– Darren LeMay
Can Hailey King Build on the DGPT Championship Momentum?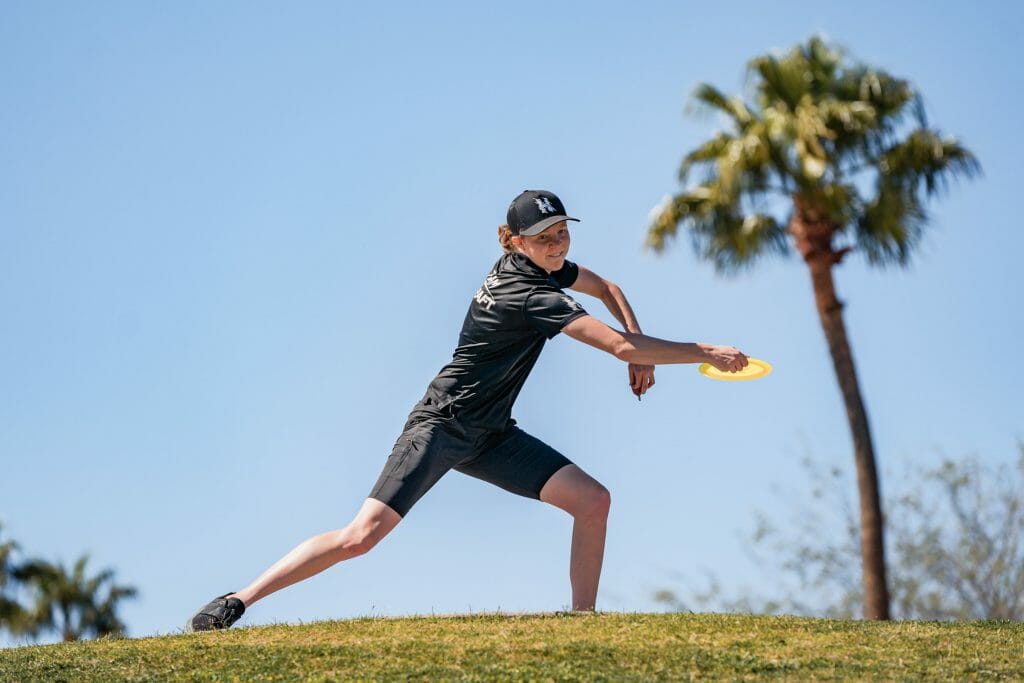 Hailey King's $20,000 payday and DGPT Championship victory at the end of last season was quite the cherry on top of an excellent year for the young Wisconsinite. King raised her rating more than 20 points, eclipsing the 960 mark, in 2020, establishing herself as unquestionably one of the most exciting young players on tour.
But there is plenty of hill still left to climb. The DGPT Championship was her first Elite Series win on tour — although she had plenty of top five finishes last season, she never bagged a regular season win. Finding a higher level of consistency and adding more distance to her game are going to be necessary if she wants to continue to ascend.
What's not in question is the putting skill (4th in Circle 1X last year and T-1st in C2) or the drive to succeed. King has committed to full-time disc golf and has made steady progress towards the top of the division.
Last year, some of King's worst finishes came out the wide open courses out West early in the season: we'll get a good snapshot of her progress this weekend at LVC.
– Charlie Eisenhood
Disc Golf Network Set for Major Expansion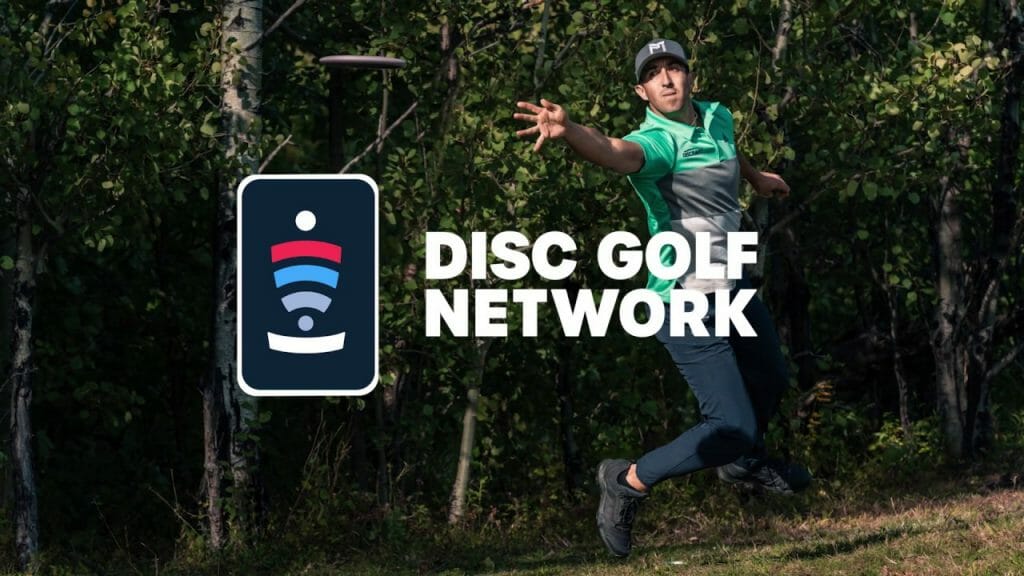 With a subscriber list of more than 15,000 and growing, it's fair to say that the Disc Golf Network has exceeded the most optimistic projections of their initial business plan. The DGPT-owned broadcaster will be delivering more than 80 days of live disc golf this year, spread across more than 30 events. This is up substantially from 36 days of live content spread over 11 events in 2020.
Unlike sports that offer more visual excitement on first look, like surfing or mountain biking, disc golf probably doesn't yet appeal to a mass audience that is primed to watch it purely for entertainment, one with no other connection to the game. Disc golf's audience will probably remain primarily other disc golfers for the foreseeable future. Despite the excitement generated by exposure to a wider audience on ESPN, it is the growth of this internal audience through DGN that is more likely to have a cascade of benefits for the sport in the coming years: more exposure for sponsors, more income for a broader base of pros, and the 'conversion' of more players from casual to committed as watching disc golf on TV becomes a habit.
What's the next milestone for Disc Golf Network? 25,000 subscribers? 50,000? Did last year's boom in subscribers have more to do with housebound disc golfers looking for content during the COVID shutdowns? Or is it part of a bigger trend?
– Kingsley Flett
Strong European Scene Continuing to Be Shut Out of US Events
"There's no better time to be a disc golfer in Europe" has come at the worst possible time.
Last year was going to be the season that disc golf became a global professional sport. A strong end to 2019 and start of the new season for European competitors at U.S. events and the continued emergence of traveling talent from across the Atlantic made it feel like 2020 was going to give up a constant presence of foreign players in top fives of, and winning, Elite Series events.
Unfortunately, we still have travel bans a year later, and we don't know if the World Championship will truly be open to the world even as the competition heats up across the pond.
Three of the top seven rated women in the world have been unable to test themselves and challenge Paige Pierce, Catrina Allen, and Sarah Hokom over the last year. Finns Eveliina Salonen and Henna Blomroos and Estonian Kristin Tattar have captured wins and numerous podiums at Majors and Elite Series events since 2018. Only seven American women have won a Major or Elite Series tournament over the same time period. With Salonen, Blomroos, and Tattar in the FPO field, you are increasing the pool of serious contenders by more than 40%.
Those three dominate the Prodigy Disc Pro Tour and big EuroTour events, and several European media outlets have come on the scene, so it's not like we won't see the trio at all in 2021 if things don't clear up. But the Disc Golf Pro Tour event in Norway and the European Open Major won't be the same without a full field. Even if Jussi Meresmaa thinks things will look ok later in the year, right now it's all still up in the air.
On the MPO side, 11 players based in Europe were rated 1020 or higher at the end of 2020, the most ever at the end of a year. That group doesn't even include players who have had U.S. success in the past, such as Seppo Paju and Jalle Stoor. Väinö Mäkelä and Albert Tamm are part of an ambitious group who have sought extended tours in the States, and a true generation of skilled players paced by Niklas Anttila are on the rise.
Eagle McMahon has already predicted a Finnish world champion in the near future. Let's hope the last 12 months have not slowed any development.
– Benn Wineka
Brodie Smith: Over/Under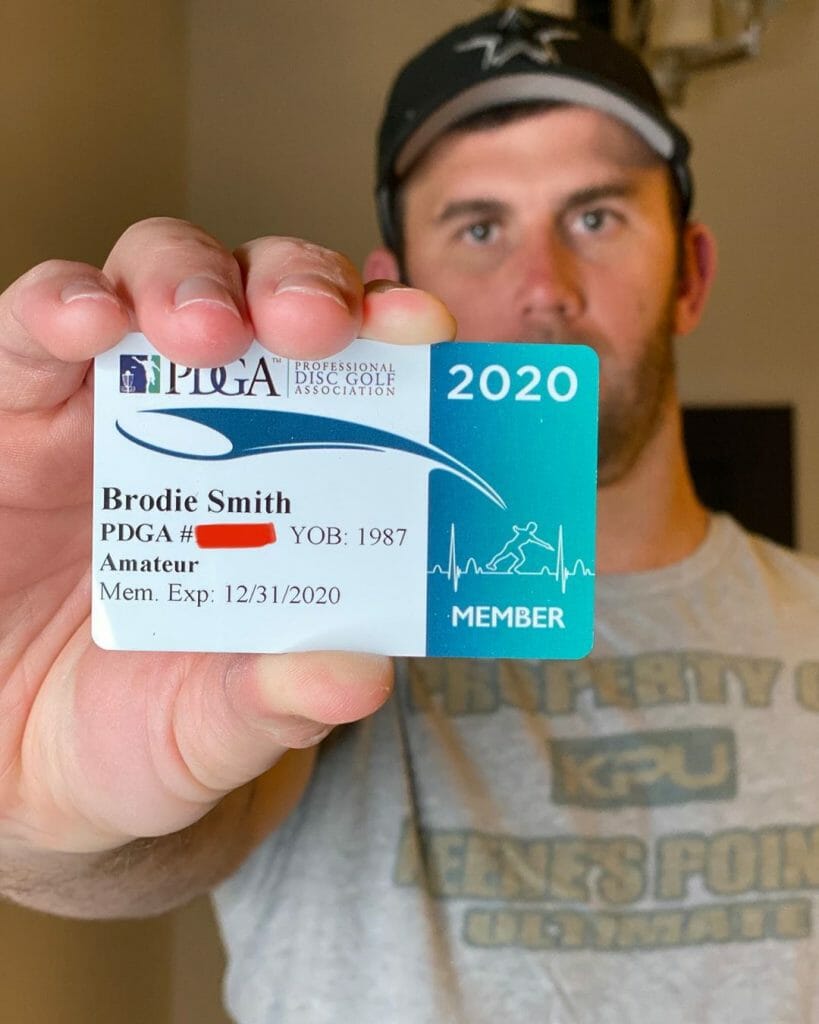 One year ago, Brodie Smith was just being introduced to the disc golf community. After joining the PDGA to start 2020, he played his first tournament in early March at the Waco Annual Charity Open.
Brodie received his first true rating, with more than five rounds being counted, in August, when his rating came in at 983. He was able to climb to 999 by season's end in December, where he sits today.
To not only come out of the gate with a 983 rating but then move the number up to nearly 1000 by year's end is a testament to how fast he has learned the game. He was able to do this on a very limited touring schedule: he only played in five top level events on the Disc Golf Pro Tour and did not cash in any of them. In August, Brodie made a switch to smaller events and gave himself an opportunity to get more tournament experience against fields that he could better compete with. He went on to cash at 11 of 12 events to end the season, including a win at The Magnolia Open, a B-tier.
Can Brodie have a similar or better jump in rating in 2021? In a normal progression, it seems inevitable that he will continue to climb. 12 of his last 20 rated rounds were over 1000, including a 1054 and a pair of rounds rated in the 1030s. This season, he is signed up for a much longer and higher-level touring schedule. Of course, he'll need to average over 1000 at tournaments to continue to climb, but higher ratings are easier to obtain with a higher-rated field.
The over/under I am setting for Brodie is 1015 by the end of 2021. That's another 16 point jump, the same as he achieved last year.
What is your pick? Will Brodie break through 1015 and reach 1020? Or will he find it much harder with the better fields and find himself burning out mid-tour?
– Darren LeMay
Could We See a New Surprise FPO Star?
It's not even been a week since Kona Panis claimed her first big career victory at the inaugural DGPT All-Star Weekend. In an interview on The Upshot podcast, she said that it felt like she finally earned the true respect of her peers.
If Panis were to find more success later this season, that wouldn't exactly come as a shock: she's been consistently improving and clearly put in some serious work over the offseason. She's an established touring professional at this point.
But there are lot of other compelling names that maybe you haven't heard of. Holyn Handley stunned everyone at the end of January by beating out Catrina Allen for the Maricopa Open crown. Kat Mertsch just got named the PDGA Rookie of the Year as she put together some solid Elite Series performances last year. Another young player, Cynthia Ricciotti, had a couple of top 10 finishes on Tour last year. Norwegian Lykke Lorentzen (formerly Sandvik) pushed her rating up from 902 to 937 last year and looked poised to have a big breakout season before COVID disrupted the tour.
And do not count out the emergence of brand new players. Ella Hansen, a collegiate ultimate frisbee champion at the University of Oregon known for her power throwing, just started playing disc golf last winter and has rapidly improved. She's averaged 919 golf since the start of the year and just beat out Zoe AnDyke to win a B-tier in Oregon.
All of the above players except Lorentzen will be competing at LVC this weekend. Who knows who might make a run?
– Charlie Eisenhood