The field resets in the first edition of the 2021 Power Rankings.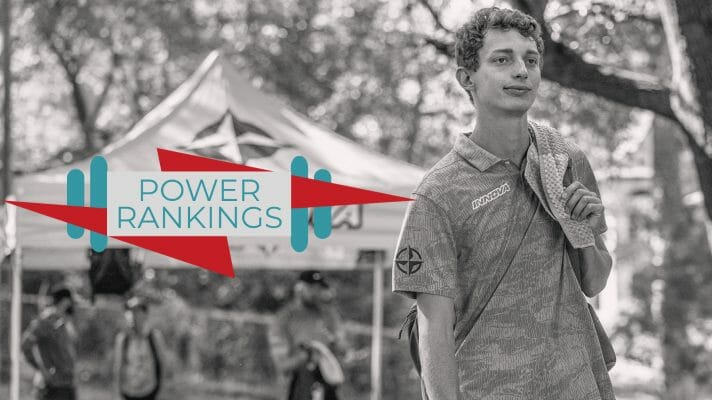 The start of a new season is always exciting. 2021 brings with it a renewed sense of optimism. We hope that the tour will proceed without interruption. We hope that COVID vaccinations continue to accelerate so that American and European players can compete together again. We hope that the return of professional golf helps us all muddle through the ragged end of the pandemic.
What will we see on the course in 2021? Continued dominance by McBeth, Wysocki, Heimburg, and McMahon? Will Chris Dickerson cement his top 5 status with another big win? And what of 2017 USDGC and reigning LVC champ Nate Sexton? COVID tanked his 2020 season and he didn't even make our preseason top 25. Will the young guns and rising stars like Adam Hammes, Kyle Klein, and Ezra Aderhold shake things up? The recent trend toward increased parity at the top of the leaderboard has been exciting to watch. Last season featured surprise victories by Colten Montgomery and Nikko Locastro, and several players claimed victory from the chase card. Who will win their first Elite Series event this year? Will we see someone from the third card take home a title? It's anyone's guess for two more days until the season gets underway in Vegas.
Note: while COVID travel restrictions remain in place, this list considers players based in America. We will break out an international top 10 once the season gets underway across the pond.
Methodology: We combine an algorithmic objective ranking with subjective ballots submitted by UWDG staff. The algorithm uses a standardized scoring model to compare elite events, awards competition and cash bonuses, and features a decay function that gradually phases out past results. For the preseason ranking, staff and subscribers considered the following criteria: 1. the results from the most recent Elite Series events, the Jonesboro Open, the USDGC/WNC, and the DGPT Tour Championship, 2. the 2020 UWDG World Rankings, and 3. their super subjective vibes, gut feelings, and premonitions heading into the new season.
Full breakdowns for each player continue below.
Bonus Content for Ultiworld Disc Golf MPO Power Rankings (US Edition): 2021 Preseason is only available to Ultiworld Subscribers
Already have a subscription? Log in
Whether you visit Ultiworld for our reporting, our podcasts, or our video coverage, you can help us continue to provide high quality content with a subscription. By becoming a subscriber, not only do you receive benefits like bonus content and full article RSS feeds, you also help fund all of Ultiworld's coverage in general. We appreciate your support!