Two players come in as big favorites, but loaded fields will make nothing easy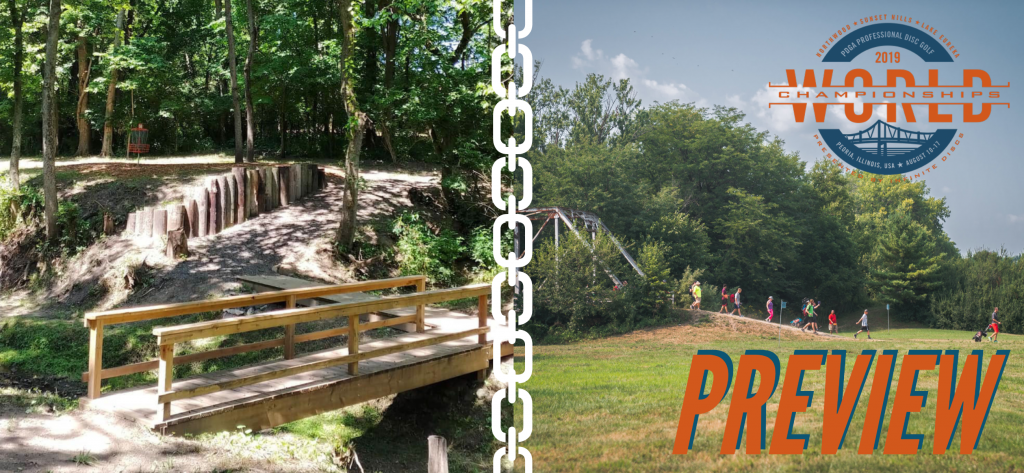 The 2019 PDGA Professional World Championship kicks off this week in Peoria, Illinois. The best of the best, and Lloyd Weema, will battle for a shot at history. Five rounds in five days on two vastly different courses. There's plenty to talk about, so let's get to it.
First, our defending champions, Gregg Barsby and Paige Bjerkaas. Both are coming in looking solid. Barsby has not been in contention at many Disc Golf Pro Tour or National Tour events, sometimes electing to run and play events elsewhere, but he has won three of his last five outings and that confidence can't be faked. Most recently he finished third at the Alutaguse Open in Estonia. Bjerkaas started her title defense in 2019 with a win at the Las Vegas Challenge and a second place finish at Waco. She said she wasn't feeling great about her game after withdrawing from the Idlewild Open, but is coming into Worlds off a W at the Rocky Mountain Women's Disc Golf Championship. 
Looking at the rest of the Open field, 2019 has been Paul McBeth's year. McBeth has been the most consistent player in the field since the Memorial and only missed the podium once since leaving Arizona, all with a new bag ta-boot. He is currently first in the following 2019 UDisc Live statistical categories: birdies, parked, fairways hit, Circle 1 in regulation, and C2 in regulation. He's got 11 wins on the season out of 18 tournaments played, including four DGPT wins, one NT, and the first Major of the year. You can draw your own conclusions, but McBeth is the odds-on favorite.
We have learned our lesson here, though, and won't be counting anyone out until the last putt is in the basket. As Jaime Thomas and Charlie Eisenhood pointed out on the Upshot, there have been four different winners at each of the four NTs, which often draw a deeper field at the top than the many DGPT events. There are contenders-a-plenty in the field, chief among them Eagle McMahon and Ricky Wysocki. McMahon has been having a now-characteristically strong season, having only missed the podium five times out of the 22 events he has played.  Wysocki has been in the hunt all year, but only has two wins to show for his work so far. Granted, Wysocki's wins include a DGPT event and he's only missed the podium once since April's Jonesboro Open.
There is also Kevin Jones, who shows up big time on big stages and just got a signature win. There's Josh Anthon, who has often been the bridesmaid at Worlds, and has past success in Peoria. Calvin Heimburg put on a show early at 2018 Pro Worlds, and Nate Sexton won the Ledgestone Open last year.  
In the Open Women's division, it has been all Catrina Allen and Paige Pierce. Allen was top dog early on, but Pierce found her groove in May and has a European Open title to her name. It's worth noting that Pierce took the win in Finland by 17 strokes. More often than not it has been Allen and Pierce leaving everyone else more or less in the dust. For almost every Pierce win, Allen has been right behind in second, and Allen has only missed the podium once in 19 tries this year. 
That being said, the formidable European triumvirate of Henna Blomroos, Evelina Salonen, and Kristin Tattar are hoping to make a global impression on Worlds. Blomroos and Salonen showed their mettle back home, winning their match play and stroke play cards, respectively, in the Presidents Cup. Blomroos also bested Allen by two strokes in the European Open to take second. 
Again, we aren't counting anyone out. Bjerkaas was not on many people's radar as a challenger going into 2018 Worlds and look what happened. The top four of Allen, Pierce, Blomroos, and Salonen are going to be hard to beat but players like Jennifer Allen, Madison Walker, Jessica Weese, and Lisa Fajkus have been quietly putting together some impressive seasons and certainly have the experience and tools to make a run for the title. 
Let's not forget Sarah Hokom, either. Hokom is definitely not having the debut season with MVP Discs that she would have drawn up, but she does have a world title on the resume. Hokom is second on tour in scramble rate, but is outside the top 10 in every other major statistical category. Perhaps don't read into that too much, though. Hokom finished second at Ledgestone in 2018 and Northwood is sure to have players needing every trick in the bag.
| Year | Open | Open Women |
| --- | --- | --- |
| 2022 | Paul McBeth | Kristin Tattar |
| 2021 | James Conrad | Catrina Allen |
| 2020 | n/a | n/a |
| 2019 | Paul McBeth | Paige Pierce |
| 2018 | Gregg Barsby | Paige Bjerkaas (Shue) |
| 2017 | Ricky Wysocki | Paige Pierce |
| 2016 | Ricky Wysocki | Valarie Jenkins |
| 2015 | Paul McBeth | Paige Pierce |
| 2014 | Paul McBeth | Catrina Allen |
| 2013 | Paul McBeth | Paige Pierce |
| 2012 | Paul McBeth | Sarah Hokom |
| 2011 | Nate Doss | Paige Pierce |
| 2010 | Eric McCabe | Sarah Stanhope |
| 2009 | Avery Jenkins | Valarie Jenkins |
| 2008 | Dave Feldberg | Valarie Jenkins |
| 2007 | Nate Doss | Valarie Jenkins |
| 2006 | Ken Climo | Des Reading |
| 2005 | Nate Doss | Des Reading |
| 2004 | Barry Schultz | Birgitta Lagerholm |
Ledgestone Open Past Winners
| Year | PDGA Tier | Open | Open Women |
| --- | --- | --- | --- |
| 2022 | DGPT | Ricky Wysocki | Missy Gannon |
| 2021 | DGPT | Ricky Wysocki & Calvin Heimburg (tie) | Paige Pierce |
| 2020 | A/DGPT | Ricky Wysocki | Catrina Allen |
| 2019 | A/DGPT | Paul McBeth | Paige Pierce |
| 2018 | A/DGPT | Nate Sexton | Jessica Weese |
| 2017 | A/DGPT | Josh Anthon | Valarie Jenkins |
| 2016 | A/DGPT | Paul McBeth | Catrina Allen |
| 2015 | NT | Simon Lizotte | Catrina Allen |
| 2014 | A | Nikko Locastro | Catrina Allen |
| 2013 | A | Devan Owens | Catrina Allen |
| 2012 | A | Nikko Locastro | Sarah Hokom |
The Courses
Northwood Park: MPO – 9,299 feet, par 64; FPO – 7,677  feet, par 63
Both open divisions will play the new and improved Northwood Park course. The MPO field will play the Gold layout, FPO the Blue tees. This will be the first time fans have been able to see an almost entirely new Northwood in action, but if the early hype is to be believed, we are in for a treat. The shortest hole is the par 3, 321-foot hole 9. Hole 12, Paul McBeth's nominee for best hole ever, is a 1050-foot monster par 5. Check out Patrick Aubyrn's article dissecting the course with Pro Worlds TD Nate Heinold if you haven't already. MPO leaders play Northwood Wednesday and Friday, FPO plays Tuesday and Thursday. 
Matt Orum Cam Colglazier Hole 12 Northwood Gold
Lake Eureka: MPO – 9,647 feet, par 63
The Lake Eureka Course is well known to touring players and fans alike. The course hosts the Ledgestone Insurance Open, and demands that players account for roped OB lines and strategy off the tee. Only Open division will be on the track, and features we are used to at the DGPT event, such as elevated baskets on several holes, will remain for Worlds. MPO leaders play Lake Eureka Tuesday, Thursday, and Saturday.
Sunset Hills: FPO – 7,539 feet, par 61
Like the Lake Eureka course, Sunset Hills will be familiar to players and fans. Played on a ball golf course, Sunset doesn't require the same mega-bomber arm that Eureka does, but Sunset does have plenty of OB and opportunities for players to bleed strokes if they aren't strategic with both their tee and upshots. Only the Open Women's division will be at Sunset. FPO leaders play Sunset Hills Wednesday, Friday, and Saturday.
Extended Forecast
The Pro World Championship is finally here, and the weather looks like it should fully cooperate in Peoria. Strong to severe storms will be possible Monday evening, presenting a chance for courses to be damaged. However, the weather for the event itself looks great!
Tuesday: Highs will top out in the low 80s with gusty northwest winds expected. Wind speeds in excess of 20 mph may be possible.

Wednesday: Gusty northwest winds will once again be in play as highs top out near 80°.

Thursday: A light northerly breeze will be possible on Thursday as highs continue to be in the low 80s.

Friday: The wind should shift back out of the south on Friday. This will lead to warmer temperatures as highs top out in the mid 80s. 

Saturday: That southerly wind will remain in place on Saturday. This, combined with upper level ridging, will lead to temperatures near 90°. Humid conditions will make it feel more like the low to mid 90s.
Overall, the weather looks fantastic for the competition. I do have some concerns about intense thunderstorms Monday evening and overnight. Damaging winds and tornadoes will be possible across much of northern Illinois, including the Peoria area. Hopefully, none of the courses sustain damage so close to the start of the event. 
How To Follow
We've got everything covered on our How To Watch page here.
Here's the gist.
Livestreaming from Smashboxx TV will alternate between MPO and FPO as they play Lake Eureka and Sunset Hills Tuesday through Friday. Northwood will not be featured on any live coverage. Both MPO and FPO final rounds will be livestreamed on Saturday.
JomezPro, Central Coast Disc Golf, and Dynamic Discs will provide next day coverage on their respective YouTube channels.
UDisc Live for live scoring.
Don't forget, the Upshot will be on site all week for up-to-the-minute analysis after every round.
Listen to "The Upshot" on Spreaker.