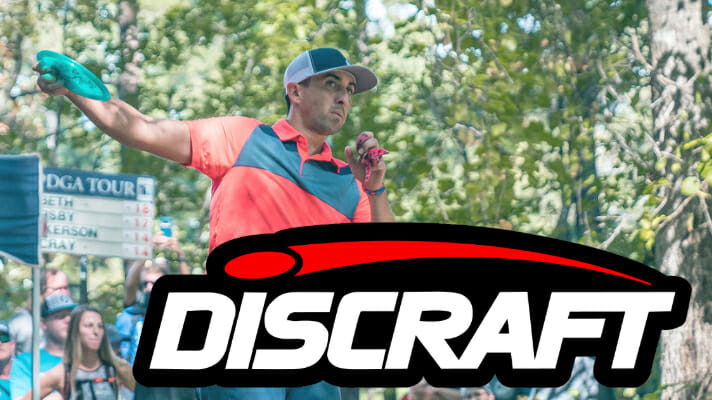 The wait is over: Paul McBeth has entered a new phase of his career after agreeing to a four year deal with Discraft in one of the biggest blockbuster signings in disc golf history.
"I believe Discraft has positioned themselves to make a big push for the sport," McBeth told Ultiworld Disc Golf. "As we have continued to develop our relationship, I'm already feeling confident in my decision. My goals aligned perfectly with Discraft's model, and the openness that Discraft has with their players and employees has made this transition easier than I ever expected. We have a very similar vision for the future and the growth of the sport and there is no better time than now to start in heading that direction."
Although the deal has been in the works for weeks, McBeth only officially signed the contract late last week at Discraft's headquarters in Michigan after spending a few days in Texas filming promotional material.
Sources tell Ultiworld Disc Golf that the contract is worth over a million dollars guaranteed over the four years of the deal, believed to be the largest player contract in the history of the sport. McBeth will also get his own line of discs with sales incentives.
Discraft declined to comment on the details of the contract or the possibility of new McBeth-specific molds, though they did say that no McBeth-related discs will be sold until early January. The company has not had a new disc approved by the Professional Disc Golf Association since the Vulture in February.
"We are very excited to be working with Paul McBeth and can not wait to share with the world all the great things we are working on together," said Discraft Team Manager Bob Julio. "2019 will be Discraft's 40th anniversary and it was time for us to make a big move. We feel that this will be great for the sport, our employees who work very hard, and the fans that have always been by our side."
The McBeth signing marks an institutional shift for Discraft, which has largely stayed outside of the player free agent fray in recent seasons. The manufacturer's biggest recent player transaction was signing Valarie Jenkins early last year after her public breakup with Innova. While Team Discraft does include a few top pros, their top player — Nate Doss — has played much less this season as he is working on starting up a brewery in Oregon, and Andrew Fish isn't on tour full time.
"We had the rare opportunity to do something that could impact the future of disc golf," said Discraft Vice President Mike Wagner. "After a handful of discussions with Paul, we couldn't imagine a better fit for our company. His core character, professionalism, and business mindset will allow us to continue to push the boundaries and grow the sport of disc golf."
There's no bigger star in disc golf than McBeth. He won four straight World Championships from 2012 to 2015, and he just became the fourth player to win multiple USDGC titles after claiming his 2nd this October. He won his last USDGC title in 2015, the same year that he completed disc golf first and only grand slam, in which he won all five majors during the season.
Speculation about McBeth's move to Discraft has been swirling since October. When Innova announced on Halloween that he would not re-sign with them, the rumors only intensified, and disc sales–both for McBeth's signature Innova discs and for Discraft ones–spiked for at least one online retailer.
More specifics about the scope of the partnership are expected to emerge in the coming weeks as the official start of the contract approaches.