"This one only makes sense," four-time PDGA World Champion says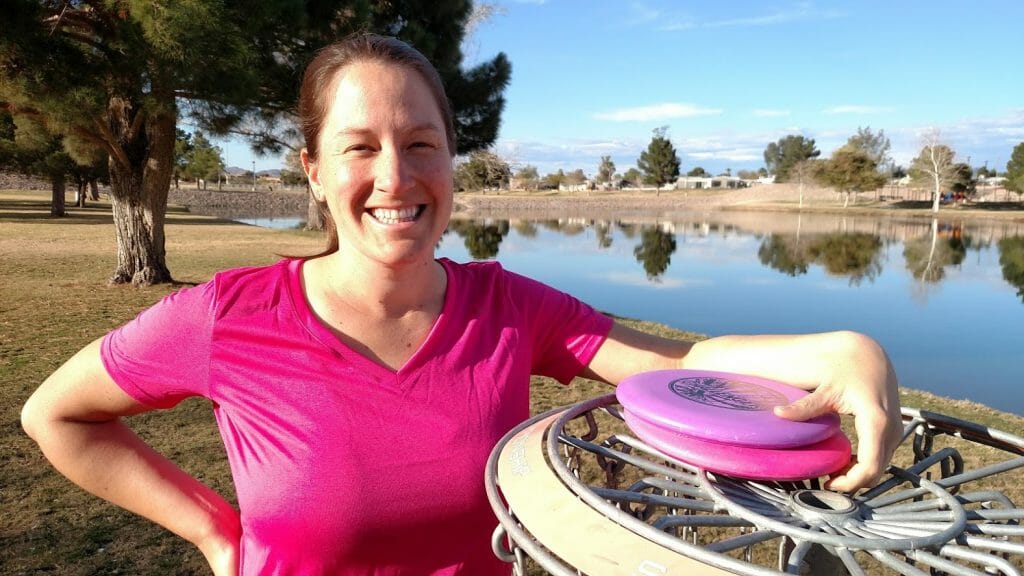 Valarie Jenkins has a new home.
The four-time PDGA World Champion has signed with Discraft for the 2017 season, she announced today. She'll make her team debut this week at the Memorial Championship in Arizona.
"It's funny, I never really thought about [another] sponsor I was gonna choose," Jenkins said. "But this one only makes sense."
The move comes after Jenkins made a public split from long-time sponsor Innova Discs in January, citing what she said were the company's shortcomings in equally supporting its women's players. When Discraft Team Manager Bob Julio reached out to her after that announcement, she did not hesitate to express those same concerns when it came time to discuss her possible future with the team.
"Talking with Bob, basically they were such an open book and wanting to know anything they can do to make me happy on the team," Jenkins said. "The first and foremost thing that I've been saying is I want to have an equal opportunity as the men on the team — the bonus structure, the same type of level of support — and they were completely open to that."
Jenkins also said she felt like the negotiations were instructional for the brand.
"I feel like when I was saying things to Bob, he hadn't necessarily thought of things in that way, from a woman's perspective," Jenkins said. "I think it was a really good conversation that we had — eye-opening for them — and we made it all work. Expressing that was the biggest leap of confidence."
Julio agreed with Jenkins' sentiment and expressed excitement about being able to support not only Jenkins, but also women's disc golf as a whole. The company, he said, has realigned its women's team support to equal that of its men's players.
"The biggest thing was we were kind of looking at it the old way, of there were only a few girls playing, so the bonus structure was really slimmed down for the women," Julio said. "But now if you look at most of the bigger events, there's 20-plus females competing. So I think our bonus structure was just outdated, and it was good to hear how she felt about that and looking at it from a woman's view definitely helped us out."
Jenkins said there were three other teams who reached out to her in an informal fashion, but nothing ever reached the level it did with Discraft.
"I didn't necessarily feel the drive to take anything farther," Jenkins said. "I've never been a person to ask for a ton, and it's not like I was gonna weigh out all these options or anything. I wanted a team that would fully support me and let me do whatever I want to do. I've been doing this for a long time. I just needed a supportive sponsor."
Now comes the tricky part: learning new plastic after throwing the same discs for more than a decade. And the transition hasn't been without its pitfalls: Jenkins' offseason home in Oregon has been under snow for most of the winter, so she has only played three rounds with Discraft discs. She tested many of the brand's molds on a recent trip to Arizona, though, and has a general idea of what she'll be throwing. At the start, she will putt with Challengers, drive with the Thrasher and Heat, and work her midrange game with an ESP Buzzz. It's been her first experience with the company's discs, despite her husband, Nate Doss, playing for them for years.
"I had an MRV back when I was like a teenager, Elaine King had given me one," Jenkins said. "But no, [I've never thrown others]. Nate and I would play catch with a Challenger once in a while to warm up. Thankfully they all work great, and I felt like it was an easy transition over to all the discs."
King, a five-time PDGA World Champion who serves as Discraft's women's team captain, was thrilled that Jenkins was coming to the team.
"I watched Val grow up," King said. "Her parents are dear friends of myself and my husband; I call her my niece. It's wonderful — wonderful that she'll be joining the team, and I hope that's a chance for the women to get a little more of a profile."
And while one might expect Jenkins to approach the Memorial with some trepidation over learning a new bag, she said she was actually feeling less pressure than normal.
"I almost feel more confident," Jenkins said. "The Memorial, there's a lot of out of bounds, there's a lot of water. When you're playing in that kind of tournament, you don't want to throw those discs that you've had for so many years near the water. Right now, I have that little edge of like, alright, I know what this disc can do and I can go for shots, but I know I can get a good backup. Everything's brand new."
She also said she was looking forward to challenging her own skills, as opposed to leaning on familiar plastic.
"It's interesting going out there with a completely unknown bag of discs and relying completely on my game and really working with the discs and making them fly how I imagine, instead of going back on these discs I've thrown for so many years and it's almost like it's riding a bike," Jenkins said. "You're doing the same thing, and it does get tiring. So it is that renewal, I guess. It's a strange feeling, in a sense, because I'm not as prepared."
Doss said that, speaking as a Discraft team member, he was excited to have Jenkins come over and boost the company's women's team. But there is obviously a more personal element to the decision, as well.
"As her husband, I'm so happy for Val that she is taking these steps," Doss said. "It has been a difficult road, but she's done a great job and it's really been an honor to be there with her every step of the way."
While Jenkins' current agreement with Discraft is only for one year, she said she was ready to make a long-term commitment to the company.
"It's an interesting team dynamic, because they're not necessarily picking up every newbie on the course or everybody that's just in it to have a sponsor," Jenkins said. "They think about it, and they want you to prove yourself and to get on that team and know you're gonna be on that team for a long time."