Four-time PDGA World Champion talks about her decision to leave the company after 12 years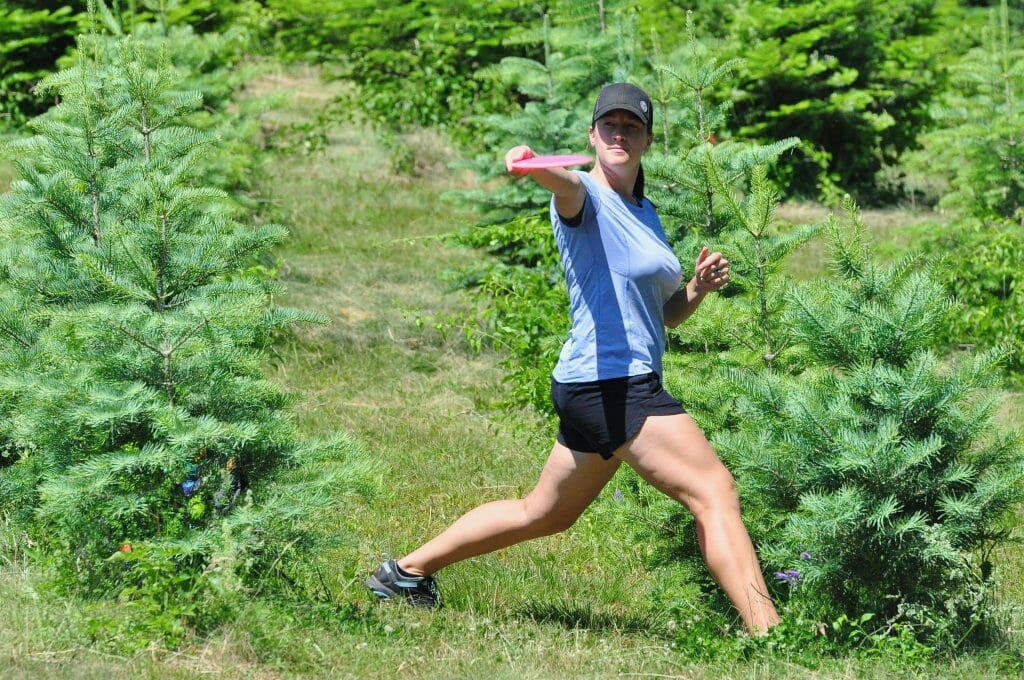 Valarie Jenkins' unhappiness with Innova Discs had been brewing since the late 2000s, she said this weekend, and tensions came to a head over contract negotiations prior to the 2016 season, ultimately leading to her decision to leave the company.
In an announcement Friday, Jenkins cited the "countless honors I have been denied, because I am a woman," and in a lengthy conversation pointed to what she said were inequities in how Innova recognized her accomplishments and denied compensation over the past decade.
She also acknowledged that Innova has long been a supporter of women's disc golf tournaments and other associated endeavors, like the Women's Global Event and the Throw Pink initiative that promotes women's health, but that treatment of the company's women's players needs to improve.
"They do support women's tournaments like other tournaments, they're very supportive like that," Jenkins said. "But when it goes behind the scenes, things change."
Representatives for Innova declined to comment on specifics of the situation, but in an email said they "wished only to express [our] gratitude for Val's many years on Team Innova and to wish her well in the future."
Jenkins said the seeds of discontent were first sown back in 2008 and 2009, when she won her second and third PDGA World Championships alongside Innova teammate Dave Feldberg and her brother, Avery Jenkins, who also played for the company. After Feldberg's and Avery Jenkins' wins — their first each — the two were awarded an Innova signature disc, which the company has traditionally awarded to world champions in the Open division and includes royalties from sales of the discs. Valarie Jenkins, meanwhile, was not awarded a signature disc despite being a multiple time winner in the Open Women's division.
"I saw firsthand what exactly they got for winning their first Worlds, while I'm winning my second, then my third," Jenkins said. "And so, yeah, there were just a lot of negotiations and frustrations that since those years have been going on between me and Innova."
Jenkins added that her frustrations were not only financially-motivated. She was also upset at the message she felt the company was sending by not including her name on its products, and she lamented that earlier support could have made a larger impact on women in the sport.
"It's not just about the money," Jenkins said. "A signature disc shows that your team is behind you, shows that your team supports you. Now your name is being promoted to the entire world. Who knows what could have happened to women's disc golf if Innova could have stood behind Des [Reading] when she won her three [world championships]? Could have stood behind me after I won my first? It could have built something more amazing than it's becoming to be now. It's that promotion that they lacked so hard.
"They wouldn't spare whatever they think they're gonna be missing on promoting a woman on a disc," Jenkins continued. "They could have changed this path and made it better for all of us. Since they didn't give me that, I asked for other things — travel help, different kinds of bonuses — and shut down, shut down, shut down."
Jenkins also said higher-ups at the company did not hide their intentions in awarding signature discs.
"They weren't ashamed to say that they would not put a woman's name on a disc," Jenkins said.
Jenkins clarified her statement in a follow up interview.
"They said that it wouldn't sell as well as [a disc] with a man's name on disc, it would hurt profits," she said.
Innova does have a woman's name on two signature discs. Disc golf hall of famer and five-time PDGA World Champion Juliana Korver's signature appears on versions of the Valkyrie and the Aviar, but Korver said the signatures were not awarded for winning her titles. Instead, she originally came to the company to work on building its website. Her signature was put on the Aviar after she mentioned that she did not like the feel of the original, while the Valkyrie was part of a compensation package.
"I was the impetus behind the first disc and thus I anticipate that my name will remain on that as long as it is in production," Korver said in an email, "and the second was related to the job."
Additionally, Innova sells a variety of "Tour Series" discs, of which "a substantial portion of each sale will go directly to the player and help his/her touring season." Jenkins had one of these discs in the past, and current listings on Innova's Pro Shop website include those of Reading, Hannah Leatherman, and Sarah Cunningham.
In March 2010, Jenkins said, the company did offer that she would be awarded a signature disc — "I always described it as, it was just dangled in front of me" — if she won a fourth world championship. The added stress affected her on the course.
"From 2010 until this last year, I literally lost the world championship on the last hole three times," Jenkins said. "So the defeat of losing was already heavy enough, but knowing the pressure that this sponsor put on me to win that Worlds was an even greater defeat. It was such a frustrating internal battle. It was just so ironic that this year, I make the statement to Innova [that I would leave after the season], and it was like the weight was lifted off of me and I won Worlds for myself."
Aside from not being awarded a signature disc, Jenkins took issue with the company's framing of other accolades when put up against those of men on the team.
"A signature disc is the baseline," Jenkins said. "For so many years when I was winning so many tournaments, if another guy on the team won, he would always get the front picture. He would always get the top picture, you would have to click 'read more' to find out who won the women's division. It was never this shared media presence."
Still, Jenkins stayed with the company in the hope that winning that elusive fourth title would prove her value to the brand.
"It was just every year trying to make something better," Jenkins said. "I was there, I could have won that fourth world title so many years ago. I could have won it in 2011, things could have been different. There were so many opportunities that I could have won and it was almost like — it was so frustrating having to prove myself. I had already done so much stuff up to that point where I won my three world titles, along with a bunch of Majors, National Tours, all these things. But yet, to the company, it wasn't enough to prove to them that I deserved more."
The final straw, Jenkins said, came before the 2016 season, when she was presented with her contract and "things we had negotiated were taken away." At that point, she informed the company she would move on after the season, but she still held out hope that something would give.
"I gave them a year," Jenkins said. "I didn't want anything crazy to happen at the beginning of the year. I would have had to switch my bag, I would have had to represent a new company, all this. I kind of gave them the ultimatum, and nothing really changed. I mean, if I hadn't won Worlds, absolutely nothing would have changed."
Jenkins did receive a signature disc after this year's world championship. The Valarie Jenkins 4X World Champion Star Starfire was released in September.
Now that Jenkins has left the company, she said she has not planned her next steps. She did say other prospective sponsors have reached out to her since her announcement on Friday, but that an agreement was not imminent.
"We'll be out there playing," Jenkins said. "As for discs I'll be throwing, I don't know yet. I have my bag still sitting there because we're at almost six feet of snow over here. I don't know, I'll see what Nate's got on the shelf. I told him I'd give a Nate Doss Buzzz a throw. I've never thrown one, actually."
She also said she has received messages of encouragement from other women's players.
"I know that these frustrations have happened in different companies, and I definitely know they have happened specifically at Innova," Jenkins said. "I've heard from several ladies, and they just appreciate that it's finally being brought to light."
Jennifer Allen, who is on Innova's Star Team, politely declined a request for comment. Messages for Reading – who is also on Innova's Star Team – and Madison Walker, a member of Innova's Team Champion, were not returned before press time.
Other prominent women's players reacted to Jenkins' announcement with surprise and support.
2016 United States Women's Disc Golf Champion Sarah Hokom said she was "shocked" at the news but hoped it would bring attention to some of disparities in compensation throughout the sport.
"She's taking a stand for all of us, really," Hokom said. "I've considered it several times in my past, thought, 'Man I should just go unsponsored, this is bullshit.' But the I look at the bottom line and the equation does not work for me if I don't have the support of sponsors."
Three-time PDGA World Champion Paige Pierce, meanwhile, said she was not as surprised at Jenkins' move because "she has great morals and any other decision would have completely gone against everything she believes in."
"If I had a company, she is exactly the kind of person I would want to be promoting my brand," Pierce said. "Not very often do you find the mix of a player as talented as her and as personable as she is. Everyone knows, respects, and admires her."
Catrina Allen, the PDGA's top-ranked women's player, was more conflicted about Jenkins' announcement and hesitated to draw a conclusion without knowing more specifics.
"If you think you're treated unfairly, no one else can tell you that you aren't," Allen said. "That's how I feel, so I want to make sure that's known, and I'm not trying to take away from what she's doing. But I do feel that [the statement] was vague and without knowing what she was denied and what she's looking for, that's hard."
What Jenkins wants, she said, is for Innova's view of women's players to change.
"I absolutely hope that it reaches the top, wakes them up," Jenkins said. "I mean, I guess you see this all around the world. Women have to deal with a lot to prove themselves in any industry, and it comes down just to core ideals of what these top people place upon women. It's a really hard thing to change if that's how that person truly feels, but hopefully this statement — this coming out and seeing the overwhelming amount of support — can change things."
An earlier version of this article stated that Jenkins' signature disc was the Star SL. It has been corrected to reflect that it is the Star Starfire.