Conrad, Jones make big push but McBeth rallies late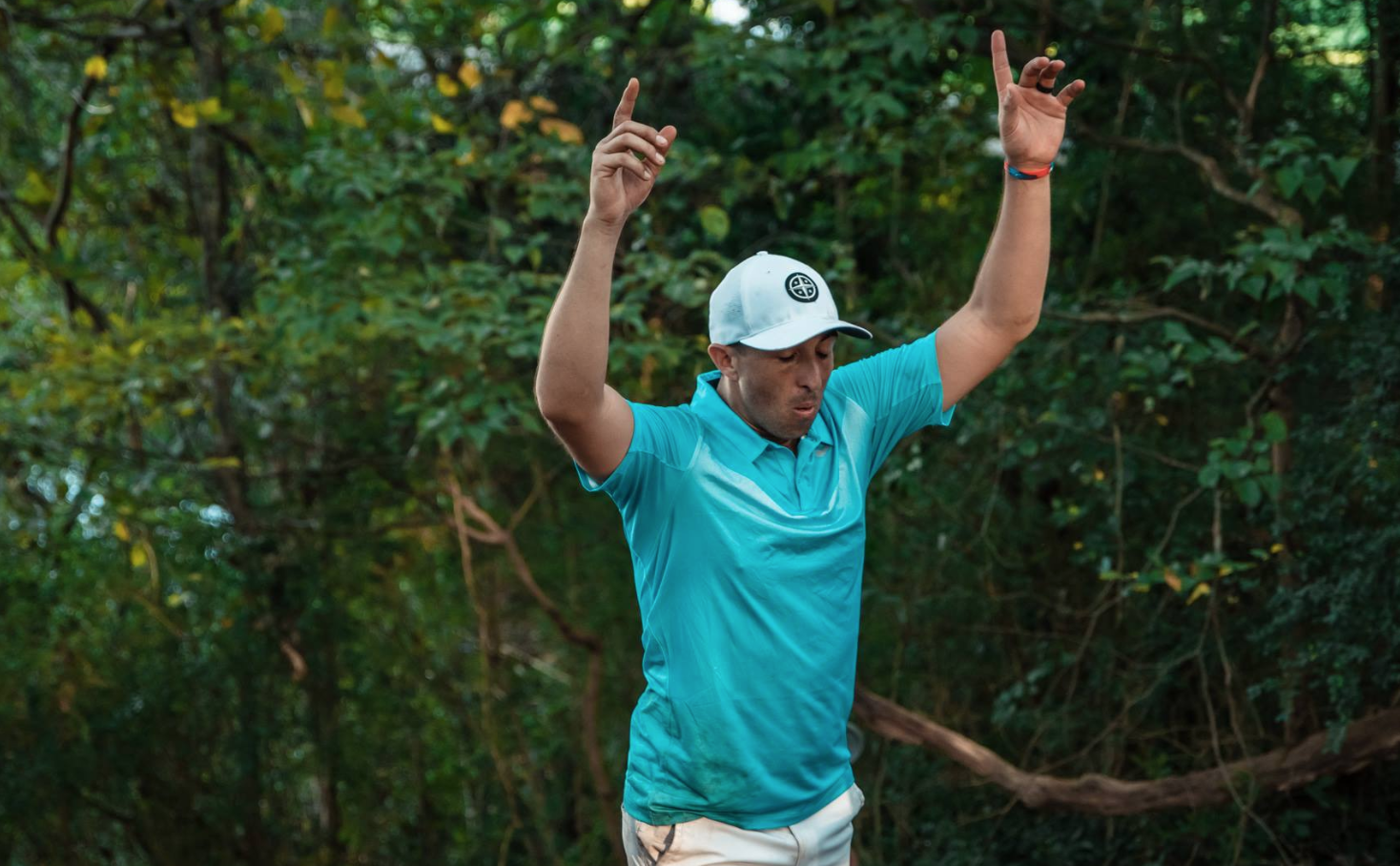 ROCK HILL, S.C. — Five holes into Saturday's final round of the United States Disc Golf Championship, Paul McBeth's five shot lead had nearly evaporated. Kevin Jones, fresh off of shooting the hot round, had opened the round with five straight birdies and McBeth had just double bogeyed the par five 5th after throwing his approach into the water. With illness depleting his energy and his control, McBeth, after dominating the field for the opening two rounds, was suddenly in a dogfight, leading by only a stroke.
Tied with James Conrad after hole 13, McBeth had to find a way to start making some clutch shots after struggling in the middle of the course. He did just that, birdieing four of the last five holes and surviving to claim his second USDGC title and his first Major championship on US soil since the last time he won in Rock Hill in 2015.
"I knew [Conrad and Jones] were going to play well and I knew it wasn't gonna be my best round today," said McBeth. "Just with physically not being there — yesterday I was a little bit cloudy and today had the clear mind, but physically I didn't feel as good, so I knew to just conserve my energy until the end. I know I can birdie them. I know I can close out strong."
After going out of bounds just once in each of the first two rounds, McBeth had five OB shots in round three and then six in round four. Even when he wasn't shooting out of bounds, he wasn't placing the disc as precisely in the fairway. He settled for par on hole 10, one which owned in the first three rounds, after going OB. He had to lay up on hole 13 (the par five "1111") after his tee shot was short. He'd never even practiced the layup.
Conrad, on the other hand, attacked the green on hole 10 for the first time all week and was rewarded with an easy circle 1 eagle. He ran the green on the 13th and laid up for an easy birdie. After that putt, he was even with McBeth at 31-under.
"I knew there weren't many holes left, so I couldn't make those mistakes anymore," said McBeth. "I had to put everything. I couldn't just, you know — lackadaisical, I guess — but I couldn't just hope that they went in. I had to just start putting them in, couldn't just try to conserve my energy and just hope this floats in there."
McBeth rediscovered his range. He found Circle 1 in regulation on each of the next three holes — including beautiful tee shots on holes 14 and 16 — and cashed in all three birdies. Conrad missed a circle 2 putt on 14 and had to scramble to save par on 15 and 16.
"Almost kept it tied on 14," said Conrad. "That putt didn't quite drop."
Just like that, McBeth's lead was back to three.
But hole 17 still loomed. McBeth had the box. With the first noticeable wind all weekend, it was a harrowing shot. He pulled out his Nova and threw the backhand he'd gone with all tournament. It popped up, caught tree branches, and sailed out of bounds. A hush fell over the hundreds-deep gallery.
Discing up, he opted to throw a forehand despite not having practiced it at all leading up to the tournament. He lobbed it out wide and put it inside circle 1.
"Before throwing that second shot, I just thought back to hole [13]," he said. "That upshot was almost the exact same distance and I left it short. So I was like, alright, just focus on that shot and just think of this as that shot and just throw that same distance, because I left it short. And as soon as I let it go, I knew it was the right distance. I didn't know how far it was going to end up, right or left, but about 20, 22 feet."
Conrad threw his standard backhand putter shot and parked it on what wasn't far from being an ace. He carded the birdie as McBeth took a bogey four. Jones had a chance to stay connected but airballed his long putt and went OB. McBeth's lead was slimmed back down to one over Conrad heading into the 18th.  With the pin position set back into the trees for all four rounds, it played as the hardest hole on the course.
"Back one on hole 18 is definitely not out of it," said Conrad.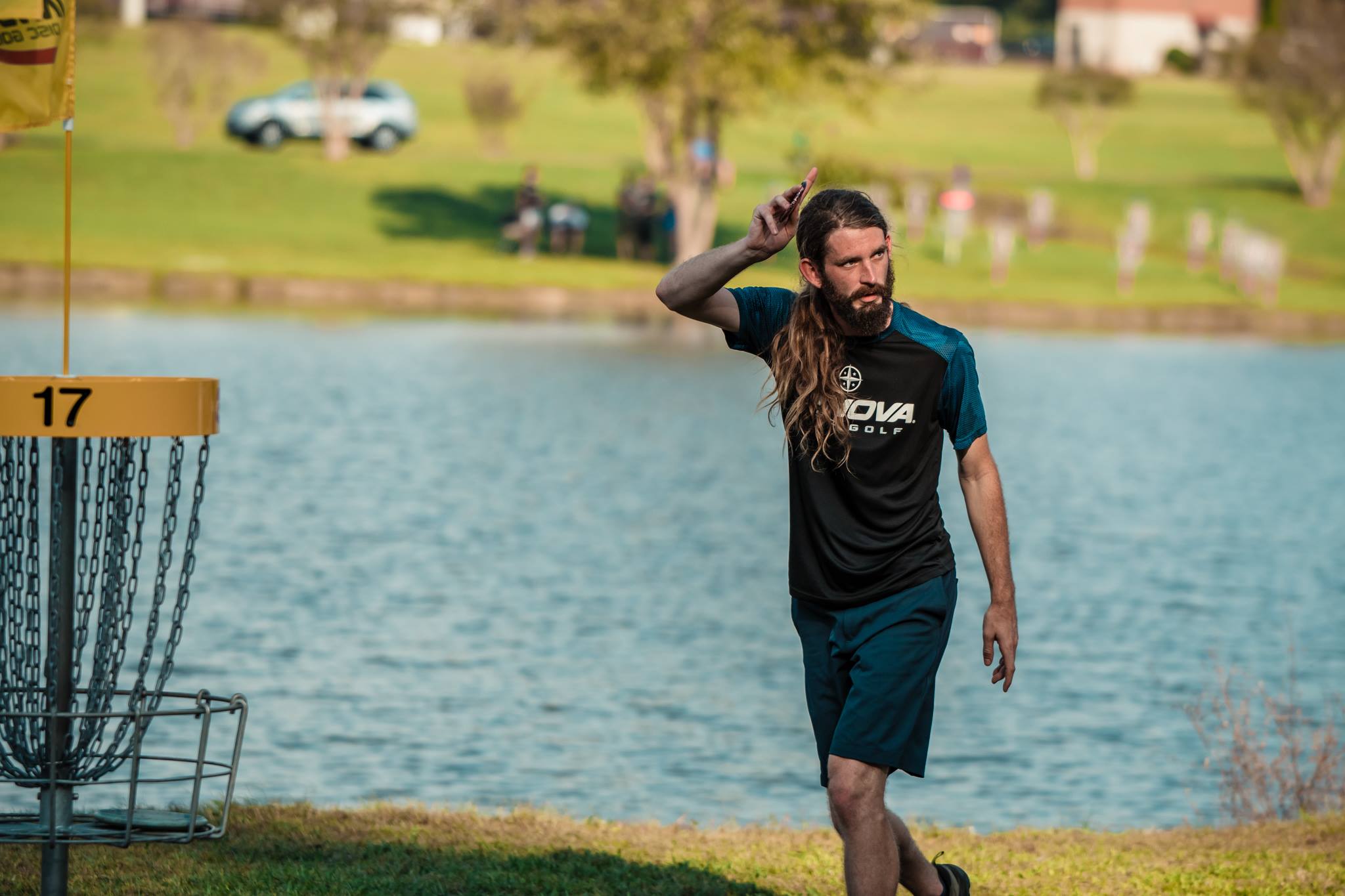 Conrad threw his tee shot right to the top of the hill, an ideal position from which to attack the green. McBeth's tee shot was a bit shorter than he likes it.
McBeth was first on the approach shot. He grabbed his Teebird and threw his best shot of the day, a maximum pressure park job:
"I knew that was just the right distance for that Teebird shot," he said. "And as soon as I let it go, I just said, 'Be the one,' because it was the line I wanted, it just had to settle. And it did."
With that shot, McBeth locked up his second US title to pair with his four world championships. He persevered through two rounds in which he finished worst on his card, through sickness that sapped his focus and precision. He could barely crack a smile after he tapped in his birdie putt to finish his 5-under par 62 round, bringing him to a 34-under par 234 total, three strokes better than Conrad's 31-under 2371.
After an interview on the live broadcast, McBeth walked back towards the throngs of fans awaiting him and spoke honestly: "I'm ready to go sit down."
"He's an amazing competitor," said Conrad. "In my mind, he is the best competitor on tour. There's no one I'd rather battle with, you know, whether he comes out on top like he usually does or when I get them, I almost feel like I almost got a little lucky because he's good. He's a class act. I've looked up to him for a long time and just to be there, battling with him, is a good feeling."
McBeth has struggled to regain his form that had him dominating the sport through his previous USDGC win, which completed the first and only Grand Slam in disc golf history as he won all five Majors in 2015. Since then, he's only one a single Major — the 2017 European Open.
But he looked like vintage McBeth in the first two rounds of this tournament and seemed only to be slowed by his illness. It's easy to imagine him winning going away had he stayed healthy. Either way, a win is a win.
"Hopefully it sparks that momentum again and just starts bringing in the majors again," he said.
As for Conrad, a second place finish is a career high point. "I'm stoked with it," he said. "Yeah, I mean definitely my best Major finish yet in my career. So that's saying something and so, you know, make it exciting. Paul is running away with this event through two rounds and so to be within one on 18 in the final round is — yeah, I'm proud of that. Absolutely."
Kevin Jones, too, has reason to be proud as he finishes on the podium in third place with a 30-under par 238. He went down swinging, too, running a death putt on hole 17 which might have cost him a shot at second place. With his Prodiscus contract set to expire at the end of the season, he is likely to be the offseason's biggest free agent, as he's shown unbelievable promise in his first year on tour.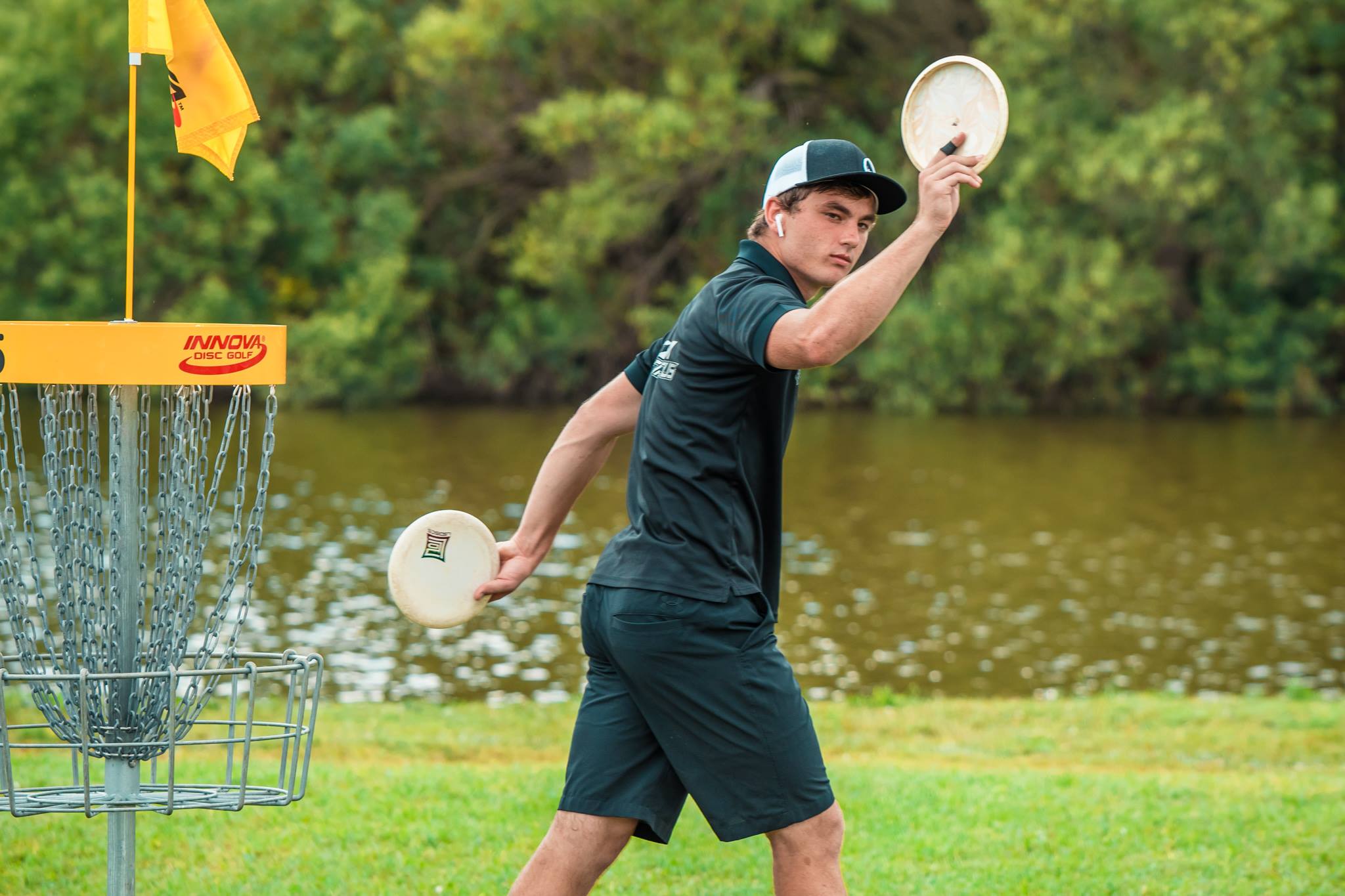 2017 USDGC champion Nate Sexton and Ricky Wysocki rounded out the top five with a 29-under par 239 and a 27-under par 241, respectively.
***
Here are the payouts for this year's USDGC: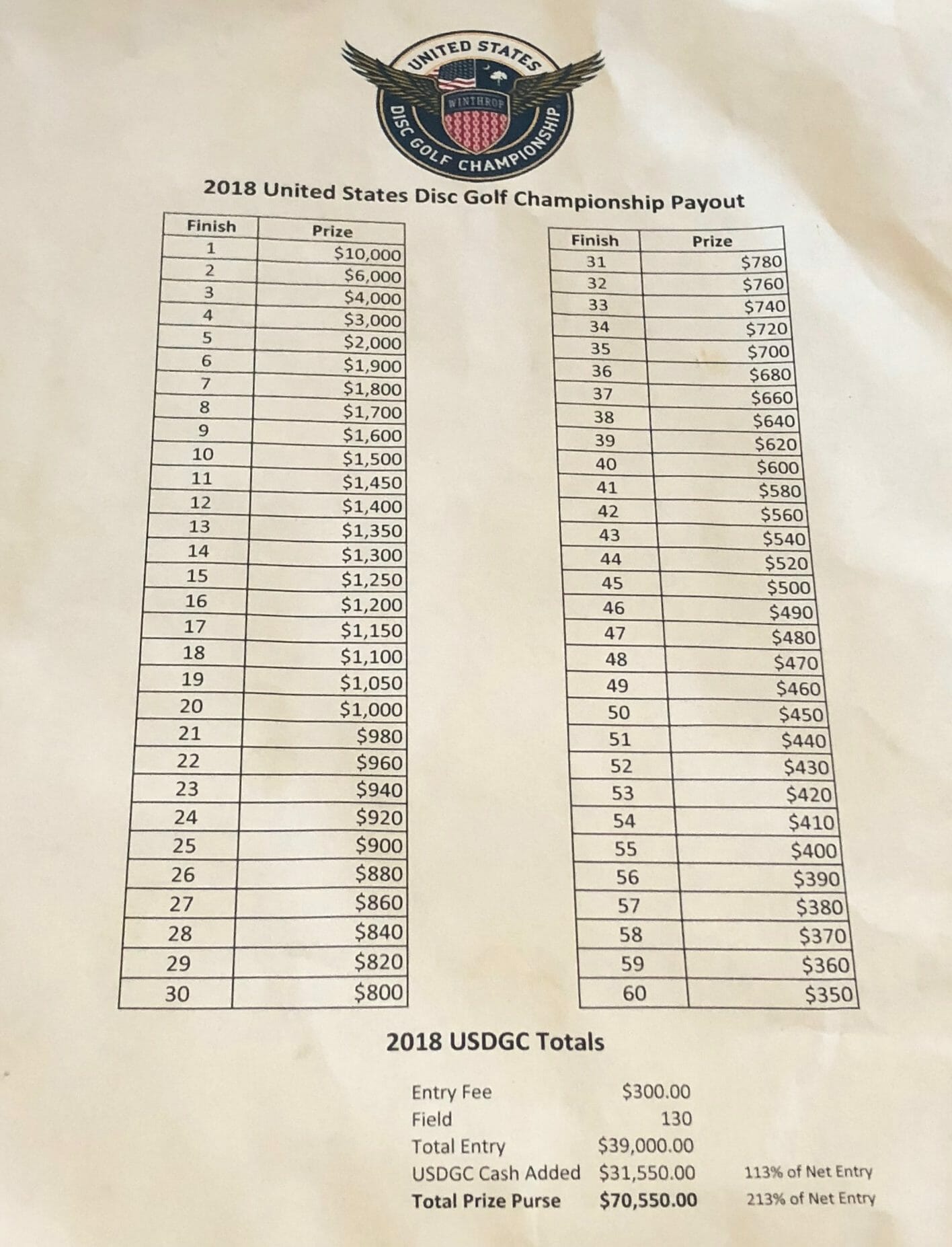 ---
Conrad went OB trying to lay up on the 18th green and had to make his putt to maintain his second place finish! ↩