McBeth's lead down to five as final round looms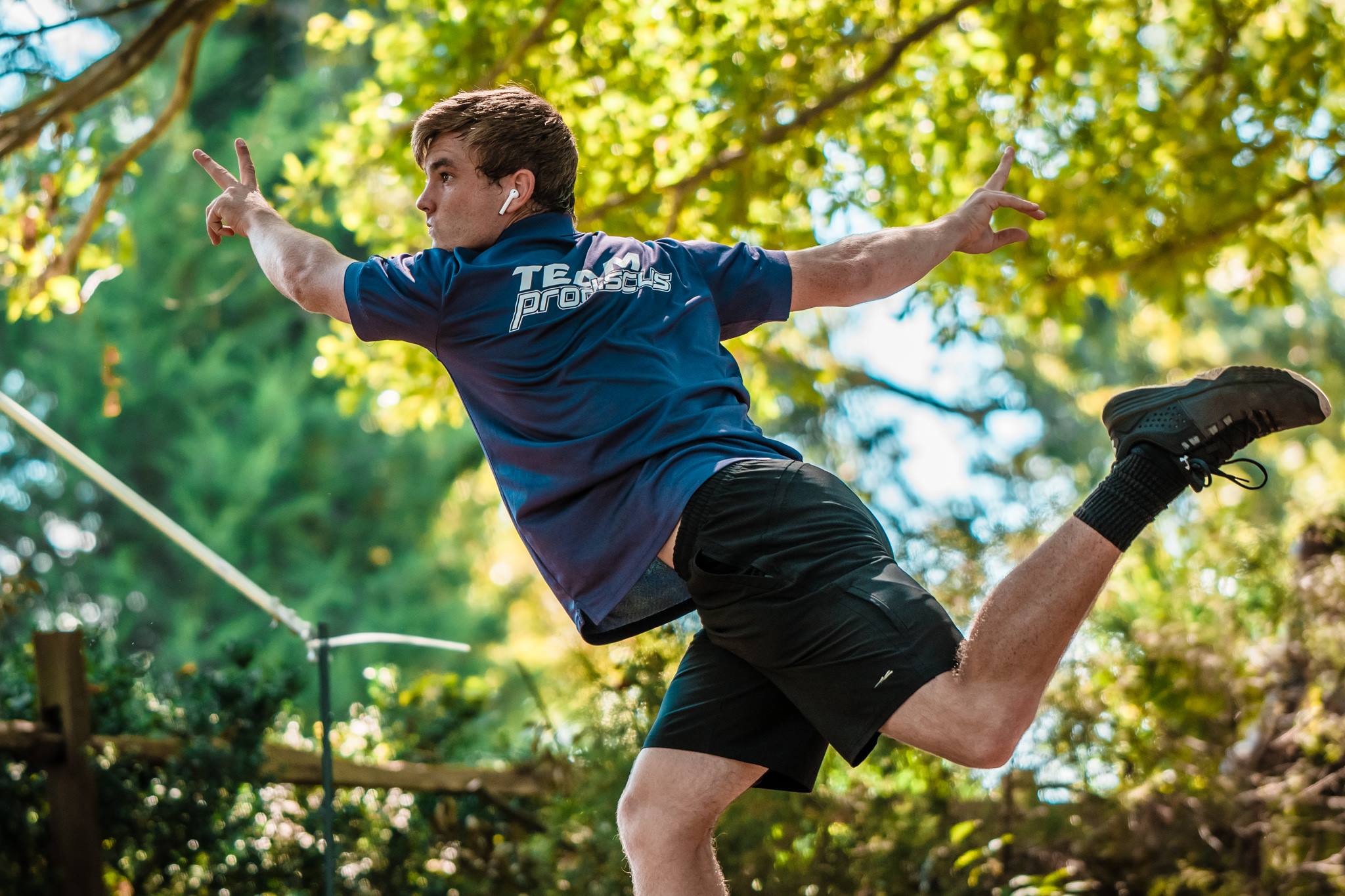 ROCK HILL, S.C. — While walking to the ninth tee today, Kevin Jones picked up a baseball that had been hit over the fence of the adjacent field and launched it back. A few hours later, in front of the stage hosting Zach Deputy's live concert on the 18th fairway, he launched a disc clear across the lake.
In between those two displays of athleticism, Jones carded nine birdies en route to an 11-under par 56, moving him into a tie for second place, five shots back of tournament leader Paul McBeth.
"It was definitely back nine, snack time," said an effusive Jones after shooting the day's best round and making up seven strokes on the lead.
"Feels awesome," he said. "I'm really happy with how I played today. I was just being good off the tee and then cashing in when I'm close to the basket. I didn't miss that many putts today, so it was really smooth and it felt good."
Jones led the field in greens in regulation (16/18) and hit all of his circle 1 putts. That's a recipe for a lot of birdies (he had 12) even on a day when you go o/4 from circle 2.
Despite his five shot deficit, Jones doesn't hesitate when asked if he thinks he can take the title.
"I do, absolutely," he said. "Absolutely. And I don't think it depends on somebody else messing up. It depends on me executing, and if I execute I can win." He said on a live edition of The Upshot podcast that he's capable of shooting 18-under. Confidence is not lacking.
And why not? He was dialed in this afternoon. He's improved his score by three strokes each round (62 – 59 – 56). And he's back on the lead card at the USDGC for the first time in almost exactly one year, when he burst onto the scene by reaching the lead card for round two of USDGC 2017.
Jones made clear that he will be ready to get more aggressive tomorrow if that's what it takes to catch McBeth.
"Probably starting on hole five would be the first possible decision to make," he said. "If I'm close enough to that water, I likely tomorrow will be going for it depending on the situation. If I'm four for four [on birdies], no way. I'm going to take another birdie and go on. But if I'm needing to do something, Paul is making a move, I want to win. I want to win. So I'm not really interested in a top 10, top 5 kind of thing. If it costs me that, that's fine."
McBeth Goes Cold As Illness Intensifies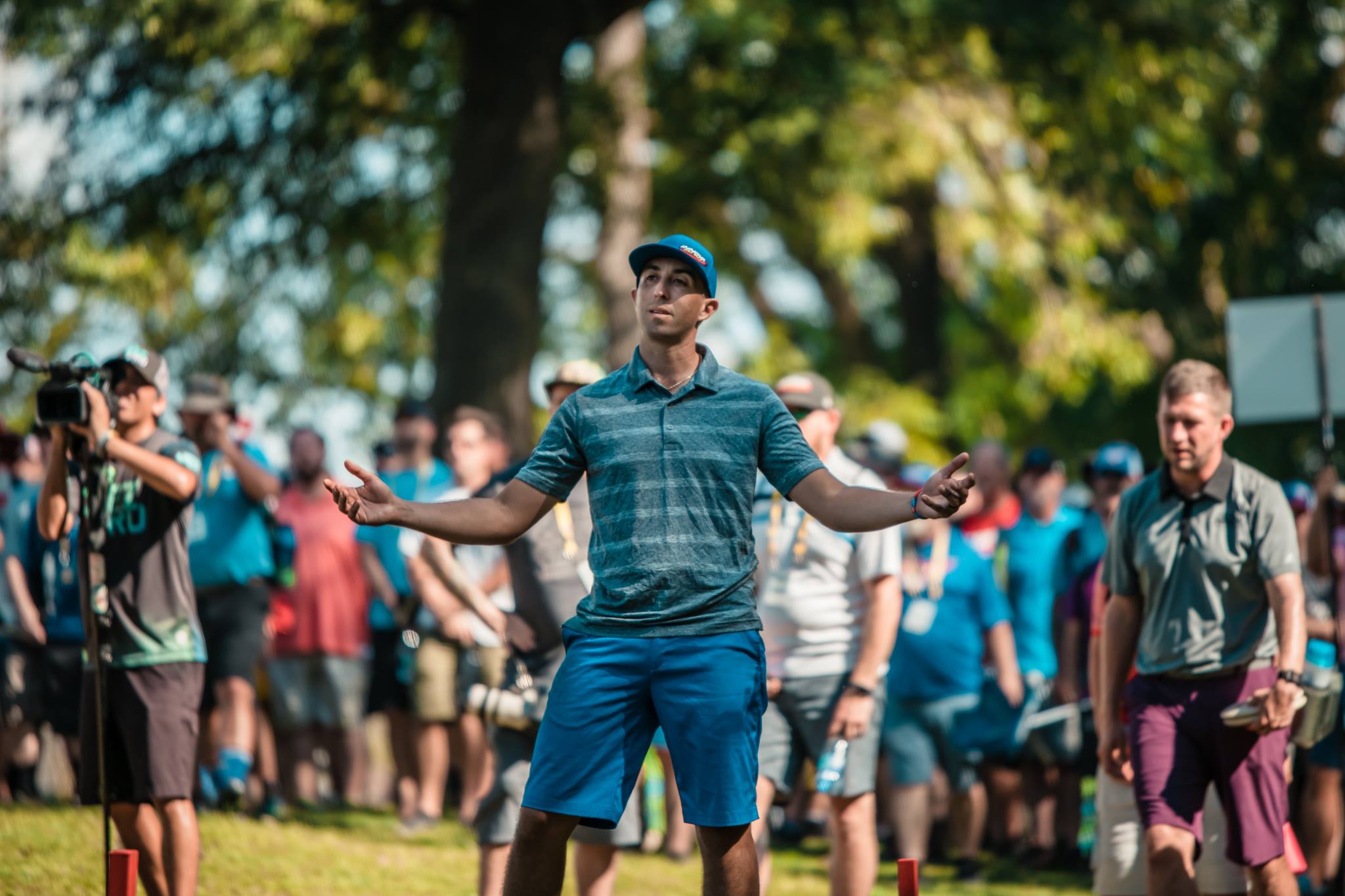 McBeth's hot streak dissipated on Friday as the illness that started to bother him during round two got much worse. McBeth still shot nine birdies and made some of the fantastic shots that defined his first two rounds, but he bogeyed five times and finished with a 4-under par 63, the worst score from any player in the top 10.
"I played as good as I could today," said a pallid McBeth while signing autographs despite looking visibly exhausted. "It was weird because I wasn't feeling well, and [my shots] were just going further, so, I don't know, I couldn't control the distance. Like every mistake was just a lot longer."
After going out of bounds twice in his first two rounds combined, he went OB four times in round three and failed to scramble to save par on any of those holes. He went 1/8 from circle 2.
The good news for McBeth is that he staked himself plenty of breathing room: he's still up by five strokes. As a result, he doesn't need a tremendous round to assure his second USDGC title, just a solid one.
"I haven't been sick in two years, so this is new," he said. "Yeah, just go back and get some rest. I know what I'll feel like tomorrow, so I'll be able to make the adjustments in those situations. Hopefully shoot a little bit better than today. Close this tournament out."
Conrad Holds Steady In Second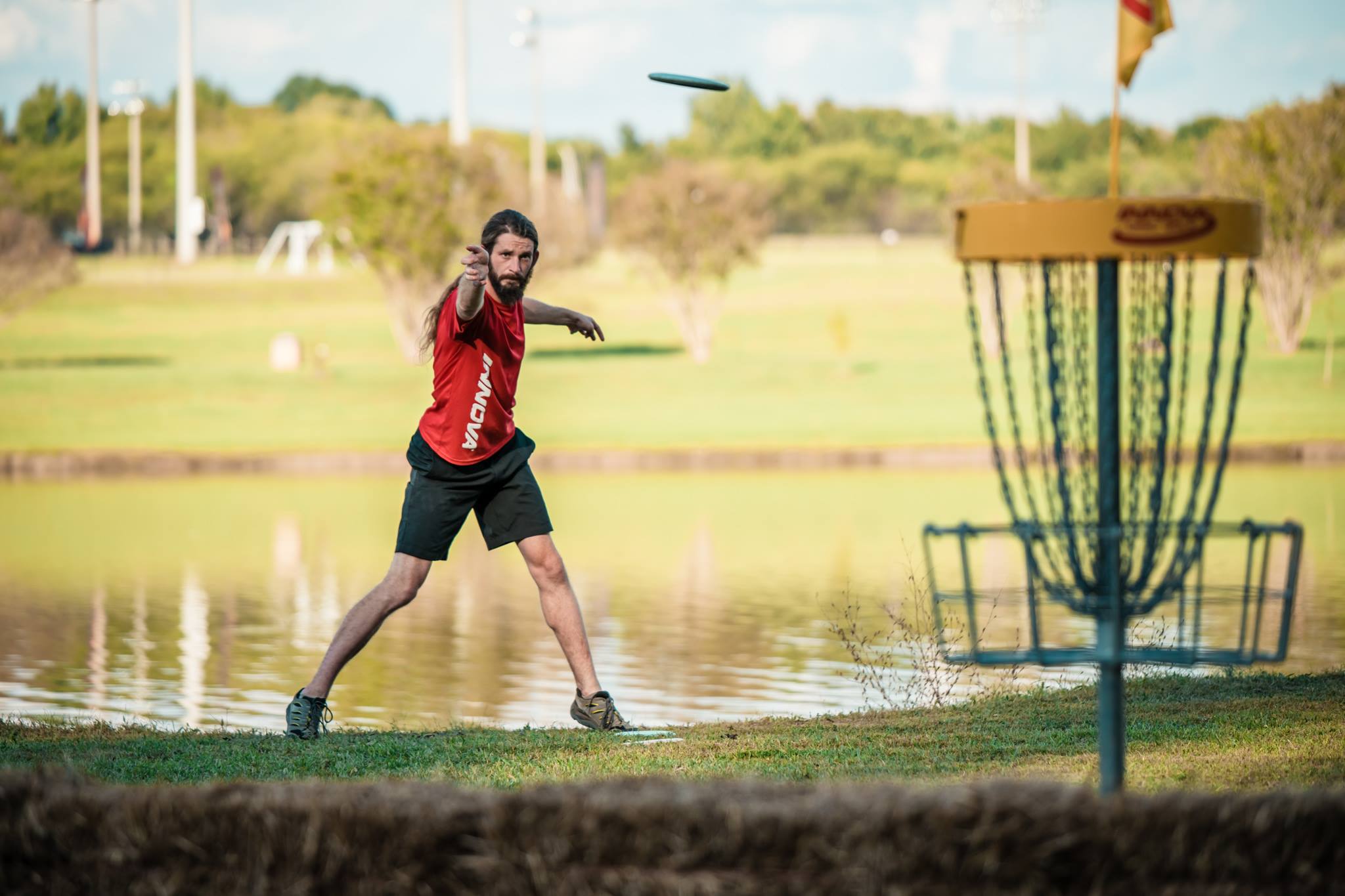 With another solid round driven by strong putting, James Conrad clawed back three strokes from McBeth and remained in second place (though he is now tied with Jones).
Conrad shot a 7-under par 60 and avoided making any major mistakes.
But his limited risk-taking didn't yield the momentum-shifting shots that could have brought him a lot closer to the lead. Only once on McBeth's five bogies did Conrad card a birdie for the two-stroke swing.
"I feel like I missed a few chances," he said. "I was close on a couple of long putts, a couple of 50 footers and stuff like that. That would've been nice: bonuses to knock down to help reel him in, but yeah, my putting felt pretty good and my driving felt pretty good. Just a couple blunders here and there kept me from having the round that I really needed to get close going into tomorrow."
He may face some tough decisions on Saturday about whether or not to get aggressive. After round two, he said he would be firing riskier shots if he was within striking distance in the final round, but he seemed less sure today.
Regardless, he's in a better position than he's ever been in before at Winthrop.
"I haven't played very well here in the past, so just being up in the mix is great," he said. "Happy to kind of prove — I have been this year here and there — that I can play well on open, roped courses as well as I can in the woods, but it's always good to make a strong showing at a major."
I asked him what it will take to win.
"For me or Kevin, at least a [13-under par] 54 if not better," he said. "Might take more than that. It's kind of up to Paul still, but we'll see."
Notes and Quotes
Gregg Barsby started his round with six straight birdies and, for the first time in his 10 appearances at USDGC, cracked 60 with an 8-under par 59. "I've shot 60 like seven or eight times," he said. Maybe his new commemorative KC Aviar has a little magic in it.
Joining McBeth, Jones, and Conrad on the lead card is Nate Sexton, who shot under 60 again on Friday. He's eight shots back. There's still a glimmer of hope that he could win his second straight USDGC title.
 The third ace on hole 17 this week came courtesy of Paul Ulibarri on the lead card. His thoughts on the shot: "Walking up, I was just visualizing, you know, making it, making it, making it, making it. I was putting it in my head and then I stepped on the tee and — actually walking up, there's a few of the crowd walking up with me and they asked me or they said, 'just put it on the island.' And I said, 'No, I'm just going to put it in.' And then just stepped up and it was good right out of my hand. I even paused because it was exactly what I wanted. I was like, 'Whoa.' And then just slammed it. It was sick…This the first time I made lead card in 12 years at this tournament. I'd gotten a bunch of top 10s before, and I just never experienced it. To do it there today in front of all those people, I mean, it's incredible."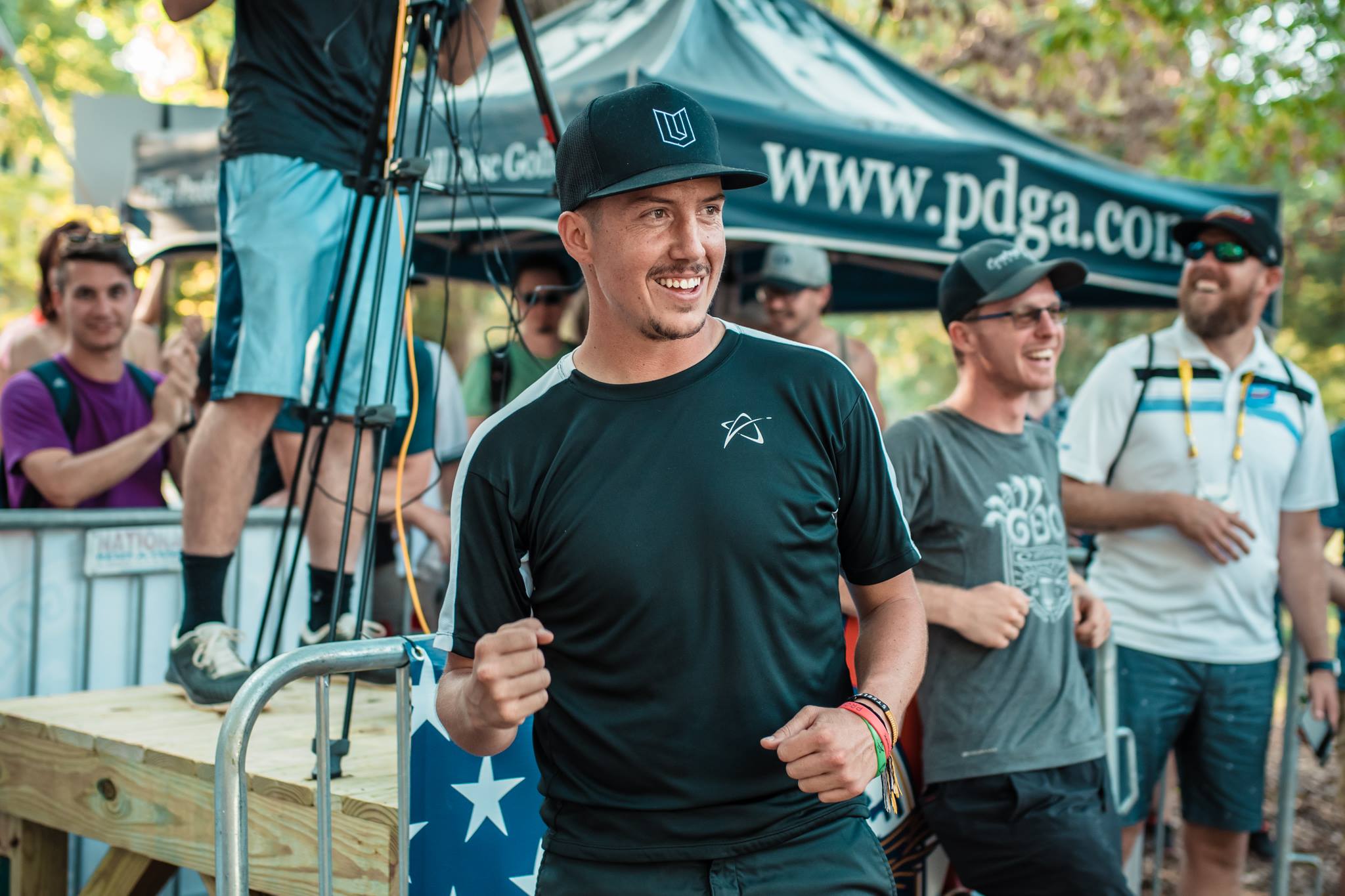 Kevin Jones has a plan for avoiding nerves during the final round. "I'm going to prepare just like I have every day," he said. "I'm going to go to Cracker Barrel and get a breakfast. I'm going to come to the course an hour early, work on my drives, all the strokes, and my putts, and then I'm going to put my headphones in and I'm going to zone out just like I've been doing all week." You can't miss his white Apple Earpods while he plays. What's on the soundtrack? "It's pretty much always riddim dubstep." He recommended Excision in case you're looking to get on his level.
During practice rounds earlier this week, players on the newly designed ninth hole were firing off huge hyzers around the huge metal wall that's part of the baseball stadium to attack the second island. The course designers didn't like that. So they put up a net: