Former Arkansas Tech Wonder Boy goes boy wonder during USDGC's first round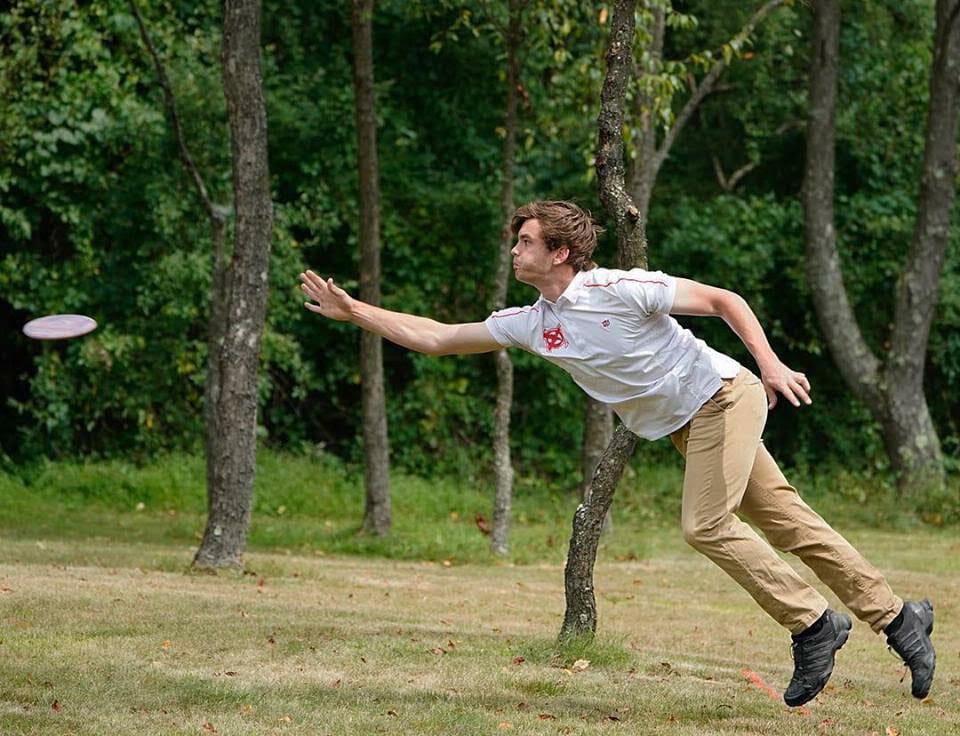 Ultiworld Disc Golf's coverage of the 2017 United States Disc Golf Championship is presented by Savage Apparel Co.; all opinions are those of the authors. Please support the brands that make Ultiworld Disc Golf possible and shop at Savage!
Kevin Jones
Hometown: Fort Smith, Arkansas
Home course: Bell Park DGC, Greenwood, Arkansas
Age: 21
Dominant throw: Right-hand backhand
Sponsor: Prodiscus
Throws: Razeri, Destroyer, Midari
Putts: Wizard
"Man, I have a super complicated story," Kevin Jones says with a laugh. "But I'll try to make it as easy as I can."
The 21-year-old Arkansas native is on the phone from Rock Hill, South Carolina, after a United States Disc Golf Championship debut that featured three eagles at Winthrop Gold. Sitting with the clubhouse lead with an early 8-under par 58, the excitement in his voice is palpable.
His disc golf life starts at the age of 12, when he first found the sport and latched on to his local clubs, the Western Arkansas Disc Golf Association and the River Valley Disc Golf Club. The influence of those organizations still lingers. "They loved having me around because I was the youngster," Jones says. "They helped me tons there."
Jones' time tossing discs came to a screeching halt, though, when other sports took precedence. He lettered in soccer, basketball, and football at Greenwood High School, and as a result his time on the course evaporated.
"I did that for three years of high school and never even picked up a Frisbee," Jones says. "Didn't do anything disc golf-related there."
Instead, he moved on to college. Arkansas Tech – home of the Wonder Boys – was his stomping ground for one season. He was a kicking specialist for the Division II school's 9-3 effort in 2015, averaging 46 yards per punt. But the grind of college athletics, plus his 5'10" stature, found him growing restless.
"That's pretty much when I decided, 'I'm tired of the day-to-day football schedule, I'm ready to get back into disc golf and really start taking it seriously with the athletic abilities that I have,'" Jones says. "It's the one thing I can be very successful at, I believe. Football, you know, I've been too short. Basketball, too short, just stuff like that. Disc golf, I can fit. And just, the mental game? I love it."
Sports aren't his only interest, though. He took a four-month trip to Nicaragua earlier this year in an effort to prepare for his future endeavors.
"I was over there teaching English," Jones says. "I decided I wanted to finish learning Spanish, and I'm also gonna be a teacher one day, so I figured I'd go get some experience. I like their culture, so it was really fun."
Jones originally planned to just take one year off from college, but with a recent sponsorship offer from Prodiscus and quick success – he placed 15th at the Green Mountain Championship and 17th at the Greater Hartford Disc Golf Open, though he has mixed in a pair of finishes outside the top 50 – that hiatus might turn into a permanent vacation. "They hooked me up, pretty much, with a complete opportunity to tour," he says. "I took them up on that and I've been loving it, and I'm thinking I'm gonna probably try to do it next year, as well."
If that's the case, the former Wonder Boy is already well on his way to becoming a boy wonder.