What it takes to win at Winthrop Gold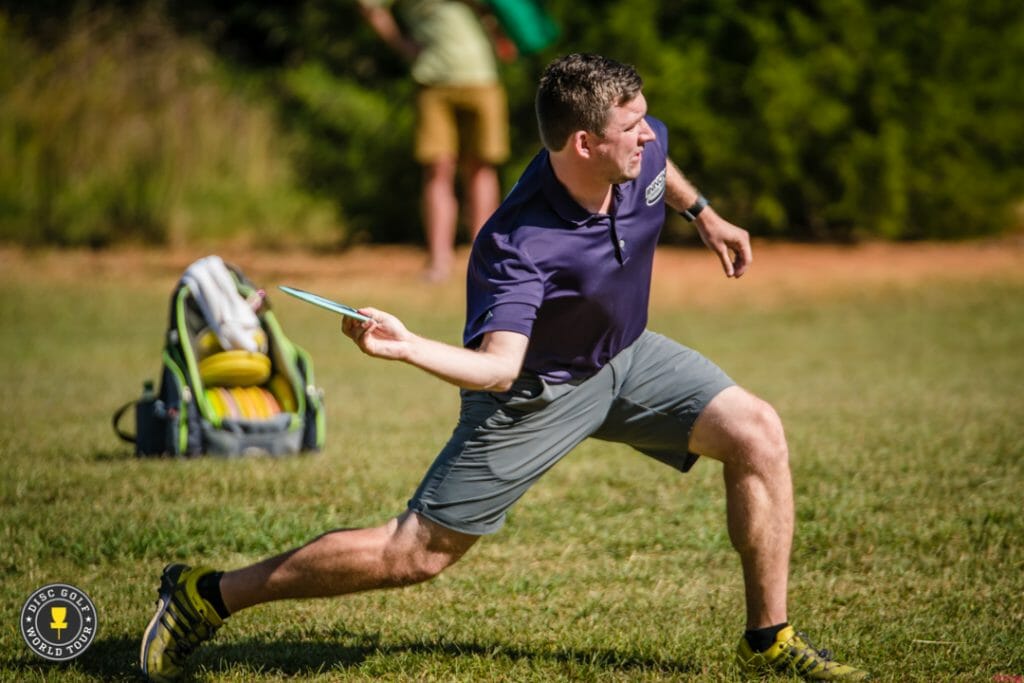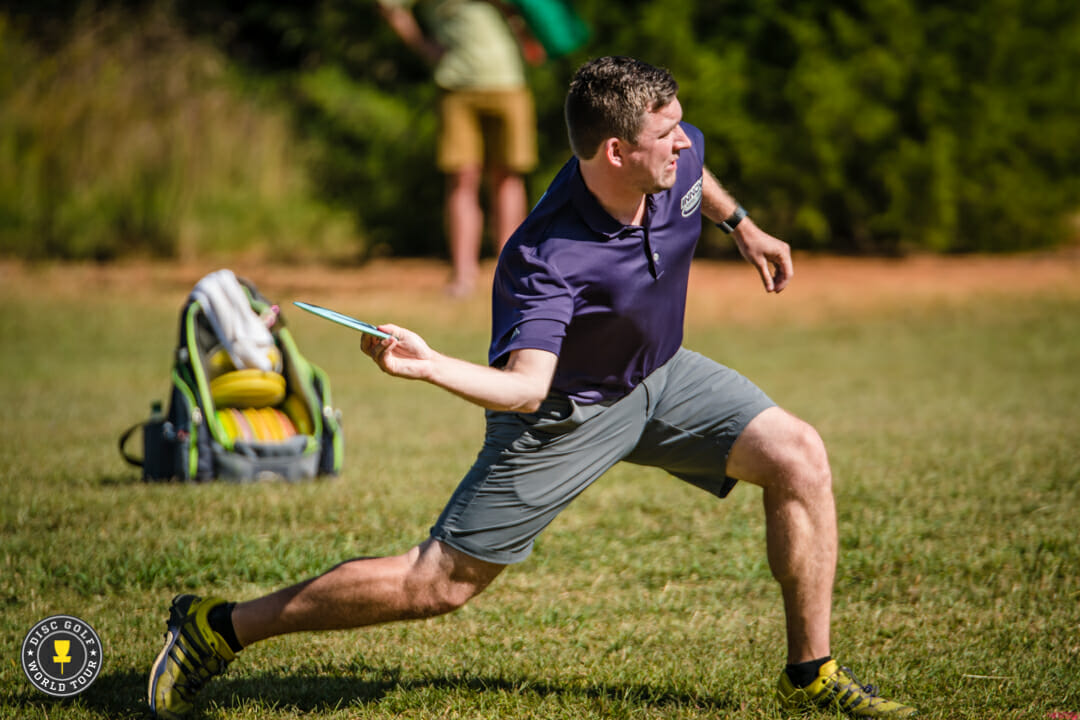 Nate Sexton is the reigning United States Disc Golf Champion; a top ten golfer with a mean forehand, known for throwing pearly blue Firebirds emblazoned with his silhouette. His surgical style of play looks effortless but is virtually inimitable.
He's a member of the media supporting his sporting occupation, blowing up your earbuds as one half of the "BigSexy" commentary duo with Jeremy Koling for Jomez Pro.
He travels the country by RV with his wife Bri, daughter Coraline, and pup Joby. Occasionally a buddy like Chandler Fry joins the crew. Between tour stops he is a man of the people, putting on Sexton Shootouts and clinics nationwide.
Nate Sexton is a champion on the course and of our hearts. You might think that he is "The Everyman." You're wrong.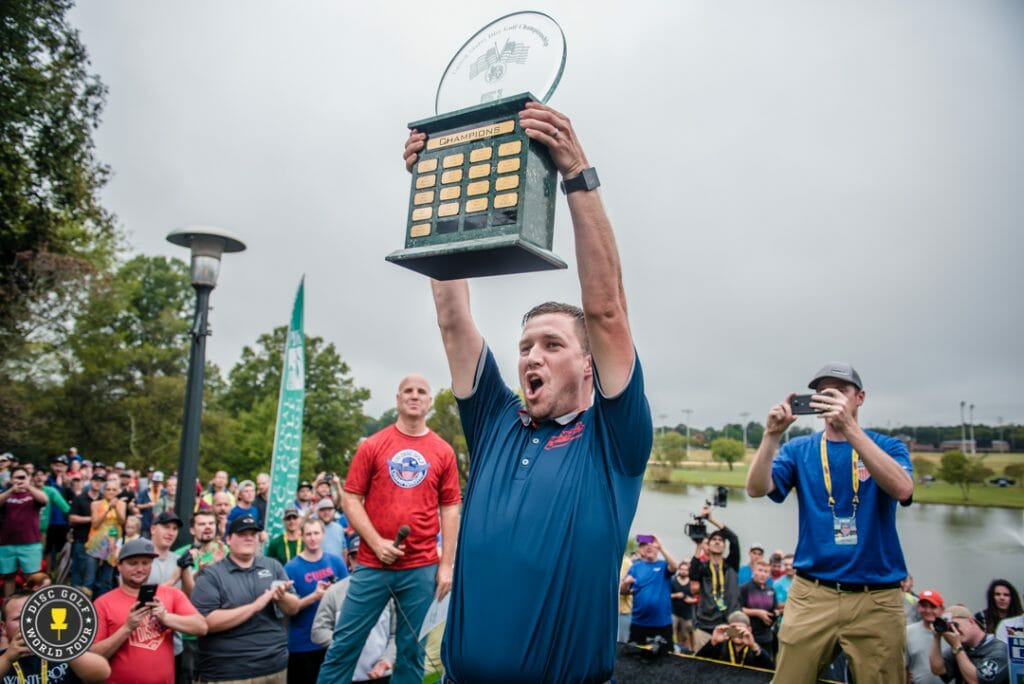 Sexton gets a lot of messages online from fans — 30-something-years-old, disc enthusiast dads like me — asking him how he balances golf, extracurricular professional endeavors, life on the road, and family. Frequently they wonder, overtly or in subtext, "Do you think I can be a professional golfer like you?"
His reply? (As nicely as possible, of course.)
"You can't do it, sorry."
That's not to say he isn't relatable, because he is, eminently so. Sexton loves his fan base and knows that his popularity is in no small part due to his personality. But he's not without ego — he knows how good he is. Give the man an Old Spice sponsorship because he's got swagger.
With a sigh he expounds, "I was already professional coming out of high school. My wife and I, our whole relationship has existed within the scope of me being a professional disc golfer. I think people don't always realize that part. It's very, very rare for someone who's 25-years-old and not very good to suddenly become a pro that anyone has heard of. Nobody in the NBA started when they were 25."
Sexton entered the ranks of 1000-rated golfers in 2005 when he was 20-years-old. By the time Paul McBeth recruited Sexton as his travel companion for the 2015 season, the Oregonian had been rated in the 1030s for three years. Until then, he was mostly a regional pro, testing his mettle against the road warriors during the West Coast National Tour swing and at the stateside majors.
---
The USDGC has been a mainstay of his season since his debut in 2005. And if any tournament demonstrates the difference between professionals and amateurs, it's the USDGC.
The Winthrop Gold course demands precision: distance and accuracy in equal measure. Bullseye hits are preferable to simply achieving the green in regulation because no putt is safe. Competitors must possess nerves of steel playing in front of the largest galleries of the year.
Roll tape. During the final round of the 2017 USDGC, Sexton surged to a seven-stroke lead over Ricky Wysocki after three holes, courtesy of two-stroke swings on holes 1 and 3. He opted to play for par on the iconic, par 5 fifth, surrendering a stroke in the process. After Wysocki stuck his high arcing hyzer inside of Circle 1 on the treacherous beach hole, the two-time world champ looked poised to make a charge. As Sexton is wont to say, "no lead is ever safe at Winthrop."
Notably, Sexton tossed three discs in the drink on hole 6 during his practice rounds, but during the course of play took three birdies against one bogey. None were bigger than the deuce on Sunday.
Throwing a power backhand for the first time since warming up, with a sea of umbrellas lining the right side of the fairway — drizzle pattering gently on nylon — Sexton threw his purple Thunderbird on a rope.
Sexton's measured approach to disc golf emphasizes execution and efficiency — sometimes safe, sometimes aggressive — always playing to his strengths. By his own admission, he prefers more open courses like Winthrop Gold. Shaping shots is overrated when you can pinpoint and stick a landing zone with a hyzer.
"Winthrop is a pretty unique course in that I basically don't even carry understable discs because I don't throw a single turnover. I just throw flat to hyzer, flat to hyzer…with all of that OB I think that I minimize risk by not really turning the disc over."
It's true. Go back and re-watch the footage from 2017. Sexton threw a forehand flex on the first and fifth holes and rollers on 11 and 12, but other than those four tee shots, he only resorts to non-hyzer lines when the situation prohibits the simplest option.
"People like the Simon [Lizotte approach]," Sexton quips. "He'll blow your mind [throwing] it over the tree nobody ever thought was possible. I emphasize execution, making great shots but not mind-blowing shots. Generally, a mind-blowing shot is a low-success proposition."
In other words, Sexton prefers to play the odds. This tendency earned him another nickname with unflattering overtones: Nate "Safe-ton."
Sexton recognizes that in the grand scheme of things, his odds to win are better than most, but to overcome the best players in the world — McBeth, Wysocki, and young gun Eagle McMahon — he needs to be nearly perfect.
"I have to execute my game plan. I have to putt well," Sexton says. "There are a couple of guys in our sport who can play at, maybe, 80-percent efficiency and still win. Rick, Paul, perhaps Eagle…but for me, I have to execute on about a 95-percent clip. When I lay up [on] a more difficult hole, I remove one birdie opportunity that those other guys still have, and it means that I really have to capitalize on my birdie chances."
But to win the USDGC you can't just play it safe. You have to take calculated risks, choose when you want to attack and when you want to back off. Take the 734-foot par 4 hole 11, for example.
In the first three rounds of the tournament last year, Sexton played an aggressive roller with a Champion Thunderbird. The disc tracks the majority of its path through the hazard area toward a safe zone about 250 feet from the pin. From there, Sexton can throw a relatively easy pitch shot into the green with his trusty Firebird. On the other hand, if he doesn't quite make it back to the fairway, he's still left a relatively routine up-and-down for par. His roller during the third round on Friday was a thing of beauty.
Adhering to the playbook, Sexton went par-bogey-birdie over the course of the first three rounds, finding the hazard in both the first and second. But during the fourth round he needed to flip the script and adapt his game plan to suit the weather: rollers don't fare well in the rain. Playing with a five stroke lead, he opted to surrender one here and threw three consecutive forehand hyzers. Easy par. Situational golf at its finest.
It will be interesting to see if Sexton chooses plan B from the get-go this year. The aforementioned hazard area plays OB in 2018. If I know anything about the reigning champion, it's that he'll carefully weigh the odds develop a game plan to tip the tables in his favor.
---
When I asked Sexton what he finds most rewarding about his career, he took a minute to consider his response. Letting out a long breath he started in, "Oh, man. Rewarding is an interesting word. If I think about what gives me the most joy, it's to know that I'm playing a sport against the best in the world. To be able to win something at that level is a really rewarding thing because I know that for a week, I'm the best player in the world. It's rewarding to think that all of the work I've put into becoming the best player I can be pays off in that moment."
Of all the nicknames given to Sexton, I prefer "The People's Champion." Muhammad Ali bore the moniker first. Dwayne "The Rock" Johnson assumed the mantle more recently. A boxer, a wrestler: strategists in the ring, men of the people outside the ropes, champions of the world.
Sexton hopes to cement his claim to the name in Rock Hill and repeat at the USDGC.