Jones and Feldberg share in the early lead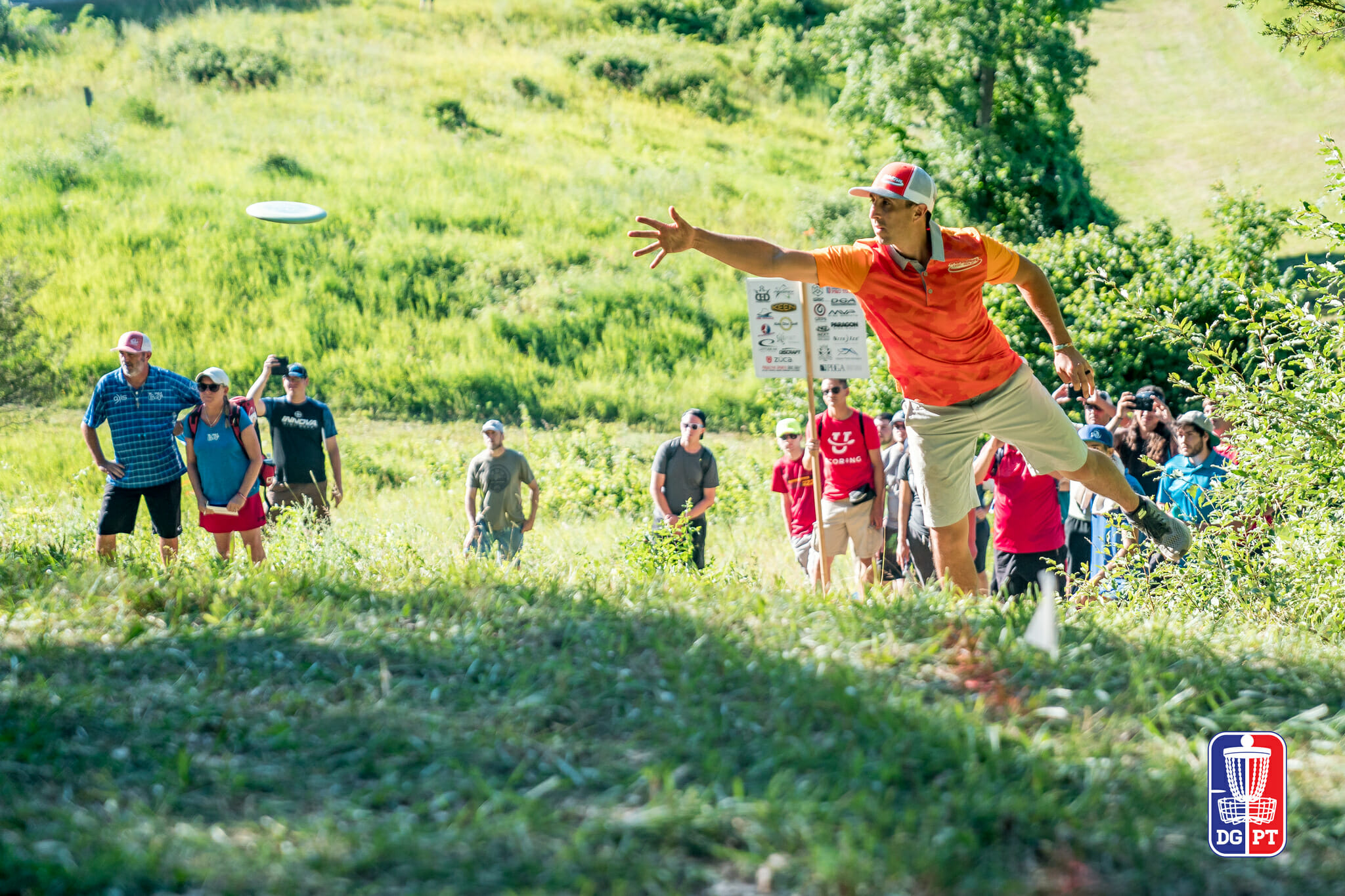 Even with a number of familiar names opting out of the Great Lakes Open in favor of competing in various European events, there's still a tight race at the top of the Open division after one round in Michigan. Paul McBeth, Kevin Jones, and Dave Feldberg are tied atop the leaderboard, each with 1059-rated, 11-under par 52s. Nikk0 Locastro and Cale Leiviska are tied at 10-under 53 in fourth place, while Corey Ellis and Grady Shue ended their day with at 9-under 54, tied in sixth.
McBeth's first-round scorecard is truly something to behold. He lone mistake came on 18 when he went OB off the tee, which lead to a bogey. Excluding that error, he never missed birdies on two holes in a row, carding just three pars on the day. He hit 100-percent of his Circle 1 putts (17/17) and reached Circle 2 in Regulation on 83-percent of the 18 holes. It appears his strong finish at the Utah Open carried over.
Round One 2018 Discraft's Great Lakes Open – Paul McBeth hole 9 putt
Jones continues to hit his stride at the season's halfway point. Teeing off rather early in the day, he notched an eagle on the 726-foot par 5 2nd — one of five there on the day. The par 5 designation is probably somewhat generous, however, considering it was by far the easiest on the course, playing at 0.62 strokes under par on average. Though he's well known for his distance and confident play from the tee and fairway, he was 100-percent from Circle 1 and successfully scrambled on all four of his attempts.
Corey Ellis is certain to be the least familiar name in the top 10 to many fans, but the West Virginian is a well-known force in the mid-Appalachian region. This is easily the biggest stage the 994 rated Ellis has played on this season, and his stats say he didn't arrive in this position on a fluke. It's only his second time competing on the Disc Golf Pro Tour, having finished tied in 18th place at last season's Idlewild Open. Ellis played clean golf all day, scrambling at 100-percent, giving up no strokes to OB, hitting all but one of his Circle 1 putts, and banged two birdie putts from 49 and 60 feet. Anyone who's competed against 1986 PDGA Pro World Champion Johnny Sias as much as he has knows that, "it's not how far, it's how many."
Feldberg Returns to the Lead Card
Dave Feldberg has been putting together a solid season with a mix of Masters40 and Open division play. The 2008 PDGA Pro World Champion was 100-percent from Circle 1 and scrambled at 100-percent, which helped him to his bogey-free round. He was accurate all day and was able to make a run along the softest portion of the course with consecutive birdies from holes 13 through 17. Those five holes played a combined average .2 strokes under par, as the only stretch of multiple holes that came in under par, and the veteran was able to cash in.
Hole 12 Gets Greedy
As generous as holes 13 through 17 were, hole 12 at Toboggan was by far the hardest hole of the day, playing .25 strokes over par. The 534-foot par 3, which features 69 feet of elevation increase, was only birdied three times. Paul McBeth, Jacob Turner, and Thomas Gilbert were the elite 2-percent of competitors who walked away with twos here. On the flip side, 24-percent took bogey or worse.
Round One 2018 Discraft's Great Lakes Open – Paul McBeth hole 12
Only 8-percent of the field made the fairway off the tee, and only 8-percent reached Circle 2 or better in Regulation. Given the distance and that the basket is very well protected, it isn't surprising to see so few birdies, but to see such low fairway numbers is a bit jarring.
---
The lead card of McBeth, Feldberg, Jones, and Locastro tees off at 3:15 a.m. local time. You can follow along with the live scoring at UDisc Live, and the live stream from round two begins at 2:00 p.m. eastern time on the DGPT YouTube channel, with edited video of the Open Women lead card, before the Open lead card tees. Check back in here at Ultiworld Disc Golf for recaps and coverage of the final round.