Jones is crafting his own style while on tour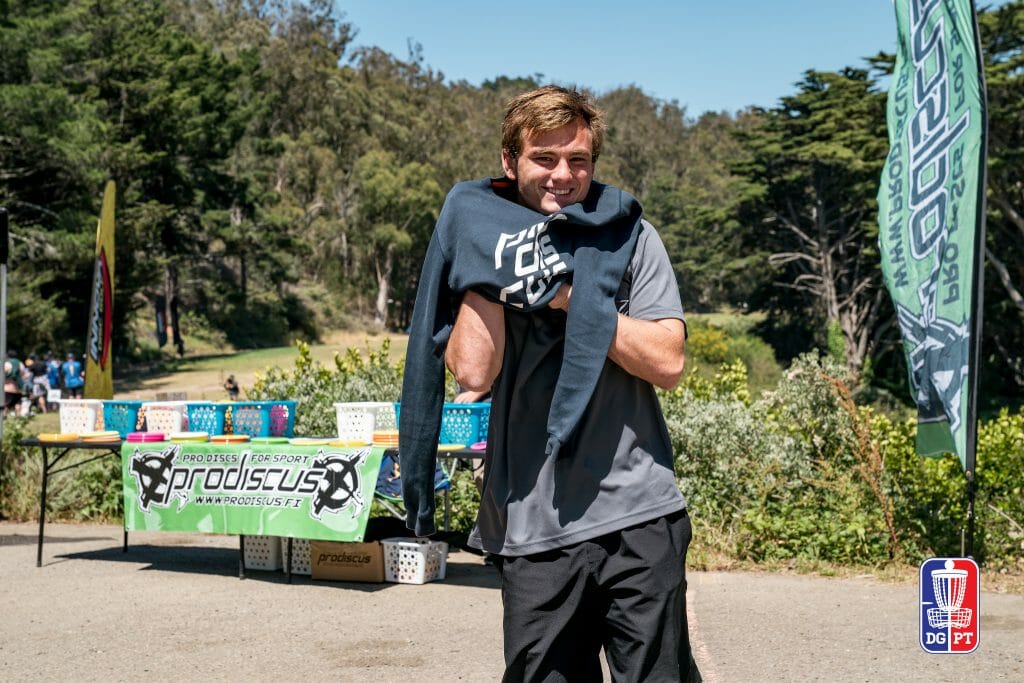 Kevin Jones is one of the most exciting young players on tour right now. His third-place finish at the Beaver State Fling is his most high profile finish of the season so far, but ever since his lead card appearance at the 2017 USDGC the Prodiscus sponsored Wunderkind from Arkansas has been putting together some really impressive rounds and finishes. He has increased his rating 15 points and has 11 top 10 finishes in A-Tiers and PDGA National Tour events combined over the past year and is one of the most exciting players to watch. This past weekend Jones won the St. Louis Open by two strokes over Nikko Locastro and averaged 1034-rated golf over three rounds.
Jones' star is steadily on the rise. If you want to be at once impressed with and humbled by Jones, click through his PDGA player page and check out 2010, when Jones was playing Junior II Boys, Intermediate, Advanced, and Open all in the same year.
I asked Jones about 2010 and he called it a learning experience, which is a theme that came up throughout our conversation.
"Back then in juniors, especially in Arkansas, there wasn't much competition," Jones said. "Those junior events were my first events ever, mostly just seeing what tournament play was like, and I won my first by forty-ish strokes, and it wasn't satisfying. I decided I wanted to play at least Open or Advanced. I wanted to play against better competition, I wanted to know what was possible, and learning and seeing what was possible opened up that door for me."
What struck me most in my conversation with Jones is how often he cites experiences and observing other players as opportunities to learn more and improve. I asked him who he looks up to and tries to emulate. So far in our exchange, Jones has been the sort of person who thinks before he speaks, which is another admirable trait. With this prompt, however, he answers right away.
"Ricky [Wysocki's] practice routine–a lot of pros, to be honest, Nikko [Locastro], Nate Sexton, Paul [McBeth]. My form and philosophy behind my game is built around all these guys," Jones explained." As far as others Devan Owens, when I was a lot younger, he was an idol of mine. He's a good role model. I'm trying to get on their level, and maybe try to create uniqueness about of my own."
Jones knows he has the raw talent and relishes the mental aspect of the game. He was an athlete all throughout high school and was a kicker on the Arkansas Tech University football team. He said that a lot of the skills he developed during his time playing football transfer nicely to the disc golf course.
"Staring down a field goal is the same as staring down a putt. You know, you just have to think you already know where the disc is going, same as a field goal," Jones said. "You have to think, 'I've done it a thousand times, I just need to get into the zone and the moment and trust my practice and preparation.'"
2017 was Jones' first year on the road for Prodiscus and he described it as another learning experience. Prior to the start of the season, Jones had spent four months in Central America and hadn't thrown a disc or practiced during his time out of the US. When he returned he began touring immediately, and his results were not meeting his expectations or rising to a level he knew he was capable of.
"It was initially pretty humbling, Ledgestone, Idlewild, after four months of no disc golf I thought I could compete and I couldn't," Jones explained. "I was throwing OB all the time and the consistency wasn't there. As the season went on things came together and my consistency showed and I saw what was possible. I started to figure it out at Vibram, Green Mountain Championship went well, USDGC was kind of a breakout which led into this year and prepping to get ready for this season."
Based on what we have seen from Jones this season, it looks like he has put those lessons to practice. Since the BSF, he has strung together three straight top ten finishes including his eighth-place finish at the Utah Open which was his best Disc Golf Pro Tour finish of the season.
Is Jones surprised by this?
"I wouldn't say surprised, exactly. I watched Jomez and YouTube disc golf a lot growing up and never did I think I couldn't do that," Jones said. "Then as skills and experience came together and I realized I am doing this, I'm getting certain shots are becoming automatic and it has become easier being on the road playing all the time. I think I'm meeting expectations this year, and I'm hoping to exceed them moving forward."
~
In Jones, disc golf in general — and Prodiscus specifically — have a young, athletic, exciting player who goes out of his way to learn and absorb as much as possible from the more seasoned touring pros. He seems equally excited about the physical and technical demands of each throw as he is about the thought processes and decisions that go into executing each shot. What's more, he is sharp and professional in addressing questions which are perhaps a little less friendly and a bit more awkward for a younger player to address.
Earlier this year Ultiworld Disc Golf reported that other companies had approached Jones to leave Prodiscus and compete with their plastic after his breakout performance at the 2017 USDGC. Jones ultimately declined the offers and opted to stay with Prodiscus, and he says he couldn't be happier with his decision.
"I stuck with Prodiscus because they gave me the initial chance. I told them I would stick with them for two years, and they took good care of me. With a smaller sponsor, the advantage is that I have a lot of access to the RV, which is huge. I don't have to worry about lodging, just practice, and playing courses. They make good plastic and useful discs."
Jones shares use of the Prodiscus RV with Austin Hannum, another exciting young player who is finding his own successes this season.  Hannum is 1014 rated with top 10 finishes in five A-Tiers this season, and most recently an impressive fourth-place finish at the Utah Open that included some face time on the final round lead card video footage.
According to Jones, the two have the sort of relationship that should make the big-wigs at Prodiscus very happy.
"Austin is my touring partner, we share the RV and I have nothing to complain about, literally nothing," Jones said. "He goes with the flow, he's friendly and easy to get along with. We grind off each other's competitiveness, we play for money and bragging rights."
I wonder if anyone can think of two other charismatic, big throwing younger players sponsored by a European based company who toured together and had breakout years at around the same time? Anyone?
~
Looking forward often means looking back. Those who don't remember their past are doomed etc.. etc.. the thing is, though, that the history Jones would be doomed to repeat isn't that bad at all.  When asked what finish he is most proud of, he doesn't talk about an A-Tier win or his USDGC performance.
"I guess GBO, honestly. I played a really good final round. It is and was a huge motivation for me, finishing fifth at a National Tour event — a really prestigious event — is one of my most proud performances. When I was 14, first Open win ever. I was 14, I  played 3 really good rounds. That was really cool, that was fun."
So what's next for Jones? He is currently sitting at fourth in NT points and 17th in DGPT points. I ask him how he feels about that and I half expect him to balk and provide a standard issue, boilerplate answer filled with faux humility and cliches about hard work. Instead, he hits me with this:
"I take pride in it. The National Tour is prestigious, and to me, it's important to be up top. I didn't necessarily expect to be as high as I am, I've played really solid and I'm really happy where I'm sitting. I'm looking forward to the next events, and I'm pretty sure I can play solid in both."