Prodiscus USA was able to retain Jones with added incentives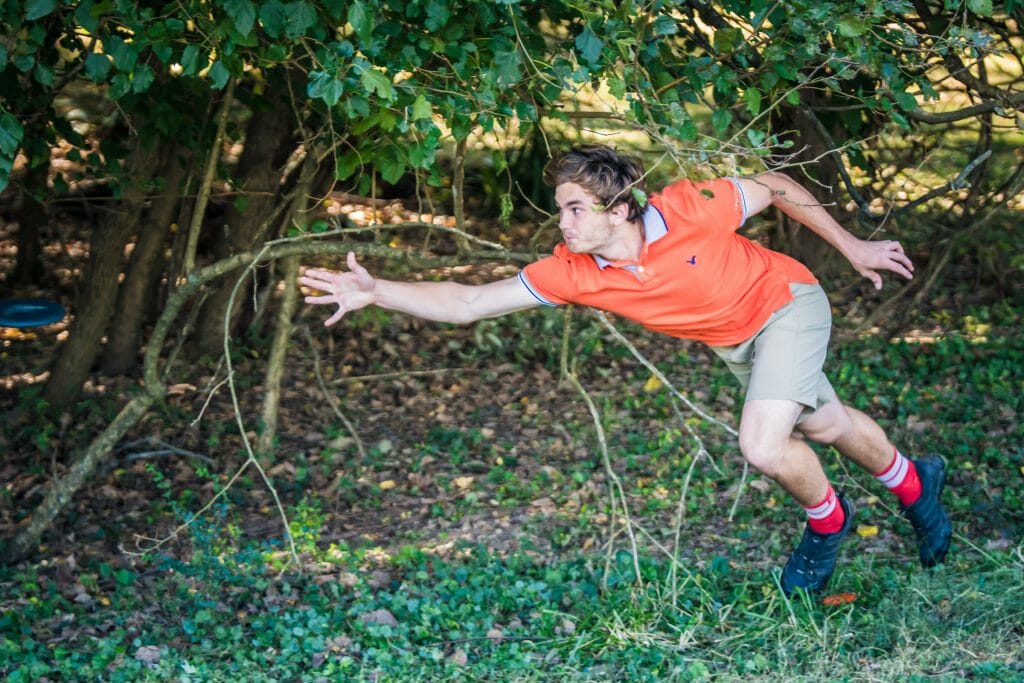 Prodiscus USA co-owner Baker Helton dropped an intriguing nugget during his appearance on last week's episode of SmashboxxTV. After Kevin Jones' standout 18th place performance at the United States Disc Golf Championship at least one—and possibly more based on his wording—company Helton wouldn't name attempted snag the up and coming pro from Arkansas.
"We had some competition to keep him for this season after his showing at USDGC," Helton said. "But we managed to re-sign him for this next year and we're super excited to have him touring for the full season."
Jones' head-turning USDGC performance featured a 1061-rated opening round that included three eagles on Winthrop Gold's treacherous fairways. That earned him a spot on the second round lead card and the consequent video spotlight that a SpinTV/Jomez Productions broadcast brings. Jones proved the lights weren't too bright alongside stars like Ricky Wysocki and defending USDGC champion Jeremy Koling on the lead card. He posted a solid 1012-rated round with only a handful of costly missteps. The debut USDGC performance by the "boy wonder" drew a wealth of attention, from fans, media, and sponsors alike.
"A lot of credit goes to Kevin, actually," Helton said, describing their contract talks. "Complete transparency, I actually signed him to a two-year deal last year [2017] because I knew this would probably happen. I knew there would be someone trying to poach him. His deal was basically a straight merchandise deal with some bonuses for this past season, but after this we knew people started coming after him, asking what they could do to get him on their team. So we knew we needed to up his deal a little bit."
It's not often that we get to see too far behind the veil of professional contracts and sponsorship negotiations in disc golf, which makes Helton's revelation all the more prescient, even without specific details. Though Helton did share a small peek at how the contract talks played out.
"Basically what [Jones] said to us was, he said, 'you guys gave me the start, no one else was giving me a chance. You guys put me in the RV…so I want to be loyal to you guys, let's find a way to make this work.' So we got creative," Helton said. "We may not have been able to give him the best deal money-wise, but I think with a little bit of compromise and brand loyalty we were able to get something done to keep him on the team for another year or two."
In a sport where both players and sponsors are rather persistently tight-lipped about such business matters, this revelation is somewhat novel. With the vast majority of pro players operating on short-term one and two-year contracts, it stands to reason that some portion of free agents at least explore other options with mild interest each offseason. But rarely is the wider disc golfing public privy to that process and instead, left to their own devices, often fill the void with all manner of speculation, reacting to any moves with guesses as to their catalyst. And certainly, it's debatable whether or not there's really much intrigue in all the minutiae under the hood anyway.
While this specific revelation lacks a some of the concrete information we would all like to know, it does leave us with at least two questions to speculate on. Which major manufacturer is it that apparently has a nose for scouting young, potential-laden pros? How actively do sponsors scout potential young talent?
In the meantime, Jones is making the most of his sponsorship and RV access, recently winning his first event of 2018 at the Maricopa Meadows Open in Arizona from the second card with a 1051-rated final round. The win is certainly a positive start towards validating Prodiscus USA's bid to retain Jones' services. A shrewd move on the part of a newly formed company looking to make its mark, paying up for a player who, pretty clearly, is the future.