Wysocki, Jones one shot back after opening day in Rock Hill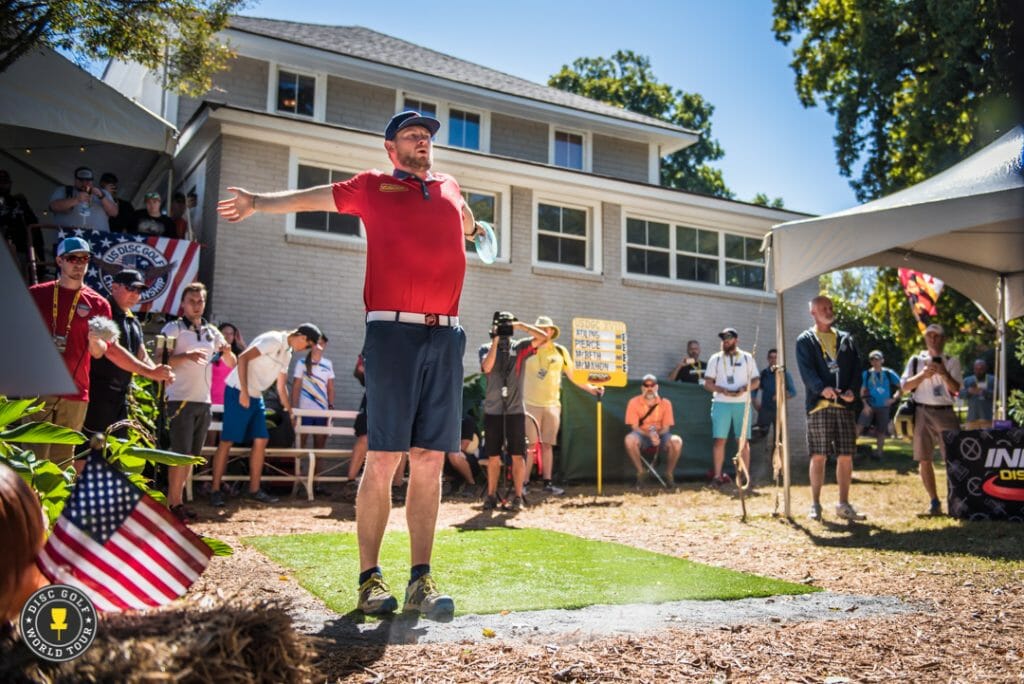 Ultiworld Disc Golf's coverage of the 2017 United States Disc Golf Championship is presented by Savage Apparel Co.; all opinions are those of the authors. Please support the brands that make Ultiworld Disc Golf possible and shop at Savage!
In his eight previous appearances at the United States Disc Golf Championship, Jeremy Koling has been no stranger to pre-round butterflies. The emotions he felt just before yesterday's first round at Winthrop Gold, though, were unlike anything he's experienced.
"I was more nervous on hole 1's tee than I've ever been in the past," Koling admitted. "…This year, when they said 'reigning U.S. Champion' — just hearing that, I don't know — I was pretty excited about it."
Koling converted that energy into a decisive first step toward defending his title, firing off a 9-under par 57 to take an early lead in Rock Hill. Ricky Wysocki and Arkansas upstart Kevin Jones tossed matching 8-under par 58s to land in second place, while Nate Sexton and A.J. Risley's 7-under par 59s find them tied for fourth place. Sexton gets the nod for today's lead card by way of a lower PDGA number.
Koling's 1065-rated performance registered as a career best at Winthrop, surpassing his dual 1062s from rounds two and three of the 2016 USDGC. Though he said he was "zoned in" throughout the day, he also said that he didn't feel like he was on fire.
"Today didn't feel that great, which is kind of the weird part about it," Koling said. "It felt great – don't get me wrong — but I didn't feel like I was playing above what I should expect myself to do. I wasn't throwing any shots where I sat there and after my throw left my hand I was thinking, 'Man, I really threw that well.' I threw the shots, and each one was exactly the way I wanted it to be, but I wasn't ever surprised with the result."
That ho-hum execution was coupled with some clutch putts that kept the train on track. After logging a bogey on the 1,023-foot 5th, for example, Koling launched a smooth hyzer flip on hole 6 to about 40 feet from the pin. Undaunted by the out-of-bounds water lurking behind the basket, he canned the putt for a recovery birdie. Six birdies and a clean sheet followed until his downhill tee shot on 14 sailed into the hazard, leading to his second bogey of the day.
Koling then cleared the triple mandatory on the par 4 15th, but was left without a look to the green for a birdie. He then took to a knee and threw a forehand roller that kicked backward off a tree, leading to another forehand from a knee. Standing just inside the edge of the circle and looking to stop the bleeding, Koling again crashed chains, this time for a much-needed par save.
"That was a really crucial part of the round for me," Koling said. "I was 8-down through 13, and I bogeyed 14. Had I bogeyed 15 — back-to-back bogeys on the back nine, it starts to weight you down a little bit…It could have been a lot worse." Instead, he closed out with two birdies and a conservative approach on 18 to cement his hot round.
Like Koling, Wysocki also needed some strong putting to buoy his performance, as two of his three putts from outside the circle came on holes where he had gone out-of-bounds.
"A lot of them were to save pars and keep my round going," Wysocki said. "I feel like I had a good flow, I hit the putt when I needed to."
Wysocki said that avoiding a sluggish start was his imperative for the day, as he's put himself in early holes a handful of times in the second half of the season.
"This tournament is a long tournament, but for me, being in position in the lead group — that's where I feel like I play the best," Wysocki said. "I feel like I handle the pressure well…I feel like that's my comfort zone."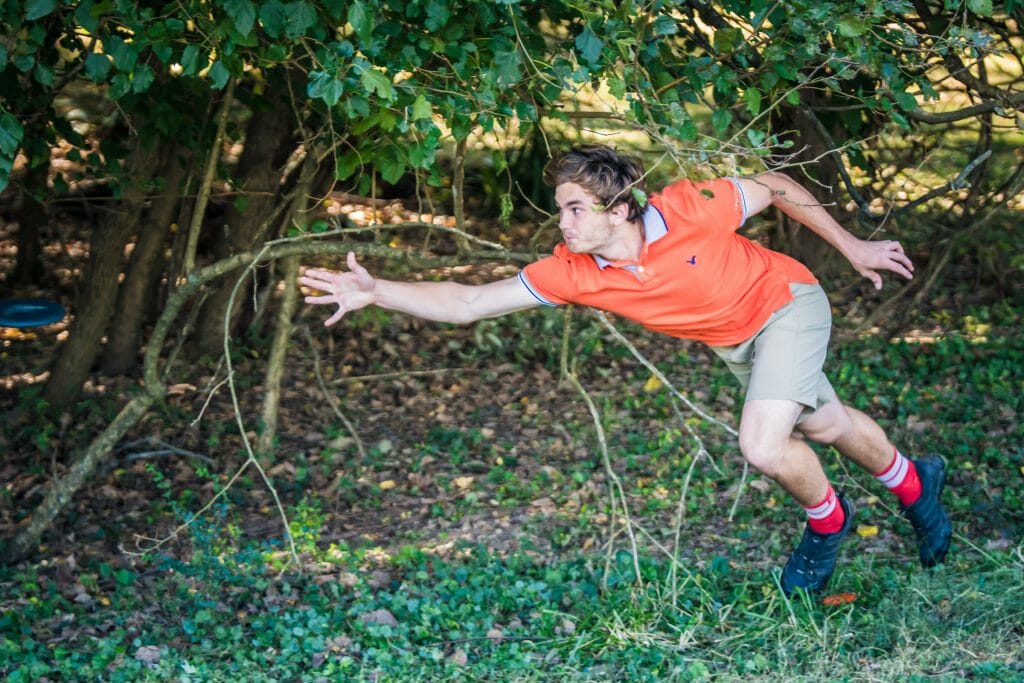 While Koling and Wysocki were at home on the green, Jones made his money from the tee. The 21-year-old placed second in the USDGC distance competition on Tuesday, and he put that power to work en route to eagles on holes 9, 10, and 13.
"I have a really good power shot, but more so just straight distance [is what] I like," Jones said. "Just being able to snap it as hard as I can, flat and straight. That's where it helps me out here at USGDC."
Jones wasn't all flash in his Winthrop debut, though. He also displayed the mental game of a more experienced player, shaking off a double bogey on hole 2 before settling into a rhythm.
"Immediately after that, I was just telling myself, 'Alright, you gave yourself a birdie on hole 1,' so that kinda took some of the pain from that 6 away," Jones said. "'Just start fresh, play your game.' Just play the game that I know I can do. That's what my whole philosophy has been this week."
Still, he admitted that three eagles per round wasn't a sustainable pace, and he was looking to clean up his scores on the early part of the course. The former college football player couldn't hide his elation about being filmed during today's round, but said he could rely on his athletic background when it came to navigating the lead card limelight.
"I'm gonna turn that pressure into excitement," Jones said. "I'm gonna be so excited, ready to show people what I can do, and have fun. That's my main goal."
Elsewhere on the leaderboard, Paul McBeth was at 9-under par and in the lead through 16 holes, but he missed the island on hole 17 twice and carded a triple bogey 6. He is tied for sixth place with JohnE McCray, Devan Owens, Gregg Barsby, Grady Shue, Nate Doss, and Philo Brathwaite, who all logged 6-under par 60s.
McBeth wasn't the only top contender to roll up large numbers as Winthrop reared its ugly head. Eagle McMahon offset his nine birdies with three bogeys and a double bogey to card a 4-under par 62 that has him in a six-way tie for 16th place, while Simon Lizotte logged a quadruple bogey 8 on the 901-foot 12th to drop into 28th. After going 3-down through the front half of the course, K.J. Nybo had a nightmare finish, carding nine strokes over par on the last seven holes – including a snowman on hole 17 after thrice missing the island green – to plummet to 71st place.
Today's second round finds four pins being altered as the course grows by 400 feet. And though he was breaking down his round one performance when he said it, Koling might as well have been giving himself a pep talk for the rest of the event as he dispensed some Winthrop wisdom yesterday.
"This course kinda traps you, when you're playing well, into thinking it is easy, and that's where things can get really crazy," Koling said. "…If you let your guard down, that's when it can really bite you in the ass."
He'll try to make sure that doesn't happen when the lead card tees off at 1 p.m. local time.