Wysocki and Weese prepare to defend titles
The Disc Golf Pro Tour stops in Ogden, Utah this weekend for the Utah Open.
The Utah Open is a relative newcomer to the DGPT, in just its second year. The 2017 edition was a B-Tier, this year the event is an A-Tier, and there is a much deeper and stronger field of competitors signed up than there was last year. In 2017, only 10 men rated over 1000 were in attendance, this year there are 39 players rated over 1000 currently registered. Most notably, Paul McBeth and Eagle McMahon will be joining in the fun on at Mulligan's Creekside Disc Golf Course.
In total, this is the fourth iteration of the Utah Open and the event has grown in size each year. Those who viewed last year's Jomez Pro coverage may not need a reminder, but the views from the course are truly amazing. Mulligan's is located north of Salt Lake City and offers stunning views of the city's surrounding mountains making the event one of the most scenic stops anywhere on tour.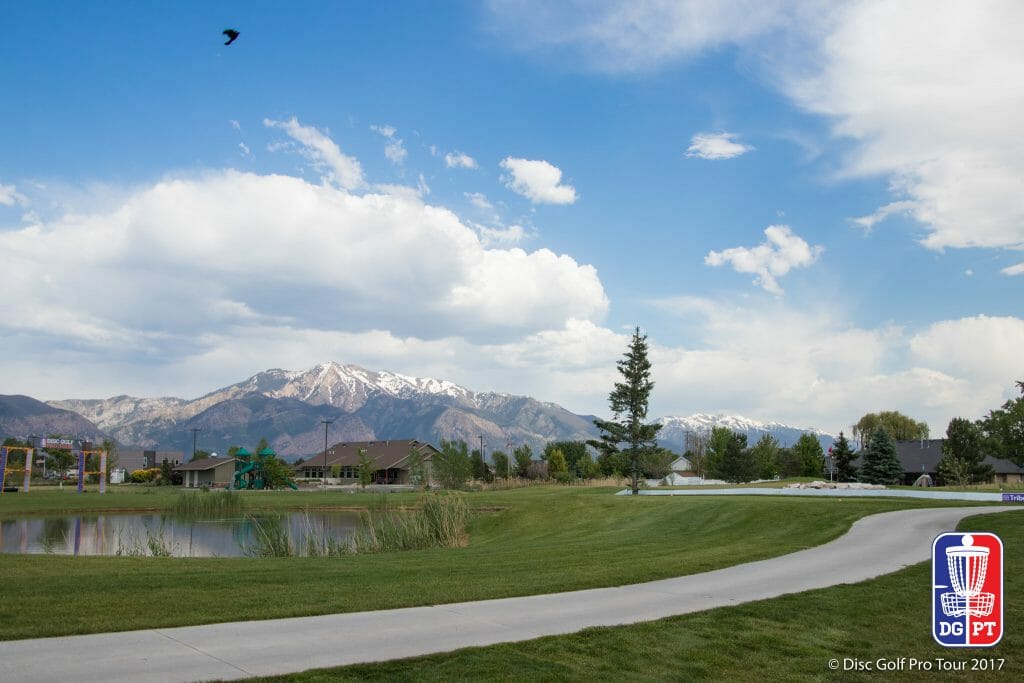 Storylines
McMahon and Allen Look to Keep it Rolling
Eagle McMahon is playing at an incredible level right now. He just took down his first Beaver State Fling title, is three for four at PDGA National Tour events, and has finished second in two of four DGPT events this year. By ratings points, McMahon's 1041 rating is only five points off Ricky Wysocki and seven points off McBeth and it is becoming increasingly difficult to argue that McMahon should not be in the conversation for best player in the world right now. McMahon has stated that he is playing a more conservative, strategic brand of golf this season and the results speak for themselves. The track this weekend is the type of course that McMahon should be able to feast on: long, open, with water carries and OB that require control at distance and confident putting.
Catrina Allen nearly won the Open Women's side last year, just losing out in a playoff to Jessica Weese. However, like McMahon, she is coming off a win at the BSF, and has years of experience attending this event in Ogden, winning it in 2016 when it was unsanctioned. There is an argument to be made that Allen is, at this moment, the strongest player on the women's side. Allen has won or placed second in every event she has played since the Glass Blown Open in late April. Allen's win at the BSF came in extra frames against Paige Pierce, who is starting to look mortal-ish after her bid for a perfect season was ended by Sarah Hokom at the San Francisco Open last month
Paige Pierce will not be in attendance, which should make Allen the odds on favorite given her recent play and experience at the course. As strongly as Allen is playing right now, she will be facing stiff competition from a strong field and will need to play smart, accurate golf to take the win. This year the field of 12 is quite a bit stronger and includes Weese, Lisa Fajkus, Kona Panis, and Paige Bjerkaas.
Christian Dietrich, James Conrad
Looking at the players registered and sorting by rating reveals that 1030-rated Christian Dietrich will be in attendance. Dietrich is the fourth highest rated player in the field behind McMahon, McBeth, and Wysocki and while he may not be a household name, there is no denying that the Montanan has game. He has only played in three tournaments this year, winning two and finishing sixth in a strong field last weekend at the Zoo Town Open. He is the reigning Rocky Mountain Championship winner, and for the unconvinced, watching CCDG's footage from the RMC should convert any skeptics. He also has an NT title to his name, winning the BSF in 2010.
James Conrad was the breakout player of 2017 and many expected he would take another step forward this season and challenge for some big wins. So far, Conrad's 2018 has been somewhat of a disappointment. He only has four top 10 finishes this year and one win which came back in late March at the Open at Flat Creek. The course at Mulligan's is a continuation of the relatively wide open courses which seem to have beguiled the Virginian so far this season, and it wasn't until he got east and into the woods that Conrad really made his moves last season. Maybe this will be Conrad's breakout performance of 2018, maybe we'll have to keep waiting.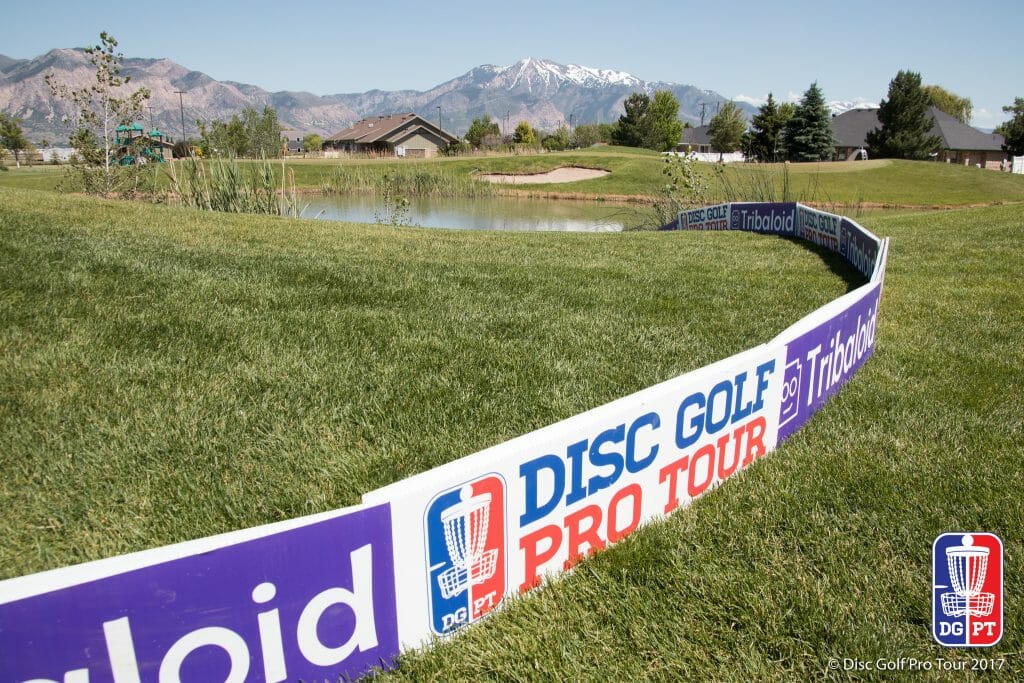 Venue and Course
Mulligan's Creekside Disc Golf Course – par 58, 7,929 feet: Mulligan's features many of the same challenges we have come to expect from disc golf on ball golf courses. We're looking at long open shots with lots of OB. A defining feature of the course is its demanding pin positions, often perched atop knolls, which brings elevation, wind, O.B., and rollaways into play on nearly every green. Another distinguishing feature, unlike the landscapes at other notable ball course courses like Gleneagles or the Emporia Country Club, Mulligan's has is seven different ponds which come into play on all but two holes.
All golf greens are considered OB, and shots that find the sand traps are played from the lie, as a hazard, with a one-stroke penalty. Both pro divisions will play from the same tees. The longest hole on the course is the 819-foot par 4 9th which features an O.B. pond adjacent to the fairway off the tee and guardian sand traps near the basket. Look through each of the holes in the caddy book.
Last year Wysocki won the event with a walk-off ace on the treacherous 18th hole over Josh Anthon who was within one stroke of Wysocki before his ace. If last year was any indication, some highly rated rounds could be on tap. In 2017, Wysocki averaged 1056 rated golf, including a 1068 final round, and Dana Vicich shot a 1077 rated final round.
Past Utah Open Winners
How To Follow
UDisc Live is on tap providing live scoring. Post-production next-day video from the event is set to be released on the Jomez Pro and Central Coast Disc Golf YouTube channels. The DGPT will be providing updates via their Instagram, with event photos from Alyssa van Lanen. Live streaming of the Open division feature and lead cards are available on the Disc Golf Pro Tour channel, produced by SmashboxxTV, with the feature and lead cards of the Open Women's division set to be broadcast in the hour before the Open live broadcast, which starts at 5:00 p.m. Friday through Sunday. Check in here at Ultiworld Disc Golf for recaps of each round from the Open and Women's Open field.
Extended Forecast
The forecast is looking pretty good this weekend for the Utah Open. Mostly sunny skies will join afternoon highs in the low to mid-80's. Like with all golf course disc golf courses, the wind will be a factor each day of the tournament.
Friday:
8 AM: 62° with a slight northwest wind. The wind will increase throughout the day.
3 PM: 82° with a west wind around 10 mph, gusting to 20 mph.
Saturday
8 AM: 64° with an east wind between 5 and 10 mph. The wind will shift out of the west throughout the day.
3 PM: 83° with a west wind around 10 mph. Higher gusts will be possible.
Sunday
8 AM: 56° with a light southwest wind.
3 PM: 79° with a southwest wind around 10 mph.
With westerly winds being a main component in the forecast, players may face a headwind on the 651-foot hole 15. Hole 15 is a par 4 that requires players to throw over a pond on the tee shot. Then, players must navigate to the tight green with water lurking right and long of the pin.