Late-round OBs, tension highlight dramatic final round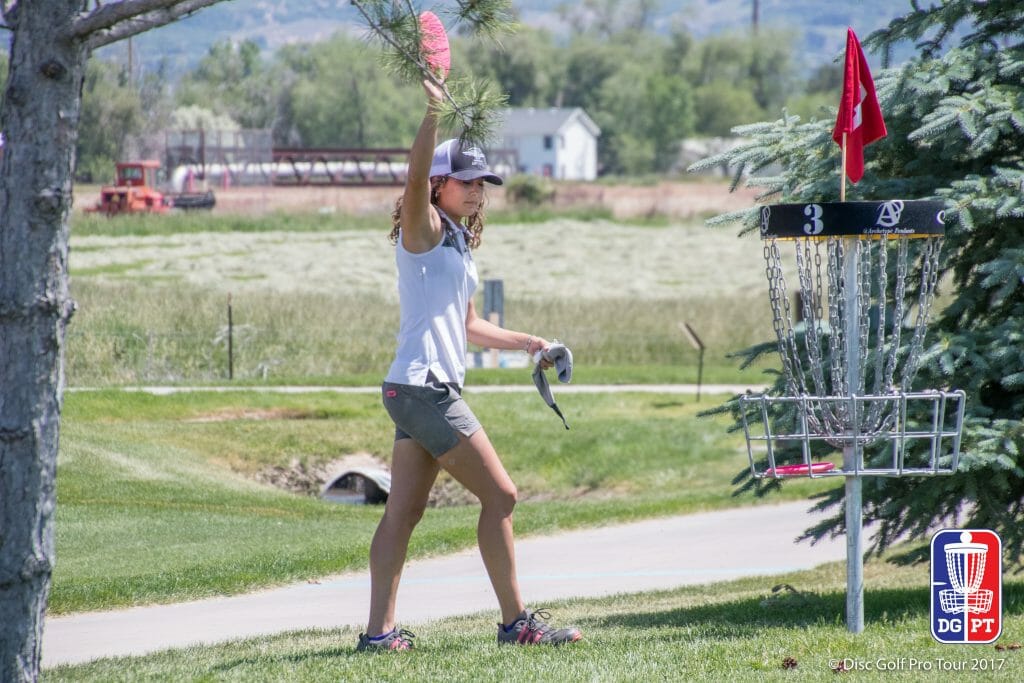 After finishing rounds one and two of the Utah Open tied for first place, it was hardly a shock that Jessica Weese and Catrina Allen finished round three with the same scores, as well.
But after missing a crucial putt on hole 17 and throwing her drive in the water on hole 18, Weese actually thought the tournament was lost.
"I was already like, 'Well, I blew it on hole 17,'" Weese said. "…I assumed that [Allen] won, and then we counted up the scorecards and we were tied, and I was really surprised. I don't like to keep track of where I'm sitting or how far I'm back or how far ahead I am. I just like to go out there and play my game. So honestly, when she tapped out her last putt, I had thought that she won the tournament."
Weese, then, made good on her extra life, outlasting Allen on the third hole of their sudden death playoff to collect her first Disc Golf Pro Tour victory. Both Weese and Allen finished regulation play with 10-over par 184s, while Amy Bilodeau collected third place with her 25-over par 199 total. Madison Walker rounded out the women's division with a 28-over par 202 total.
Even before the drama of the playoff, Weese and Allen traded volleys and remained knotted up through the first eight holes at Mulligan's Disc Golf Course. Their scorecards were virtually identical — each had one bogey, and they shared a birdie on the 261-foot hole 6 — until hole 9, where Allen was parked on her third shot for a tap-in par. Weese, sitting just inside the circle, noted Allen's placement and, admittedly, got nervous.
"I think the biggest issue for me out there was probably when I came up to the elevated basket, I knew that Catrina was right there under the basket for her easy 4," Weese said. "I was about, like, 25 feet away, maybe more. On an elevated basket, to me that feels like it's like a 35-footer instead. It put the pressure on, and once I missed the first putt it was kind of in my head that I was worried about missing the next one because I've seen quite a few people three-putt and four-putt out here. So mentally it was already in my head, and I was worried about that."
Weese became one of those who four-putter, and the three-shot swing put Allen comfortably in the lead with nine holes to play. But Weese remained undaunted.
"I was thinking, 'She has me by three, and that's totally doable, and I know I can come back if I play really smart and solid,'" Weese said.
She started her recovery quickly, with a bit of an assist from Allen. Weese, taking her place last on the tee box for hole 10, left a low forehand shot about 50 feet from the pin and left her upshot wide left. Allen, meanwhile, tossed her turnover drive into a tree, then missed her par putt from circle's edge wide left. Weese collected a par, and she was back by two.
On hole 11, though, the work was all Weese. With the fairway pinched by netting on the right side, her forehand danced just left of the boundary and sidled up next to the pin for birdie. She repeated her park job with an even more impressive shot on hole 12, this time weaving her line through the trees and nearly hitting the pole. Allen, meanwhile, parred both holes, and Weese's three-shot deficit was now another tie.
Though it appeared that Weese was making an aggressive push to close the gap, she insisted that the successful stretch adhered to the blueprint she crafted to make up for having less distance off the tee than some of her competitors.
"I knew if I just came out here and played smart, solid golf I should be able to be in contention with them, even though they out-drive me constantly," Weese said. "So my whole game plan when I came out here was just to play as smart as I could."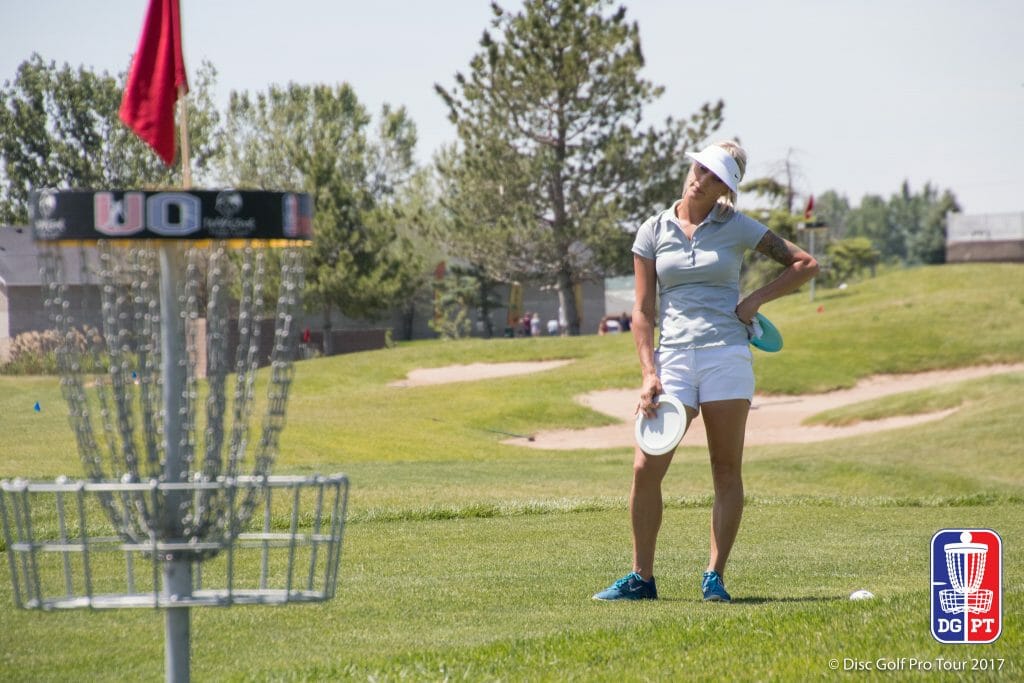 As the two came down the stretch, Allen left the door open for Weese on hole 17. After Weese put her forehand drive to the edge of circle 1, Allen grip-locked her drive and it was rejected by a tree mere feet from the pin. Allen then put her second shot to the edge of the circle, and Weese had a chance to take the lead heading into the final hole.
She missed her attempt for birdie, though, and Allen recovered to save par from 30-feet. The stalemate continued.
After both Weese and Allen went out of bounds off the tee on hole 18, they collected their bogeys and were pushed to the playoff. For Weese, it was time to pounce.
"It got me really excited," Weese said. "From then on I was like, 'Man, I thought I had already lost the tournament, but here I am giving myself a second chance.' And I knew I had to take it for what it was."
Still, Allen had the first chance to take the victory. After both women parred hole 1 for the second time in the round, Allen placed her drive on hole 2 to within 25 feet. Weese, sitting about 35 feet from the basket, then missed her jump putt wide left and, slightly defeated, picked up her mini and walked away.
Allen, though, missed her birdie putt low off the front of the cage, and the playoff endured.
Taking the tee on hole 3, Allen launched a flat hyzer that carried plenty long, but possibly into the OB bunker about 50 feet short of the green. Weese, though, was unsure of where Allen landed, as there was no spotter on the hole.
Opting to stick to her "smart, solid golf" philosophy, Weese tossed her Teebird down the right side of the fairway and landed safely, but well short of Allen. She put her second shot five feet from the basket, and the pair approach Allen's lie, which was in the bunker.
In a tense moment, Allen poked at the sand in front of her disc, appearing to look for any hope that it might be in bounds. Weese, though, said it was "definitely OB," and Allen — despite a terse reply of "Yes, I know. You've called me OB on every shot this weekend." — took a deep breath and lined up her shot. Her putter grazed the top of the basket and skipped off to the left, leaving Weese with a tap-in for the victory.
"For the third time this tournament she was trying to say that she was safe," Weese said of the tournament's waning moments. "The first two times we gave it to her, and this time there was no way she was gonna get it."
Allen, though, said she did not think she was in bounds, nor was she lobbying for the call.
"No, no, no, no, no, no," Allen said. "I was just making sure [the disc was out], and what upset me is that she made that comment. Like I said [on the course], what ticked me off was like, 'Yeah, you called me out all weekend. I wasn't actually asking you, and even if I thought I was safe I still wouldn't ask you because you don't actually make the call in this situation because it's a playoff.'"
Allen did admit, though, that some of her reaction to the situation was due to another ruling in round one not going her way, and that she let it affect her mental game.
"I tried really hard to let it go in the first round," she said. "But I don't know if I ever did."
When all was said and done, though, Allen laid the blame for her performance not on any disputed calls, but on her own performance inside the circle.
"A little adrenaline, yanked it on the last hole, and then, like I said, I missed a couple putts," Allen said. "I feel like I did what I was supposed to, I just didn't always execute, if that makes sense. I make those couple putts and I just get on the island and I think I would have won by — and they were short putts, too. Not saying that, like — obviously that's why I lost, but in a normal situation I don't really miss 15-footers, and everything works out for me. It was kind of a struggle on the putting green that week."
Allen will now try to get back on track at this weekend's Beaver State Fling, where she ousted Paige Pierce last year in another playoff. She was hopeful that she would be able to draw on that experience, and her love of the Oregon scenery, to make the event a success.
"I just like being up there," Allen said. "It's so pretty. I know that even during my hardest years — it seems like I either win the tournament, or I'm struggling. I'm excited to be there and I enjoy playing there, and it does feel good to go back there as the last year's champion."
Weese, meanwhile, enters Beaver State with aspirations that stretch all the way across the country.
"Right before this weekend I was talking to a few of my friends, and I had told them it would be a really amazing thing if I could do a triple nugget-type thing, where I knock three out in a row to win my first world title," Weese said. "I would really like to. Yes, that's my goal. Just gonna take one shot at a time and hopefully, in the end, come out first in the finish line."
One down, two to go.