Anthon takes second, while Vicich sets course record to finish in third place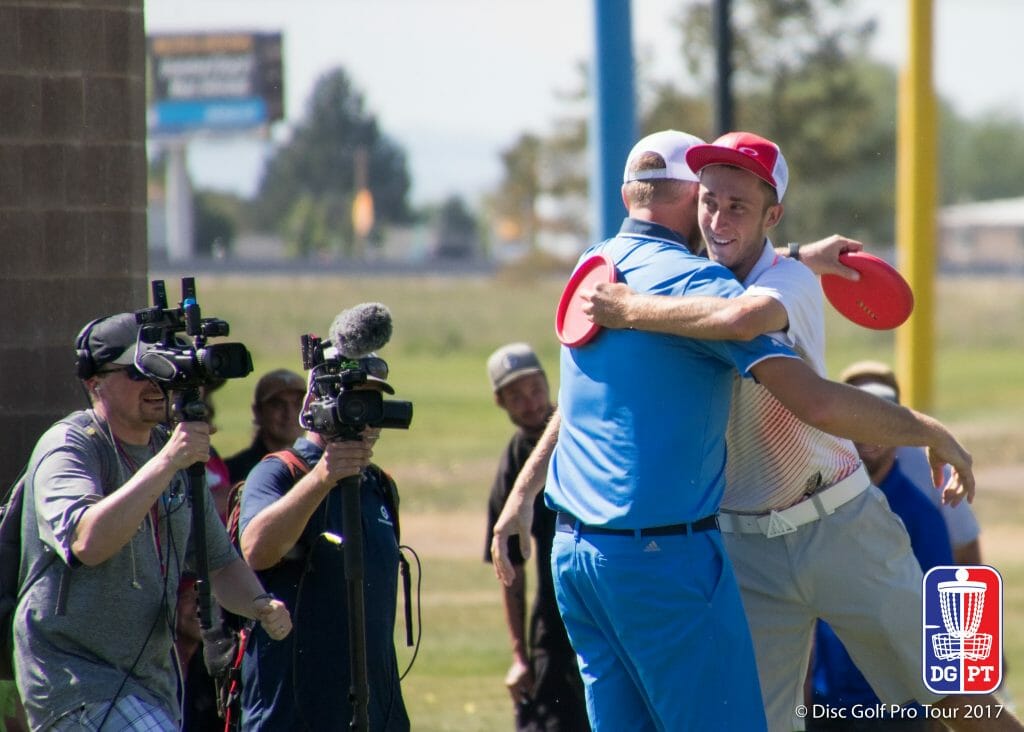 With a two-stroke lead and one hole to play, Ricky Wysocki stood on the 18th tee at the Utah Open on Saturday afternoon certain that he could play his drive past the basket and, even with a lay-up putt, take home the victory.
Then, he had another thought.
"At the last second I told myself I could kinda give it a run, because if I miss it long, it's still gonna be safe — it's not like I'm going out of bounds," Wysocki said. "That confidence allowed me to attack the pin."
And attack it he did, lofting a quick-wristed forehand with his Westside Discs Harp out to the left and over the water that protected the green. As the disc slowed down and faded softly right, it never had a chance to miss long, as its flight was interrupted by the catch of the chains, the singing ring of plastic on metal, and the roar of the crowd.
The walk-off ace was an exclamation point on another memorable Wysocki win, bringing him to an 11-under par 47 for the round and a 26-under par 148 total to secure his second straight Disc Golf Pro Tour victory. Wysocki held off late charges from Josh Anthon, who also tossed an 11-under to come in second place with a 23-under par 151 total, and Dana Vicich, whose course record-setting 12-under par 46 during the final round brought him into third place with a 21-under par 153 overall.
While Wysocki was as elated as anyone to end the tournament in such dramatic fashion, he also admitted that it lent a foreign feeling to usual pomp and circumstance that accompanies a win.
"It's awesome, don't get me wrong. But it was a little weird because, like, usually you're tapping in last if you win," Wysocki said. "…It was a weird feeling, but it was great. I had all that momentum going, and just to get that satisfaction from the crowd and this awesome shot — couldn't have been a better finish."
Though Wysocki indeed seized the momentum late in the round, it didn't fall his way early. Entering play with a three-stroke margin over Anthon and Jeremy Koling, Wysocki quickly ceded a stroke to his to chasers after his second shot on hole 1 landed him out of position and he carded a par. He took that stroke back on hole 2, then lost another to Anthon on hole 3. Wysocki then missed a putt low off the front of the cage from circle's edge on hole 4 and had a 12-foot putt for birdie spit out on hole 6, sapping any chance of finding a rhythm. His lead was down to one over Anthon and two over Koling and Vicich.
"They were making a move, so just like any round you've gotta find a way to spark some momentum," Wysocki said. "I told myself, 'You can just keep going down this slippery slope of giving strokes away and not playing very well, and it's easy to fall into that trap and never really come out of it and that's how you lose the lead.' Obviously I'm a competitor — I don't like doing that. I've found ways to put everything behind me, and even if I finish out very well I may not still have the round I wanted. But I may get the win because I had three strokes at the beginning of the round. I'll put all the spit outs and rough bogeys behind me in order to really have a strong back nine."
As Wysocki struggled to make any breaks go his way, Anthon — in just his second premier event back on tour after serving two and a half years in prison for a fatal hit and run in 2013 — was in vintage form. Though he doesn't have quite the same distance off the tee as Wysocki and Koling, he made up for it with strong putting, hitting from the circle's edge with relative ease throughout the round. But his first misstep — a putt that missed off the top band on hole 8 — came as Wysocki hit a 45-footer from across the valley on the same hole. It seemed Wysocki had stopped the bleeding, at least momentarily, as his lead was back up to two.
Vicich, though, was mounting a charge on the chase card. After hitting a 50-foot putt to start the round with a birdie, he added another 40-footer on hole 3 that ricocheted off a branch and into the basket. And when he wasn't making long putts, he was putting his approaches right near the pin, parking four of the first nine holes. By the time he hit hole 10, he was at 9-under par for the round, only one behind Wysocki and acquiring his own gallery.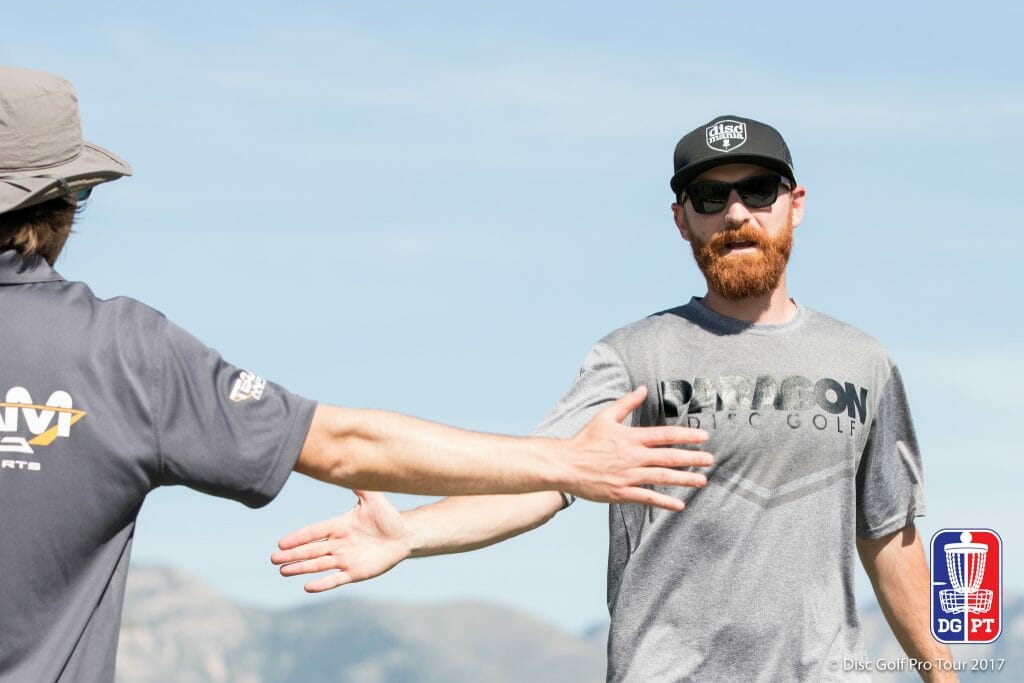 "Today, it was just one of those days where everything is feeling good and easy — that easy feeling," Vicich said. "…Got a couple nice breaks, capitalized on them, and aside from those couple good breaks I was throwing some really good shots."
Back on the lead card, though, plenty of blows were being exchanged — though not how Wysocki and Koling would have liked. Both struggled off the tee on hole 11, with Wysocki's forehand hitting the netting that separated the fairway from the nearby driving and dropping to the earth, and Koling's bouncing off one of the metal posts that supports that netting. Both would par, while Anthon rode a smooth hyzer to within 15 feet and converted on the elevated basket for the card's lone birdie and a share of the lead.
After the group parred hole 12, Wysocki and Anthon traded 30 and 35-footers for birdie on 13, while Koling appeared to rush his putt and missed high to take a par. Koling again missed on hole 14 — this time wide right from an OB bunker on a shot that would have saved par — and it was effectively a two-man race on the lead card.
The drama continued on the 651-foot, par 4 hole 15. After both Wysocki and Anthon managed safe shots off the tee, Anthon opted for a high turnover on his second shot that flexed out and left him 60 feet left of the pin. Wysocki countered with a forehand that skipped and curled to within 12 feet. With water lurking just behind the basket, Anthon gave a valiant run but ended low, collecting a par to Wysocki's birdie and falling one behind.
Hole 16, meanwhile, brought even more theatrics. Wysocki's drive skipped and rolled to the edge of the OB bunker guarding the basket, but the group called his lie in bounds as some clumps of grass could be seen through the translucent yellow hue of his disc. Anthon also ended up safely, but downhill to the right of the pin. Facing a second death putt in a row — this time with the bunker behind instead of water — Anthon laid up. Wysocki, with a chance to add to his lead, lined up for a 35-footer and lofted his Dagger high. It caught the top half of the chainset and fell in for birdie, and Wysocki gave an approving fist pump to go up two.
"I wasn't gonna just be able to lay up to win," Wysocki said. "I had to hit the putt — really just focus and handle the nerves really well — and I did."
Still, there was plenty of intrigue entering hole 17. Wysocki's drive the prior two rounds had skipped out of bounds, and the crowd ahead on 18 could be heard roaring thunderously as Vicich closed his round with a 40-footer for birdie to put him in the clubhouse at 21-down. It was a crucial moment and one that found Wysocki altering his approach.
"I knew I wanted to throw it wide, and there's a lot of room," Wysocki said. "…I made the adjustment the final day, just, 'Alright, I'm gonna throw it to the left,' and I played it a little bit too wide. Threw it about 35 to the left, but I was safe."
The play paid off, as Wysocki converted the putt to maintain his two-shot margin over Anthon, who also birdied. But with hole 18's island green responsible for 17 penalty strokes during the round, nothing was set in stone.
"Eighteen is a short hole, but there still could be a two-stroke swing if you throw it into the water or throw it and roll off the green," Wysocki said. "It's pretty much an automatic bogey because the drop zone is 60 feet looking right at the water. I knew it wasn't over till the last hole."
The rest of the story found Wysocki jumping for joy and getting a friendly pat on the back from Anthon, who capped off the round with his own 40-foot death putt to clinch his second straight bogey-free round of the event. It was a performance that drew praise from the victor.
"[Anthon]'s a great player," Wysocki said. "I knew I wasn't gonna be able to coast to victory."
Elsewhere on the course, Austin Turner's 10-under par 48 saw him climb five spots and into a fourth place tie with Anthony Barela and Koling, who logged 17-under par 157s at the culmination of the three-round event. Dustin Keegan and Drew Gibson tied for seventh place with 16-under par 158s, while Eric Oakley came in ninth with a 12-under par 162 total. Nate Perkins, Bobby Musick, and Paul Ulibarri all helped round out the top 10 with 11-under par 163s.
The victory cemented Wysocki's position atop the Disc Golf Pro Tour's points standings, as he now sits 102 points ahead of Simon Lizotte, who did not play the event. Koling moved into third place, while Gibson and Turner both jumped into the top eight — and into position for a bye into the Pro Tour Championship's semifinals — with their strong showings.
The win also continued another trend for Wysocki: Since the beginning of the 2016 season, he has followed up a second place finish with a victory in nine out of 10 opportunities.
"If you've won the week before, you feel like you've got that momentum going. But if you've got second, it's different," Wysocki said. "You've got a different fire. You really feel like you have to prove something. I feel like I've proved myself enough, but in my mind I feel like I've still gotta prove myself because the last week before I may have struggled a little bit or not played up to my potential. So [there's a] trying to make up for lost time type of feel."
And with just one event before the PDGA Professional Disc Golf World Championships — this weekend's Beaver State Fling in Estacada, Oregon, which he won last year — Wysocki said he could live with one more second place finish if it meant following it up with another, more significant, win.
"For sure, I would take that," he said with a laugh. "I would sacrifice that, definitely."