They all dropped in the bucket, but who did it best?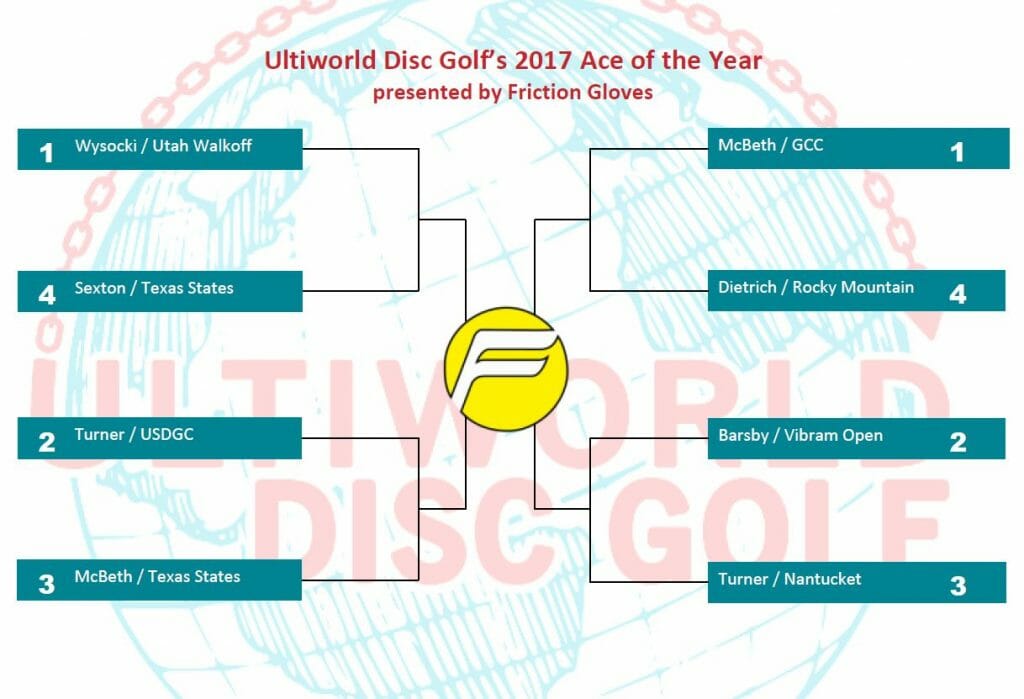 Ultiworld Disc Golf's 2017 Shot of the Year voting is presented by Friction Gloves; all opinions are those of the author. Check out our review of Friction's DG Gloves here.
With disc golf's move toward the mainstream getting a boost thanks to more frequent appearances on ESPN's SportsCenter, it's time to recognize those shots most likely to land on the big show: aces.
There weren't as many chain-seekers caught on film this season as there were huge rollers, jaw-dropping air shots, or climactic putts, so we are kicking off this competition with the eight we deemed worthy of inclusion. If we missed one of your favorites, feel free to yell at us in the comments.
We'll narrow down the voting this weekend, and the winner will head to next week's Shot of the Year Playoff. Without further ado…
1) Wysocki vs. Sexton
Kicking things off is the consensus number one seed: Ricky Wysocki's walkoff ace at the Utah Open. With Josh Anthon breathing down his neck, Wysocki cemented the win in dramatic fashion:
Wysocki Walkoff Ace Video (Jomez)
If it's Nate Sexton, it's probably a Firebird. And this bird went up and down in a hurry at the Texas States Championship:
Sexton Texas States Ace Video (Jomez)
2) Turner vs. McBeth
Even though he called it "the dumbest shot I've ever seen," Austin Turner's bank shot ace on hole 7 at Winthrop Gold during the United States Disc Golf Championship might have the biggest fun factor of any of them:
Turner USDGC Ace Video (SpinTV)
Paul McBeth made it two nights in a row for disc golf on ESPN with this low liner in Texas:
McBeth Texas States Ace Video (Jomez)
3) McBeth vs. Dietrich
It's McBeth again, here in a big moment coming down the stretch at the Gentlemen's Club Challenge in February. He was chasing Wysocki, and this got him a couple strokes closer (even if it didn't pan out in the end):
The scenery. The line. Christian Dietrich's Rocky Mountain Championship ace might be the prettiest of 2017:
Dietrich Rocky Mtn Ace Video (CCDG)
4) Barsby vs. Turner
Gregg Barsby gets celebration points for draining this one over the water at the Vibram Open:
Barsby Vibram Ace Video (Jomez)
We're guessing Turner had to have canned an ace this season that just went straight from his hand to the basket, but maybe they weren't caught on video? For this one, he skips it off the ground in Nantucket:
Turner Nantucket Ace Video (DG Guy)